My handsome husband turns 37 today!
It's odd how when you're young, you think of late thirties- early forties as "older" but now that we're here… we feel great. Actually, Justin feels and looks better now than he did when I first met him! It's incredible what a healthy lifestyle can do.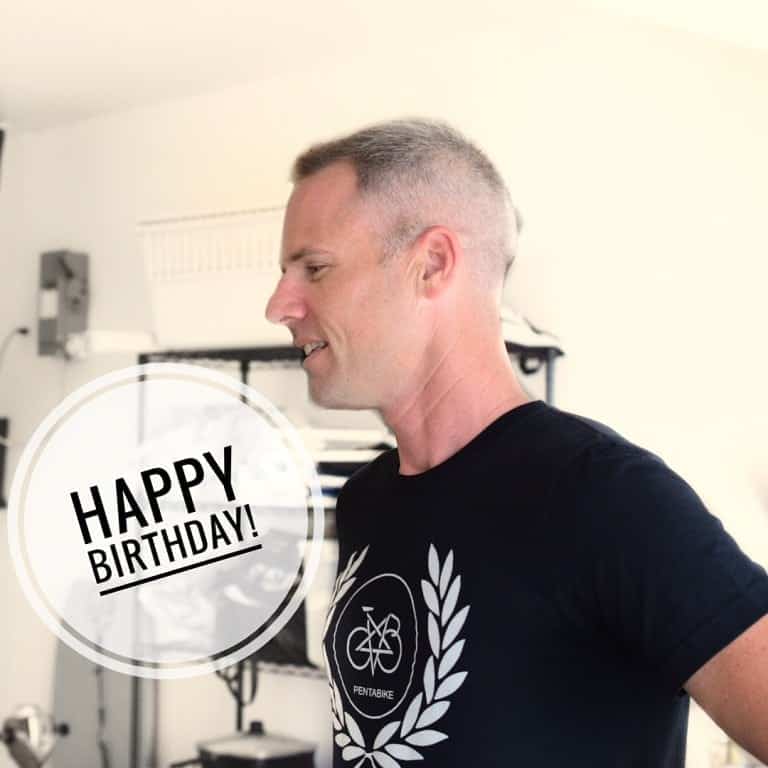 Yesterday I threw him a birthday party. Full spread. Grilled skirt steak, chimichurri, tostones, salad, pineapple, guac, salsa, corn chips, turmeric rice etc. For his cake… CHEESECAKE. The hubs doesn't have a crazy sweet tooth, he's not even chocolate obsessed like me, but the man LOVES him some traditional, creamy, vanilla cheesecake. For his birthday this year, I wanted to make him JUST that. I had my eye on some organic lactose-free cream cheese and sour cream that I saw at Whole Foods for a while, but wasn't sure whether or not I wanted to try them out. Welp, this was the PERFECT occasion! I also opted for a paleo crust, so I bought some store bought paleo cookies for the crust… not just for health's sake… but because I had SO MUCH to do, I was really trying to keep this SIMPLE.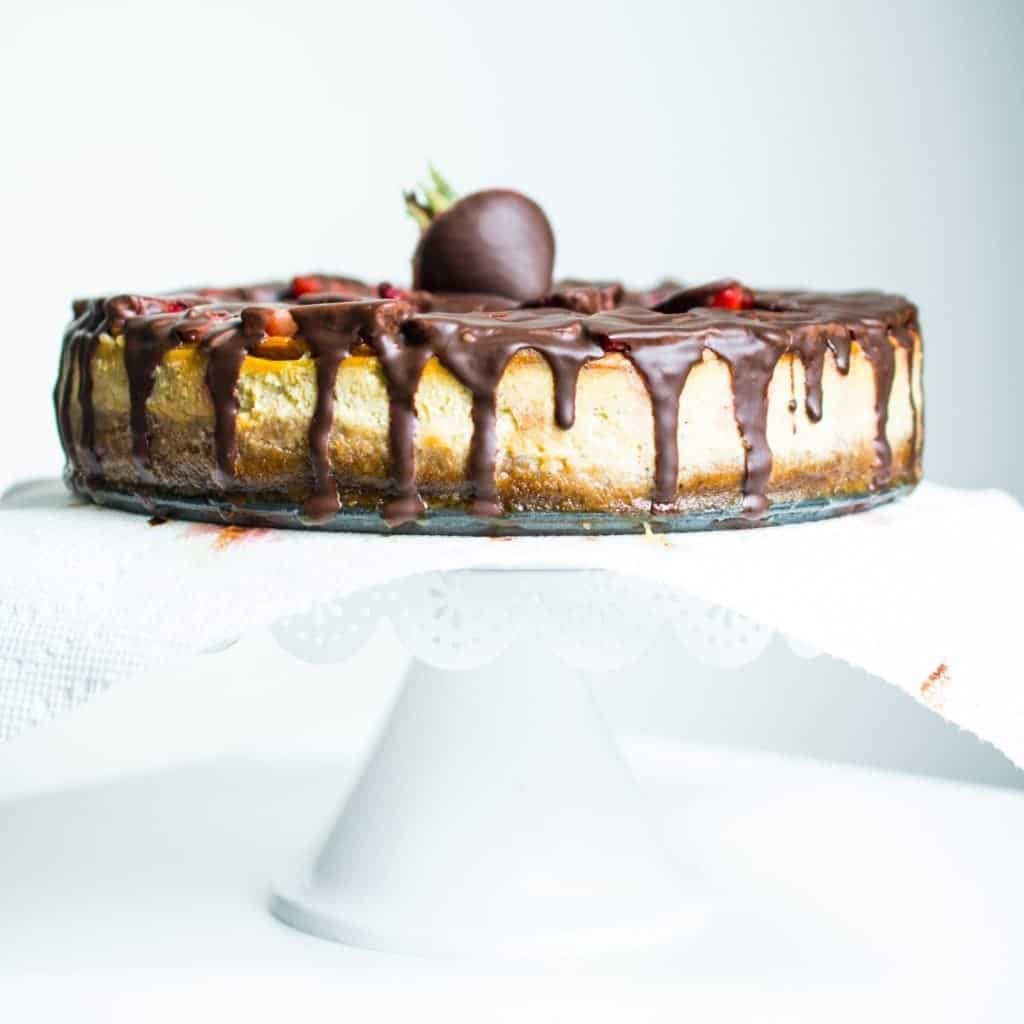 Then the question arose… strawberries or chocolate on top?
The man said BOTH. Ok, both it is. I use big ripe strawberries, tossed in a little coconut sugar and then I drizzled melted Lily's Chocolate Chips (mixed with some coconut oil). Which became a hard shell. So. Damn. Good.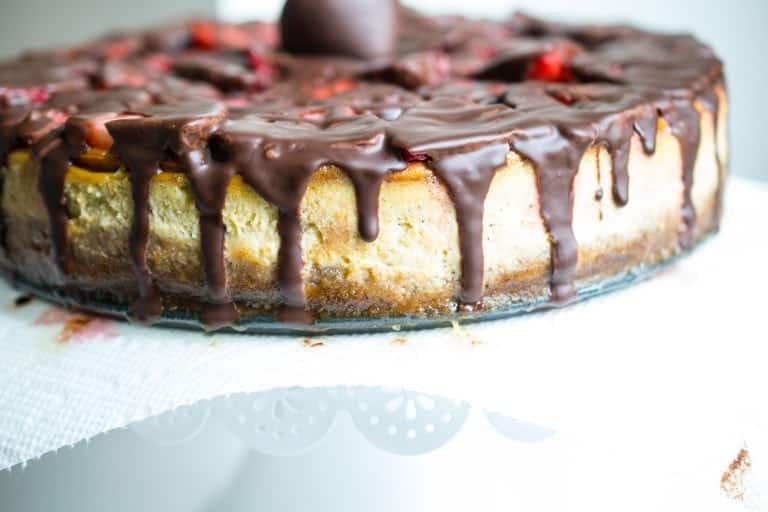 Did you know, Justin and I are both Geminis!?
My birthday is June 20th. But you know, I'll be deep into this carb depletion thing I'm trying out as a part of a 21 day Fat Burning For Women program I am testing with my girlfriend. I'll explain more about this on my Instagram stories, or you can read more about it here. So my festivities will include hiking, beach then going to see Wonder Woman. No cake, treats or drinks. Which is totally fine. So yesterday, at the party, I had a little bit of everything. I relaxed. I enjoyed. We all had a great time. So worth it!
I wasn't able to get a glamour shot of the cheesecake one we cut into it because, just like the rest of the food, IT DISAPPEARED! I did manage to get a phone pic of my half-eaten slice though. Ha! So professional, I know?

INGREDIENTS: If you didn't notice, I linked the ingredients above. Those are Amazon affiliate links which help me out, but also you can read up on the ingredients, I don't expect you to buy a case of lactose-free sour cream! LOL! You can also buy all of the ingredients at Whole Foods, which is where I got them.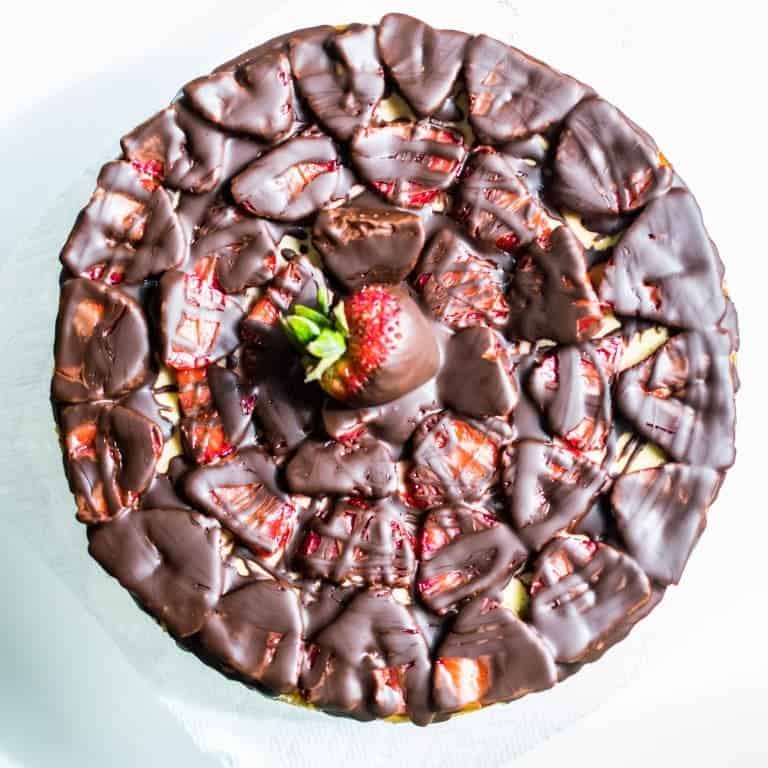 Vermont Cheesecake (Lactose, Grain, Gluten + Refined Sugar FREE)
---
Author: Cristina Curp
Prep Time: 20 minutes
Cook Time: 120 minutes
Total Time: 2 hours 20 minutes
Category: dessert
Method: baking
Cuisine: primal
Description
A lactose-free, gluten free, oh-so-decadent primal cheesecake!
---
Scale
Ingredients
The Crust
2 boxes Simple Mills Toasted Pecan Crunchy Cookies (11oz total)
1/2 cup melted Kerry Gold Butter, unsalted
The Filling
16 oz Green Valley Organic Lactose-Free Cream Cheese
12 oz Green Valley Organic Lactose-Free Sour Cream
1 tsp lemon rind
2 tsp Wild Foods Vanilla Powder (or vanilla bean scrapings)
¾ cup Grade B Maple Syrup
4 large eggs
Optional
2 cups strawberries, sliced
1/4 cup coconut palm sugar
1 cup Lily's Dark Chocolate Chips
1 tbsp Coconut oil
You Will Need
9" Spring Form Pan
Food processor
Aluminum Foil
Handheld or stand mixer
---
Instructions
Set out all your ingredients so they come to room temperature. About 2 hours, then pre-heat your oven to 350F. In the bowl of your food processor, grind up the cookies until they are all crumbs. Add in the butter and pulse until you have a wet sand consistency.
Dump that sandy mix into your springform pan and press it down until you have a flat, even layer, about 1/4 inch thick and all the way to the edges. Wrap the bottom of your springform pan with aluminum foil.
Next, add the cream cheese to the bowl of your mixer, beat on low with the paddle attachment until smooth. Add in the sour cream, lemon rind, and vanilla. Continue mixing on low until well combined.
Add in the maple syrup. Then add in one egg at a time, wait until the egg is incorporated to add in the next one. Once the last egg is mixed in stop the mixer. Use a spatula to scrape down the sides and bottom of the filling and fold it all together. Then use the same spatula to pour it all into the springform pan.
Place the cheesecake in your pre-heated oven, middle rack. Bake for 1 hour. At the one hour mark, the edges will be golden and elevated. The middle will still be wet, almost pool like. It's ok. Remove it from the oven, place on a cooling rack and tent some foil over it for 1-2 hours. Then remove the tent and set it under a fan to cool to room temp. By now the surface of the cheesecake should be smooth and even.
Set it in the fridge to set overnight. When ready to serve and/or decorate, run a spatula or knife around the edges of the cake before releasing the springform ring from the pan. If the sides get a little crumbly during this process, run a cake spatula under some warm water then gently run it along the sides of the cheesecake to smooth them out. (Neat trick, huh?)
If you are going to add the strawberries and chocolate this is how: Slice the strawberries and toss with coconut palm sugar until they look glazed. Arrange in a circular pattern, start on the outside and work your way in. Melt the chocolate in a glass bowl or cup on medium heat for 30-60 seconds. Add in the coconut oil and stir until it's smooth and glassy.
Use a spoon to drizzle all over! Quickly set in the fridge for the chocolate to harden, 10 minutes will do it.
Serve, share, enjoy!
Keywords: gluten free cheesecake