One-Pot Chicken and Rice is the perfect easy, comforting and affordable recipe we all need right now. Strange times we're living in. They just announced the schools in Fairfax Country, Virginia will be closed for the remainder of the school year. Justin is set to deploy soon, but even that is in question now. Everything is on pause. While it's definitely given us all time to slow down and take note of what really matters, there is a to of uncertainty.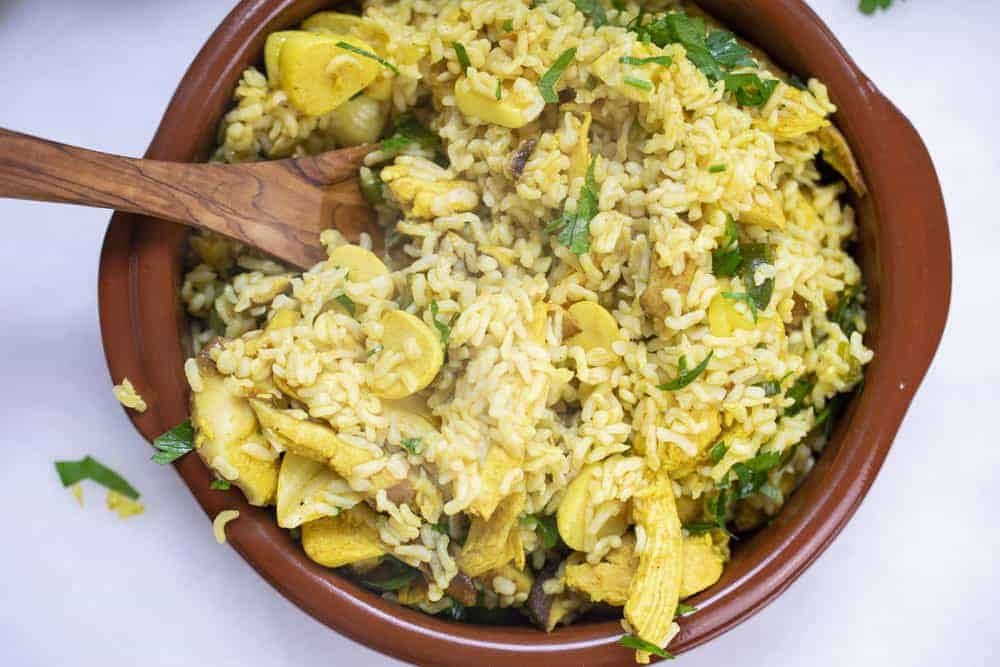 Financial troubles are mounting, entire industries out of work. Hard times ahead. But I know that we will all be okay. Our families have seen hard times before. The Great Depression, leaving communist countries for freedom, starting from scratch, starting over. Resiliency, it's in our bones, in our blood, in our soul.
Table of Contents
How We Eat When Times are Tough
It shapes us, as a community, many of the beloved recipes that are classics today came to be during tough times! Corned Beef, Egg Drop Soup, Wacky Cake! All born of what was on hand. Born of necessity and today they are treasured comfort food classics. Vaca Frita, a beloved recipe from my first book Made Whole uses a tough/cheap cut of meat like chuck roast and turns it into crispy fried strips of deliciousness. Things that were once peasant food, became the staples of our culture.
Chicken and rice seem to be two ingredients most folks have on hand. If you'e grain free you can use the Better Than Rice, which is what I used, it also keeps it low carb. You can use cauliflower rice to keep it paleo. Up to you. But the ease and simplicity of this meal is perfect for times like this. Let's talk about some options for this one pot chicken and rice.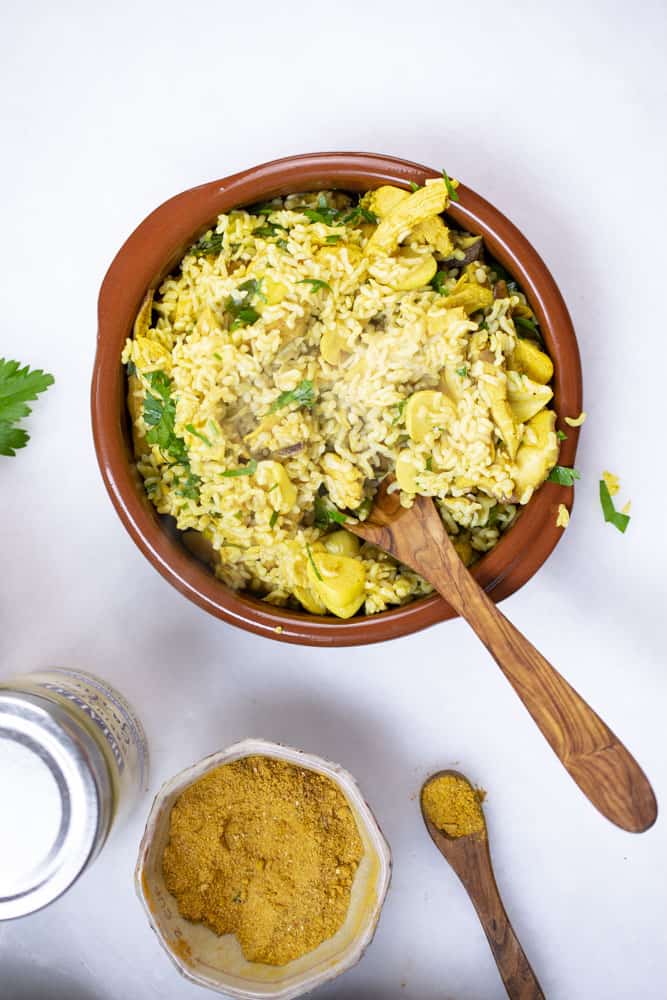 Rice Options
More Pantry Ingredients for this One Pot Chicken and Rice
I used Pickled Garlic and Dehydrated Shiitake Mushrooms, which I like to keep on hand for this. But you can use what you have, that's the beauty of these kinds of recipes. You can read more about pantry items and their nutrient density here.
You can use pickled garlic cloves just like regular ones. I soak my shiitake mushrooms to dehydrate then drain and pat dry and cook them up like fresh mushrooms.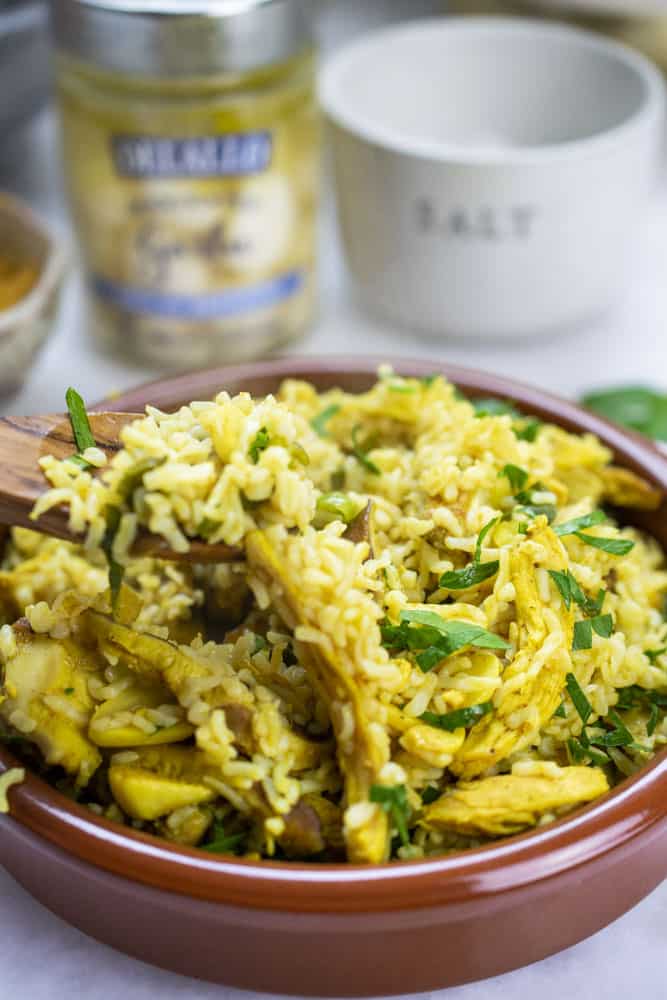 Must-Have Ingredients
The Flavor Makers
Garlic, pickled or fresh
Cooking wine or vinegar
Curry powder (I use the nightshade-free blend in Made Simple)
Shiitake mushrooms, you can use any vegetable you have on hand!
Dried or fresh herbs
Green Onion
Okay! Let's make some One Pot Chicken and Rice…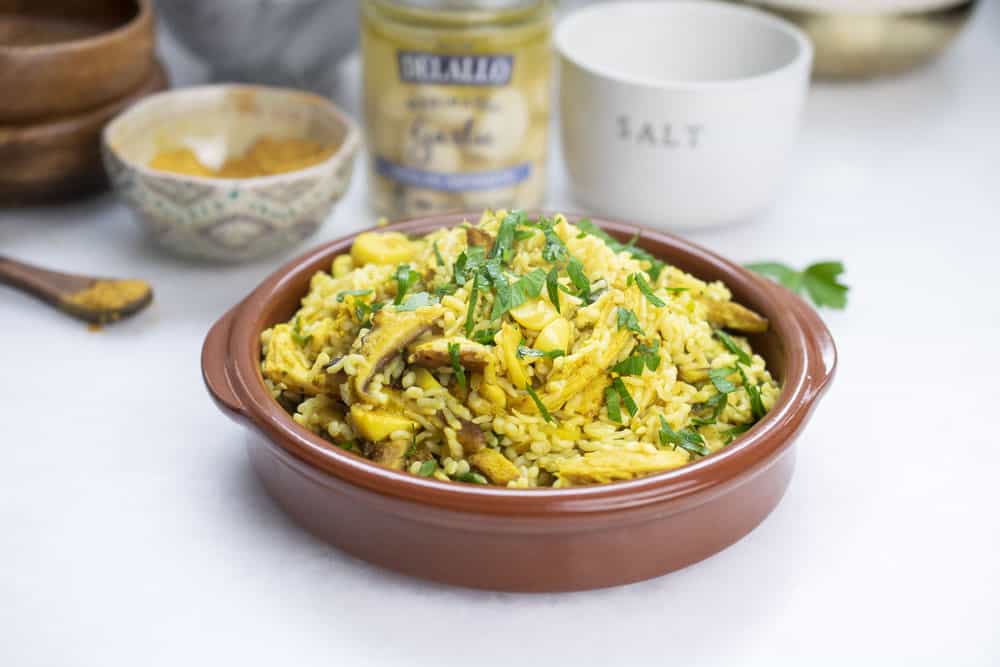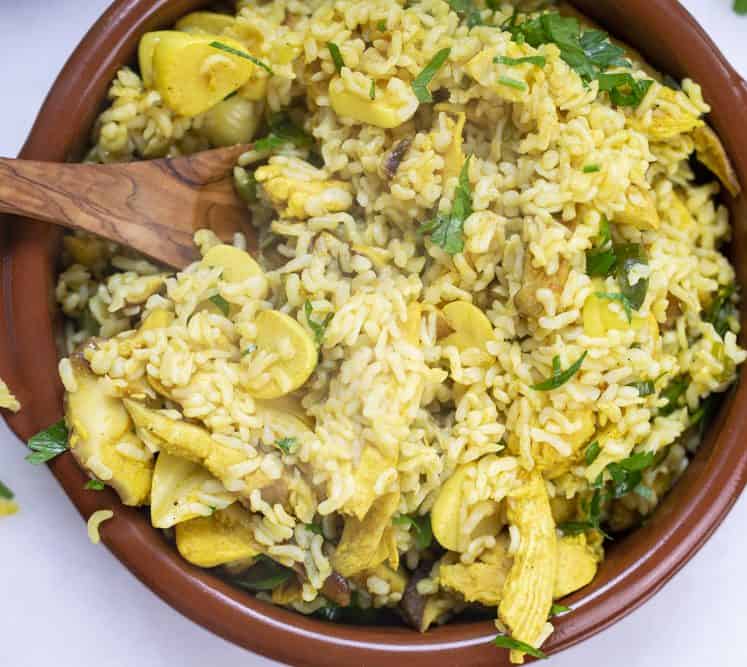 One Pot Chicken and Rice
---
Author: Cristina Curp
Prep Time: 5
Cook Time: 15
Total Time: 20 minutes
Yield: 2 1x
Category: Dinner
Method: One Pot
Cuisine: Indian
Description
An easy and flexible one pot chicken and rice!
---
Scale
Ingredients
3 tablespoons extra virgin olive oil
4 cloves pickled garlic or fresh, sliced
1 cup sliced shiitake mushrooms (or veg of choice)
5–6 ounces fully cooked shredded chicken (or drained canned chicken)
2 cups fully cooked rice of choice (see post)
1 teaspoon Real Salt
2 teaspoons Curry Powder (or your favorite salt free spice blend)
1 tablespoon vinegar or cooking wine
1 tablespoon minced parsley (optional)
1/2 cup sliced green onion
---
Instructions
Heat a large skillet over medium heat. When its hot, put the oil in.
Add in the sliced garlic and sliced mushrooms, saute for 5-6 minutes until tender and browned.
Mix in the chicken and rice, salt and curry powder. Saute for 10 minutes, stirring occasionally until the rice crisps up a bit and the chicken is heated through.
Delgaze the skillet with cooking wine or vinegar, mixing well and scraping up the toasty bits.
Mix in the herbs, taste the mix and add more salt to taste. Serve and garnish with green onions.
Recipe Notes:
The macros are made using Better Than Rice. 
Using cooked white rice the macros are:Cal 24.5g, Fat 24.5g, Carbs 50.6g, Fiber 3.2g, Protein 27.8g
Nutrition
Serving Size: 1/2 recipe
Calories: 349
Fat: 24.1g
Carbohydrates: 6.1g
Protein: 24g
Keywords: one pot chicken and rice