When You Need a Hug… In A Bowl… Feel Good Soup!
It's been a heck of a week… oh wait, it's only Tuesday.
Oh boy! Well at least the tides are changing. Not to get into too many details, but Aunt Flo decided to run late this month, and I woke up Monday to a broken website. Proceeded by a very under the weather Sunday and a sleepless night. Feel Good Soup to the rescue! Despite the hot, hot, humid heat we're experiencing here (Hawaii) my body is craving soup. It never does that. Seriously. But soup just sounds good for my lack of appetite and overall yuck feeling. This delicious low carb, high fat, paleo soup hit the spot, and it really does make you FEEL GOOD!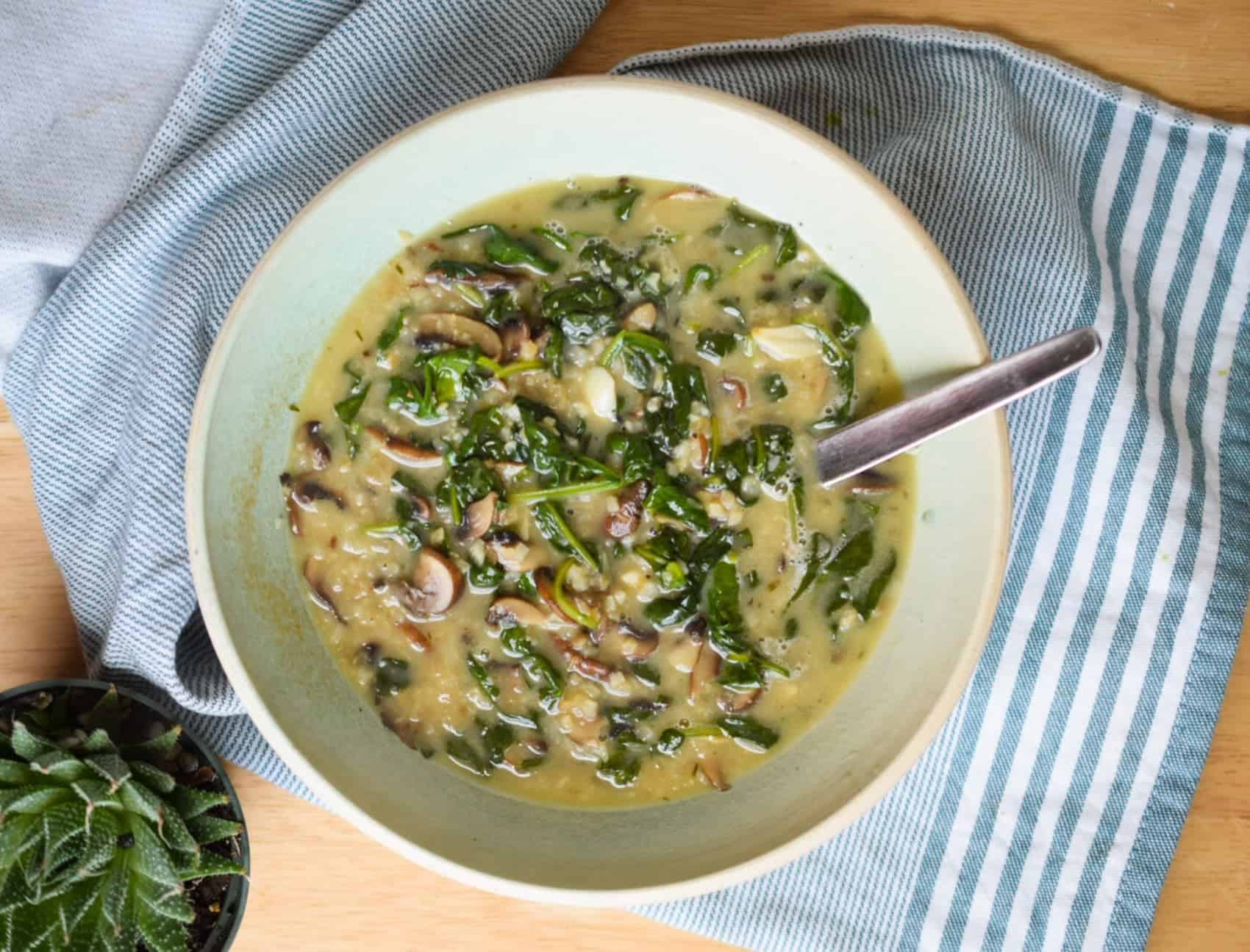 What's In Feel Good Soup?
A handful of simple ingredients. I started out going for a cream of a mushroom route, which turned into a mixed veggie soup with a bone broth base, a hint of coconut cream and extra collagen boost.  Love! Yup, the most important ingredient. When I feel like poo and I'm whipping something up to make me feel better I put a lot of healing intention in there. Like a hug in a bowl.
Feel Good Ingredients:
Additive Free Coconut Milk : a great source of lauric acid which is great for energy, electolyes like magnesium and potassium
Bonafide Provisions Bone Broth: rich in minerals to support the immune system and collagen to reduce intestinal inflammation
Raw Coconut Vinegar: beneficial prebiotic and probiotic, 192 milligrams of potassium per tablespoon!
Organic Lactose-Free Ghee: Rich in fat-soluble vitamins like D, E, and A. Contains butyrate a powerful anti-inflammatory fatty acid.
Collagen Peptides: Added protein boost, gut support, and nail and hair health.
Baby Bella Mushrooms: Great Source of selenium (support the immune system and thyroid function), niacin (aids in macro metabolism and synthesis of endocrine hormones) and copper (aids in iron absorption, production of red blood cells and collagen).
Baby Spinach: Tons of vitamins, folate, fiber, zinc, choline!
A favorite from my Cookbook:
Feel Good Soup
---
Author:
Prep Time: 10
Cook Time: 20
Total Time: 30 minutes
Yield: 2 bowls 1x
Category: Soup
Method: Stove Top
Cuisine: Comfort
Description
An easy and nutrient dense recipe the entire family will love! Feel Good Soup is your next chicken noodle 😉
---
Scale
Ingredients
1 tbsp.ghee (coconut oil for AIP)
2 cups sliced cremini mushrooms
6 cloves garlic, sliced
3 sprigs thyme
1 tsp pink Himalayan salt
1 tsp black pepper (omit for AIP)
Pinch of nutmeg (omit for AIP)
2 tbsp. coconut vinegar
1 cup bone broth
¼ cup coconut cream (milk fat from chilled coconut milk can)
1 cup riced cauliflower
3 fistfuls of baby spinach
2 tbsp. nutritional yeast (optional)
2–4 scoops collagen peptides (optional)
---
Instructions
Heat the ghee over medium heat in a medium pot. Once it begins to brown add in the garlic, mushrooms, thyme and seasonings.
Sauté, stirring often, until aromatic and wilted, about 8 minutes.
Add in the coconut vinegar and deglaze the pan, scraping up any goodness that stuck to the bottom of the pot.
Add in the broth and coconut cream and bring to a simmer.
Stir in the cauliflower rice and spinach and cook here for 5 minutes until tender.
Stir in the nutritional yeast and peptides until dissolved.
Serve, sip, enjoy. Feel good!
Nutrition
Serving Size: 2
Calories: 294
Fat: 16g
Carbohydrates: 5.5g
Fiber: 1.4g
Protein: 23g