Freezer Meals For The Paleo AIP is for anyone who can't eat eggs or nuts or dairy or nightshades. For anyone with autoimmune disease who wants to heal their body with diet. For all of us short on time who have specific dietary needs. This book is for you and we sincerely hope we make your life easier with it!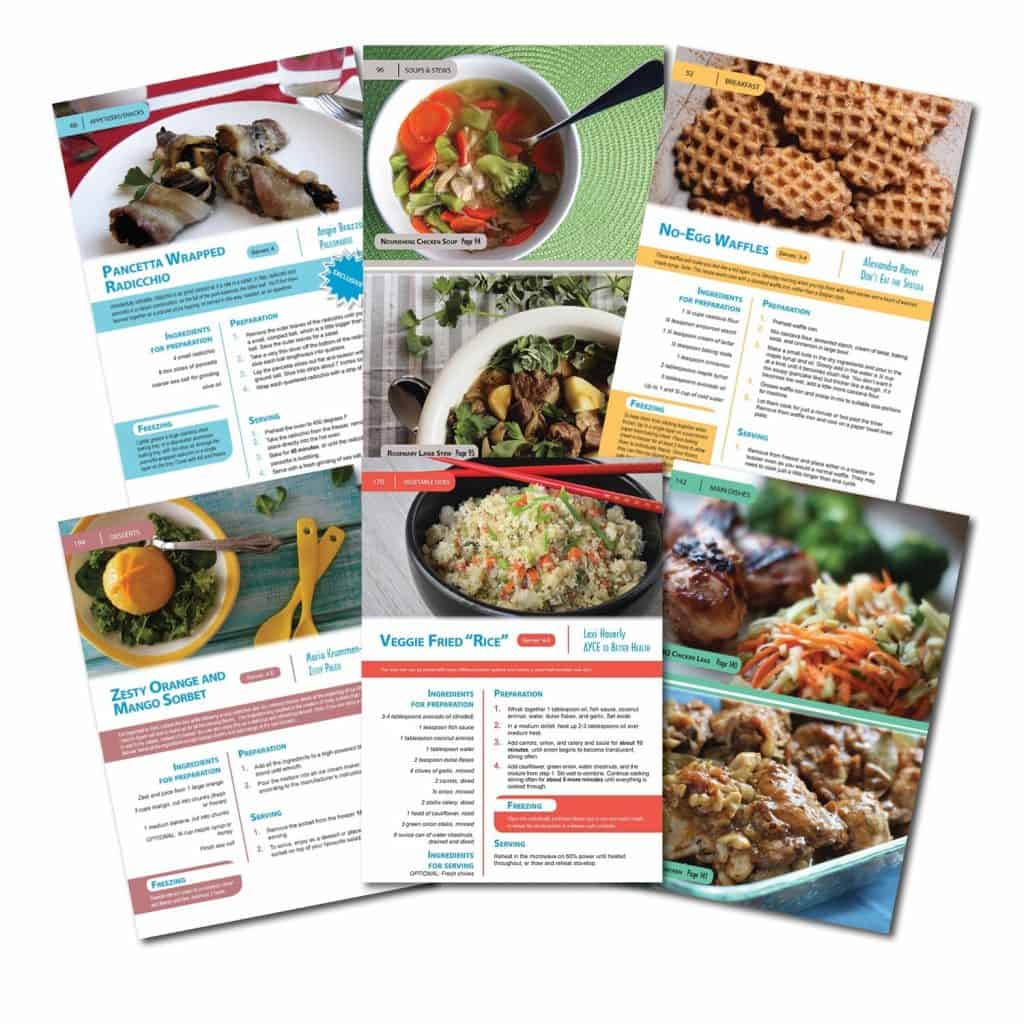 Community
I am always honored to contribute to these community e-books. This FREEZER MEALS EBOOK IS NO EXCEPTION! Although I no longer am in the elimination phase of my the Autoimmune Protocol, many of you know I still avoid nightshades, dairy, grains and nuts. I've been lucky to thrive with eggs, seed based spices and seeds back in my diet, but I know many of you who are new to the protocol or still figuring out what you're trigger foods are. It gets tiresome, all the cooking. It can be frustrating when you get home after a long day and there is NOTHING ready to eat.
I definitely cried a few times, it's okay, we all have those moments. Our mission with this book was to create delicious, creative and VARIED recipes that you could meal prep and FREEZE. I for one have definitely shyed away from freezing food in the past not knowing how it will thaw or how to do it. This book includes, preparing, freezing and thawing instructions for each recipes.
This book at 123 recipes, price is $18.90 Click Here To Purchase
Here's The Scoop!
30 contributors
123 recipes, all fully tested for compatibility with freezer storage & reheating
73 were created exclusively for this cookbook, but every recipe has been adapted for freezing (so in reality, you can say that you won't find ANY of these recipes anywhere else!)
All recipes include directions for packaging, freezing, storing, and serving!
Includes dishes for every meal of the day and special occasions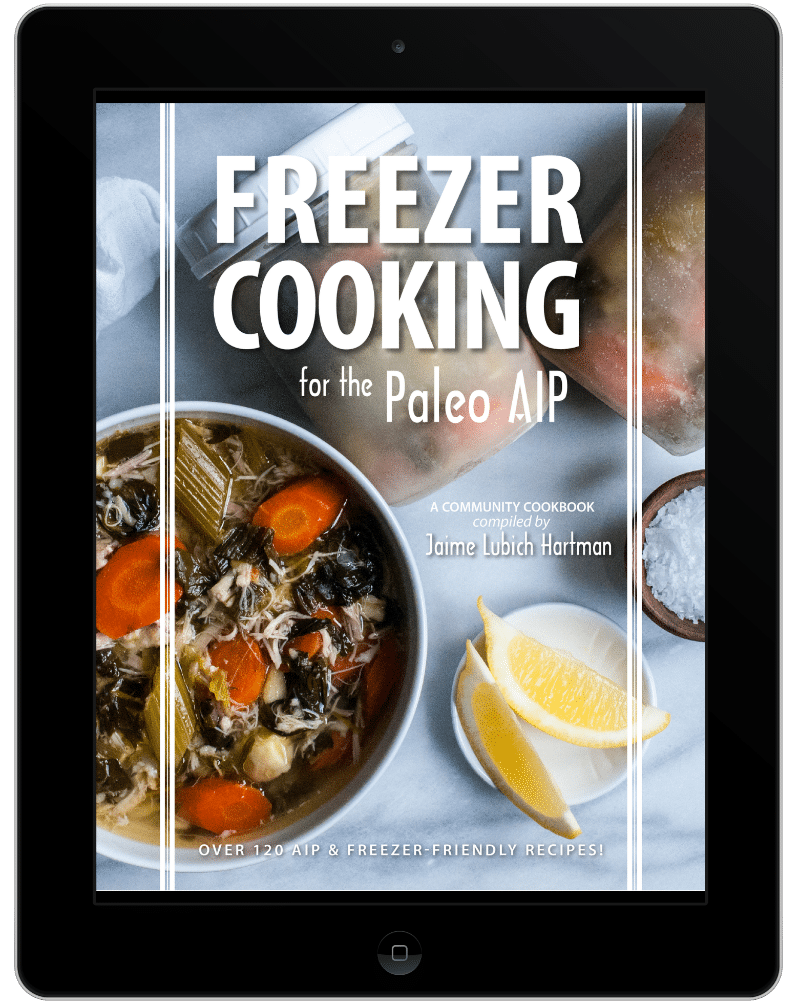 Categories:
Building blocks
Breakfast
Appetizers and snack
Soups and stews
Casseroles
Main dishes
Side dishes
Desserts
Includes recipes from some of your favorite print AIP cookbooks (He Won't Know It's Paleo, The Healing Kitchen, and The Paleo Approach Cookbook), all adapted to be freezer-friendly
Click here to view more details
*The book is dedicated to our friend and fellow AIP blogger, Martine Partridge who was an advocate and ray of light for all of us with autoimmune disease*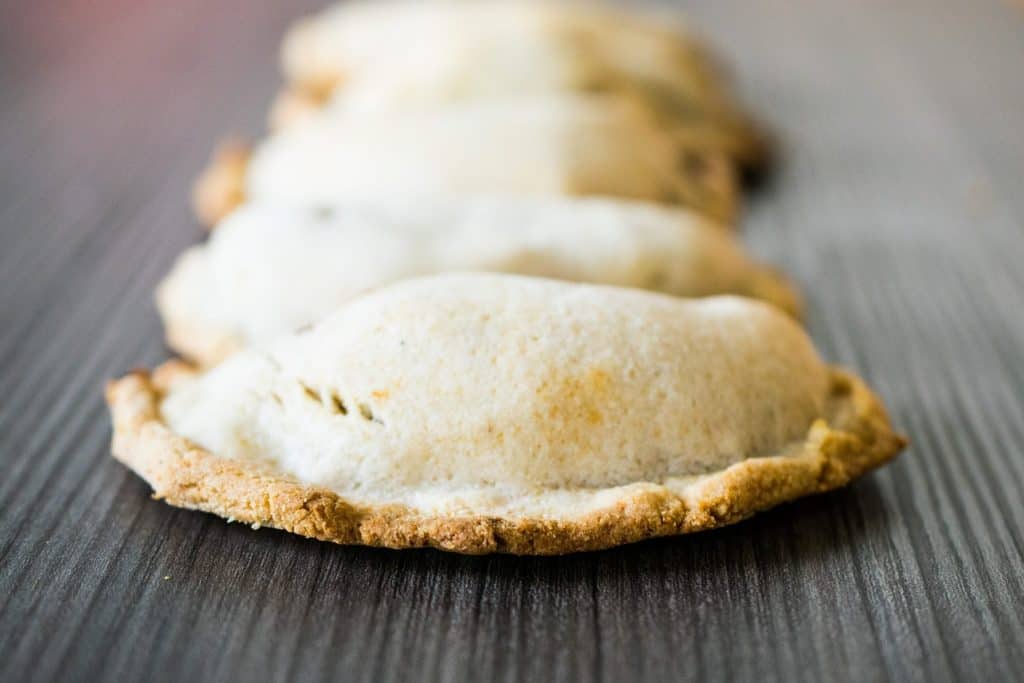 As you would have it, one of the preview recipes they chose to share is one of mine! These empanadas are so. damn. legit.

For my low carb fam, these are NOT low carb. I am yet to master an egg-free, low-carb dough. However, carbs are not the enemy and if you see fit to enjoy an empanada post-workout or for dinner, just do it! Cassava flour is a great, non-reactive, grain-free flour that makes BEAUTIFUL dough!
I made these in April, and I made 3 batches, back to back to test the recipe and froze them. Then the day of my Jack's 4th birthday party I popped them in the oven and voila! Empanadas for the party spread, and let me tell you, they were a HUGE HIT!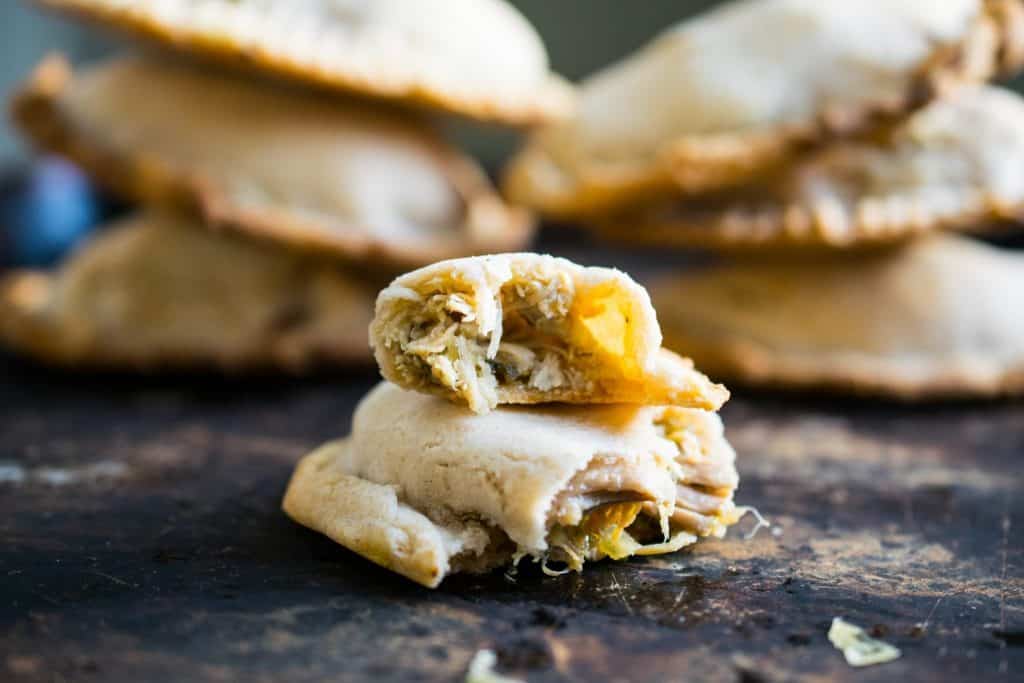 BUY THE FREEZE COOKING FOR THE PALEO AUTOIMMUNE PROTOCOL NOW!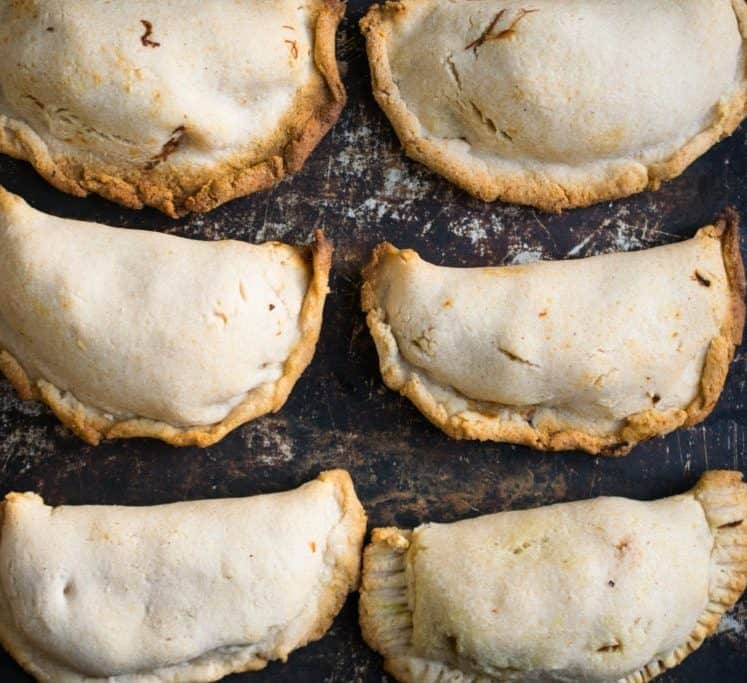 Shredded Chicken AIP Empanadas
---
Author: Cristina Curp
Prep Time: 40 minutes
Cook Time: 20 minutes
Total Time: 1 hour
Yield: 10 1x
Category: Entree
Method: Bake
Cuisine: Cuban
Diet: Gluten Free
Description
Authentic Cuban Style Empanadas that are allergen free
---
Scale
Ingredients
For the dough
1 ¾ cup cassava flour (more for dusting, as needed)
½ tsp fine sea salt
1 tsp cream of tartar
1 tbsp. grass fed beef gelatin
¼ + 1 tbsp cup olive oil
1 tbsp. apple cider vinegar
½ cup water (+/- as needed)
2 tbsp. olive oil (for brushing)
For the chicken
1 tbsp. cooking fat
1 large onion
2 cloves garlic
1.5 lbs boneless skinless chicken thighs
1 tsp fine sea salt
1 cup compliant sauerkraut
½ cup fresh minced parsley
½ cup bone broth
2 tbsp. molasses
---
Instructions
Heat a large cast-iron pot or skillet on medium heat. In the meantime peel and dice the onion. Peel and mince the garlic. When the skillet has come to temperature, you can test this by drizzling water on the surface, when it dances it's ready. Add in the fat, onion and garlic. Sauté until tender.
Add in the chicken thighs and salt. Brown on all sides. Then add in the sauerkraut and the parsley. Mix well. Add in the bone broth and cover with a tight fitting lid. Lower heat to low. Cook for 20 minutes.
Remove the lid, stir in the molasses and let it simmer until the liquid is reduced by more than half. Remove from heat, use two forks to shred the chicken. Set aside.
Make the dough. You will need a large bowl, a whisk, a pastry mat or parchment paper, a rolling pin and a dough scraper or spatula.
In a large bowl mix whisk together the cassava flour, salt, cream of tartar and gelatin.
Drizzle in the olive oil and vinegar as you keep whisking until the dough gets crumbly.
Switch to a spatula. Next add in ¼ cup of warm water as you fold and mix with the spatula, add water one tablespoon at a time as needed until the dough is no longer crumbly.
Move dough to a flat surface and knead with hands until it is well combined. It should be malleable but not sticky. If it's sticky dust with flour and knead again.
Make two equal sized flat disks with the dough and wrap in plastic wrap. Set in the fridge for at least 30 minutes.
When ready to work with it again, prepare a flat surface, have the warm water at hand and more flour for dusting as needed. Unwrap one disk at a time; it will be tough and crumbly. That's fine. Let it come apart on your flat surface then add 1 to 2 tbsp. of water to the dough and knead it back to a smooth malleable consistency. Divide the dough into various equal sized balls. Each disk should make about 5 balls.
Set one ball in the center of your workspace; gently flatten with your hand. Cover with a piece of parchment paper and use a rolling pin to shape a 4-5" round, about the size of a tortilla. Use a spoon to fill with a small mound of shredded chicken. Then use spatula or dough scraper to lift the top side of the dough, gently fold it over and pinch the edges closed. You can gently roll them up a little to create a decorative boarder or use a fork to imprint on them. Scrape the empanada up and place on a baking sheet. Brush with olive oil.
Repeat this with all of the remaining dough. If some of the dough dries out as it waits its turn to be made into a lovely empanada, simply wet your fingers and massage it back to malleable texture. Alternatively, if you overdo the water on one, lightly dust it to dry up.
Once all of the empanadas are made, ensure they are spread out and not touching on the sheet pan. Place in the freezer for at least 3 hours. When they are properly frozen you can transfer them from the sheet pan to a freezer bag and store up to three months.
To heat, simply preheat your oven to 400F and place the empanada on a sheet pan. Bake for 15-20 minutes until the edges are golden.
Nutrition
Serving Size: 1 empanada
Calories: 271
Fat: 15g
Carbohydrates: 15g
Fiber: 1g
Protein: 15g