In the culinary realm, there's an unwritten rule: sometimes, simplicity reigns supreme. A perfect embodiment of this principle is the Garlic, Honey, Coconut Amino, and Mustard Marinated Chicken Breast. It's juicy, hints at sweetness, boasts a burst of flavors, and is remarkably easy to prepare. Best of all? It pairs beautifully with dishes like our previous favorite, the Chickpea Rice Pilaf.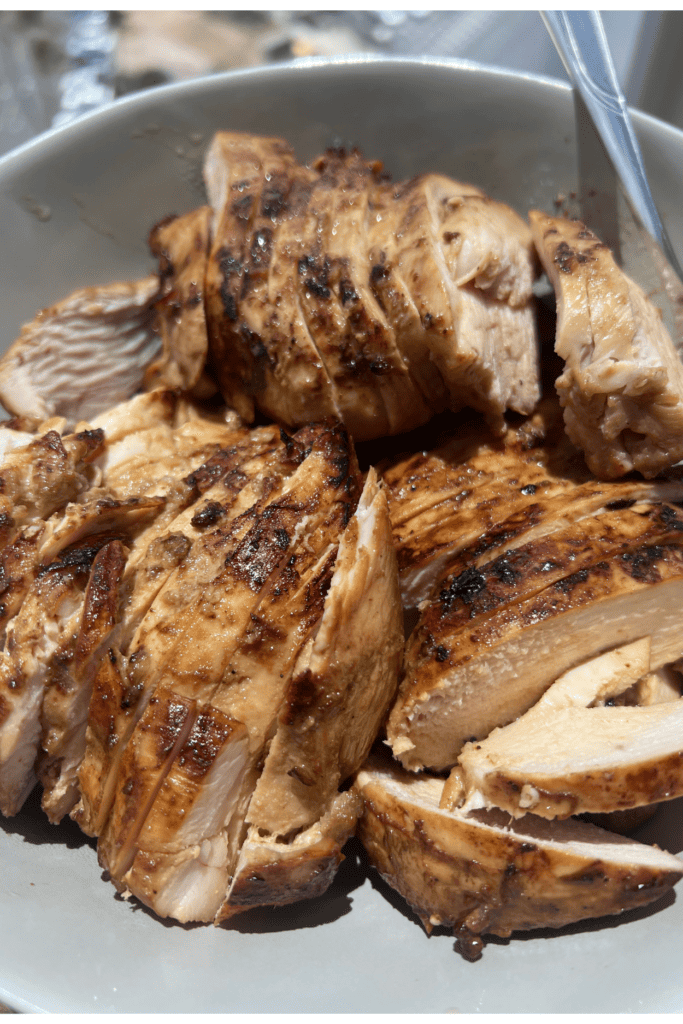 Table of Contents
Can't Beat an Easy Marinated Chicken Recipe
The Garlic, Honey, and Mustard-Marinated Chicken Breast is more than just a meal; it's an experience, a delightful symphony of flavors harmoniously dancing on the palate. Its ease of preparation is the cherry on top, making it an ideal choice for both weeknight dinners and special occasions. Pair it with the Easy Chickpea Rice Pilaf, and Chopped Spinach and Herb Salad and you've got yourself a gourmet meal right in the comfort of your home.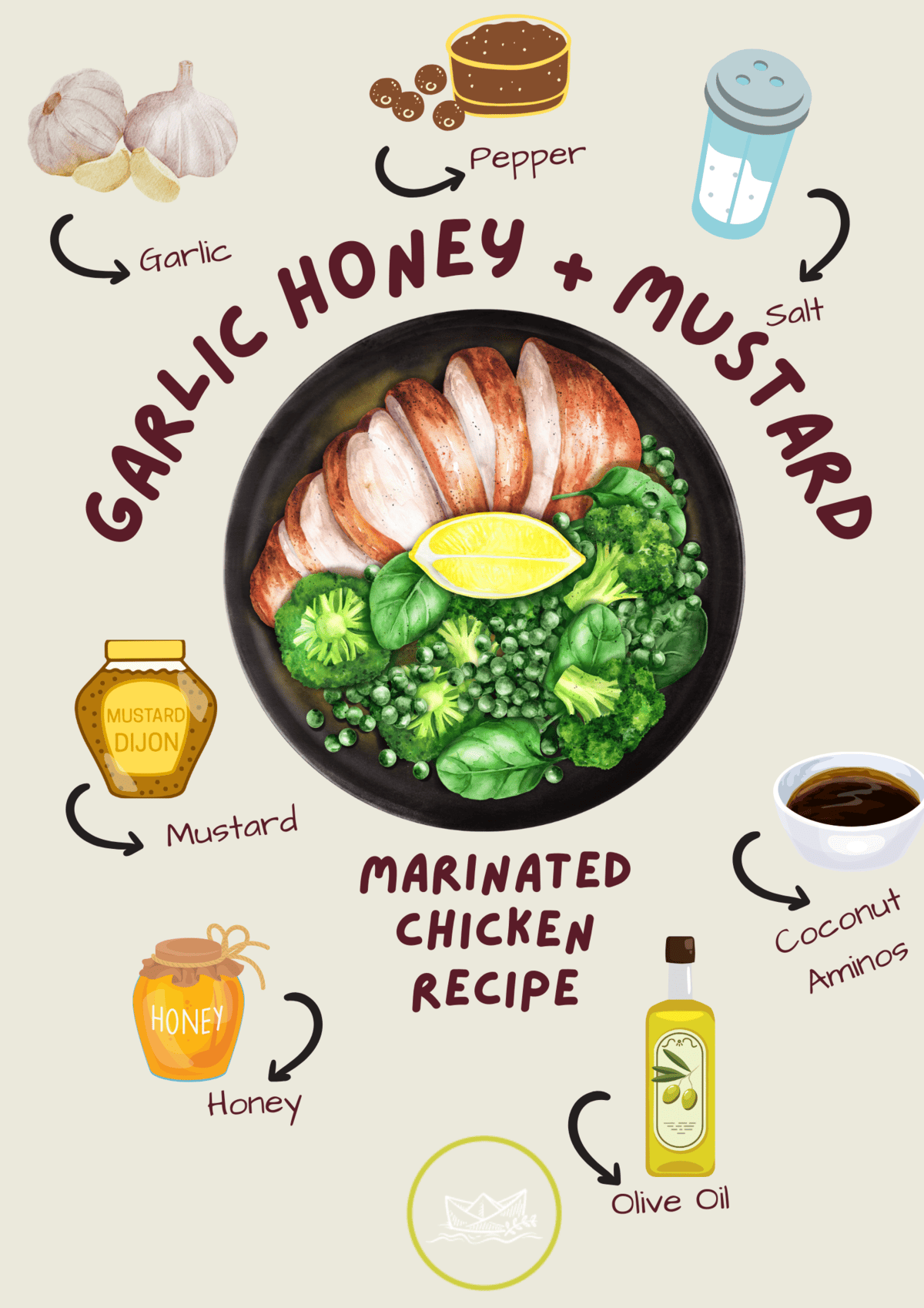 Garlic, Honey, Mustard, and Chicken All Have Benefits!
Chicken Breast:

Protein Powerhouse: Chicken breast is one of the best sources of lean protein. This helps in muscle growth and repair.
Vitamins & Minerals: Contains essential vitamins and minerals, especially B vitamins like niacin and B6, which are crucial for energy production and metabolic support.

Honey:

Natural Sweetener: Honey is a natural sweetener, providing a healthier alternative to refined sugars.
Antioxidant-Rich: Contains phenols, enzymes, and compounds like flavonoids and organic acids that act as antioxidants.
Wound Healing: Traditionally, honey has been used for its antimicrobial properties to treat wounds.

Olive Oil:

Healthy Fats: Olive oil is rich in monounsaturated fats, which can reduce bad cholesterol levels.
Anti-inflammatory: Contains antioxidants that have anti-inflammatory effects, particularly oleocanthal, which works similarly to ibuprofen.

Coconut Aminos:

Soy-free Alternative: A great substitute for those who are soy-intolerant or looking to reduce soy intake.
Low in Sodium: Contains less sodium than traditional soy sauce, promoting better heart health.
Vitamins & Minerals: Offers a variety of minerals and a small amount of B vitamins.

Dijon Mustard:

Low-Calorie Flavor: Adds a burst of flavor with minimal calories.
Rich in Selenium: Essential for the health of the thyroid and for the body to produce DNA and protect against damage from free radicals.
Anti-inflammatory: Contains compounds that may have anti-inflammatory effects.

Garlic:

Heart Health: Garlic can combat sickness, including the common cold, and has been linked to improved cholesterol levels.
Rich in Antioxidants: Contains antioxidants that support the body's protective mechanisms against oxidative damage.
Natural Antibiotic: Allicin, an active compound in freshly crushed garlic, has been shown to kill bacteria and fungi.

Salt & Pepper:

Essential Minerals: Both contain essential minerals. Salt (specifically sea salt or Himalayan salt) can offer iodine, magnesium, calcium, and other trace minerals, while pepper improves digestion and has antioxidant properties.
Understanding the nutritional and health benefits of the ingredients in our food can help us appreciate not just the flavors but also the nourishment our meals provide. Remember, although the health benefits of each ingredient from this garlic, honey, coconut amino, and mustard-marinated chicken breast recipe are true, bioinvididuality is the most important factor for individual health. What works for me, might not work for you.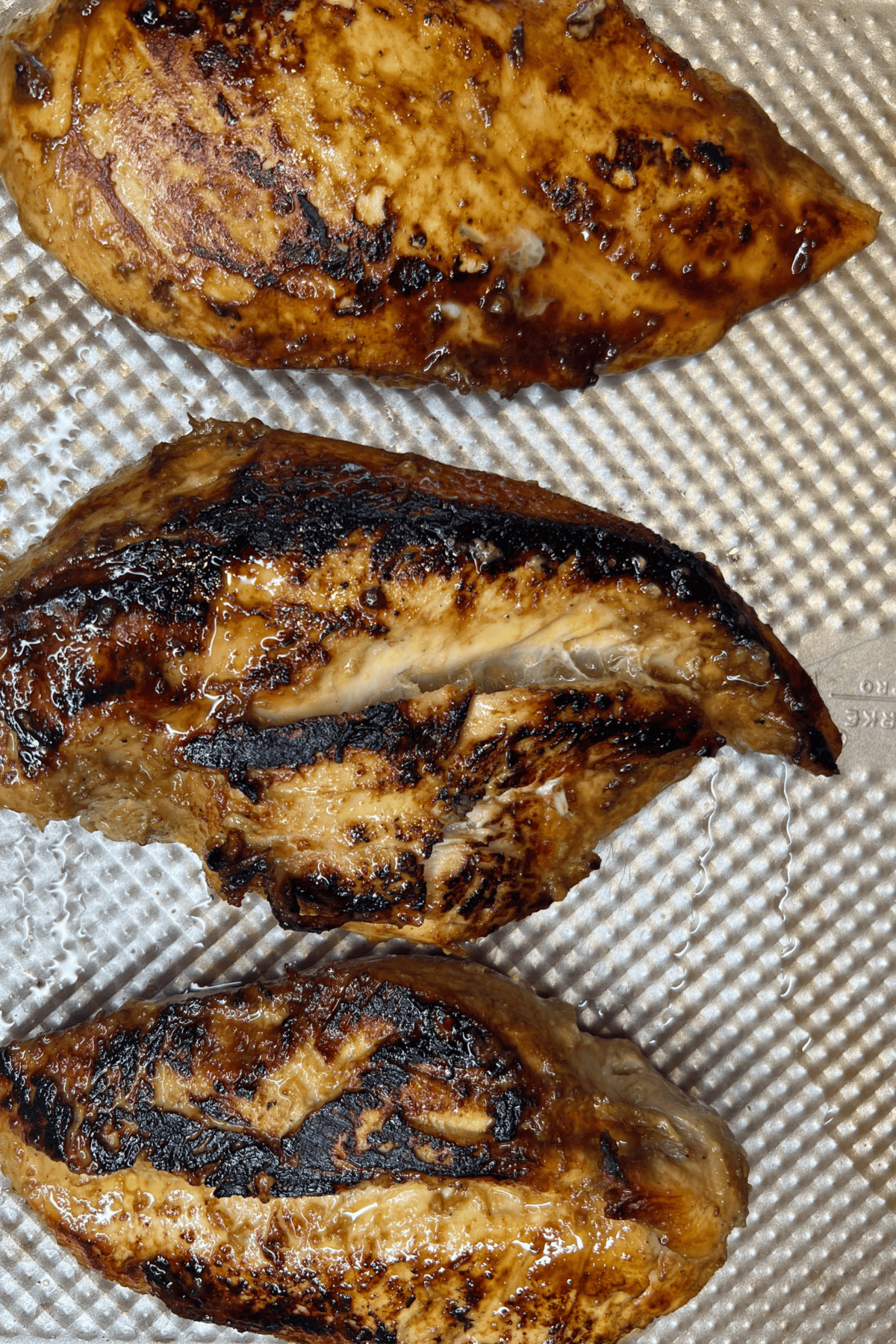 Easy Weeknight Chicken Marinade Recipe
The Garlic, Honey, and Mustard-Marinated Chicken Breast is perfect because it uses ingredients you already have on hand. The marinade buys you extra time before you need to cook your chicken or freeze it. This slightly sweet, very juicy chicken pairs well with the chickpea and rice pilaf, as well as the chopped spinach and herb salad with Turkish apricot. This entire family dinner is part of this month's cook and learn video.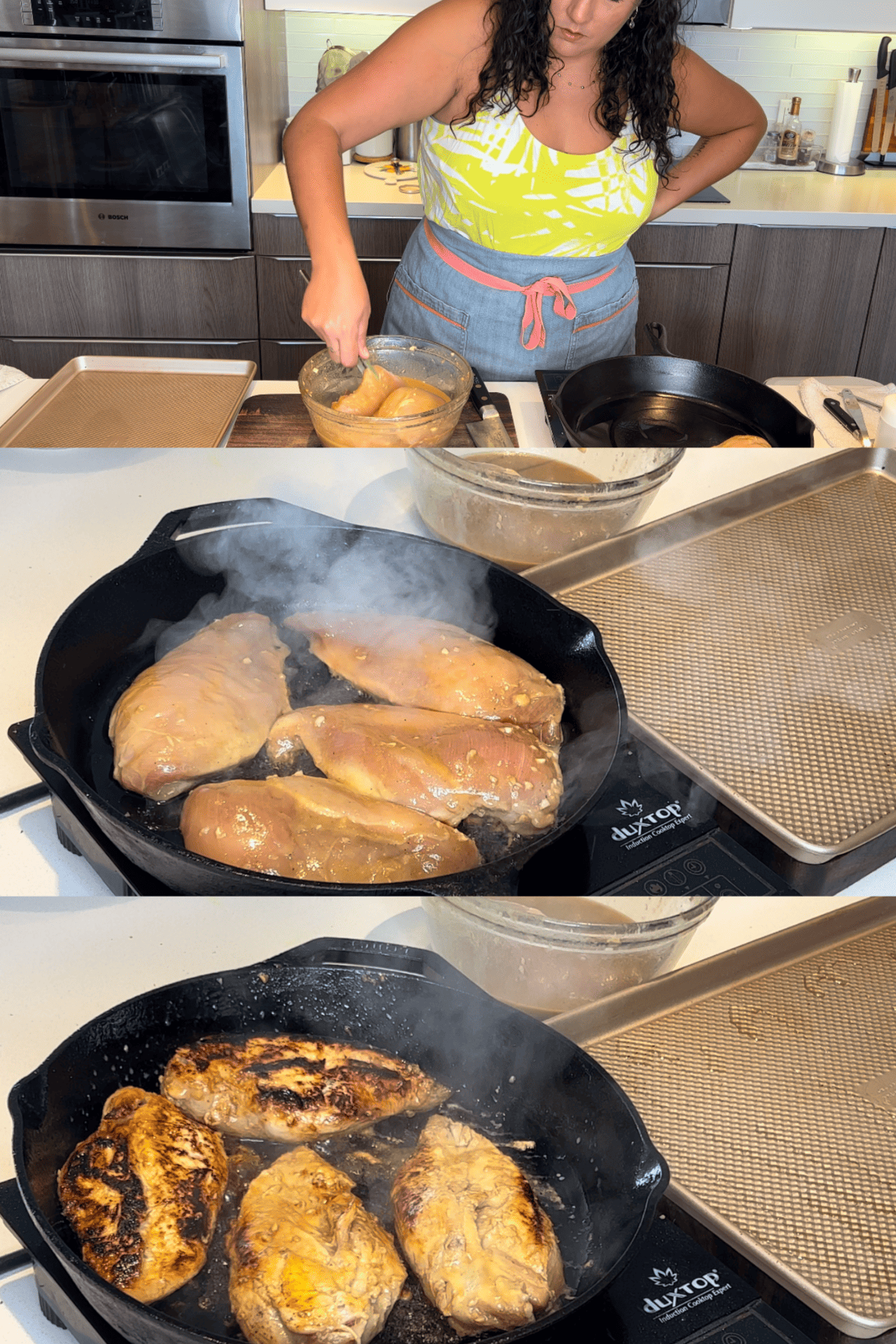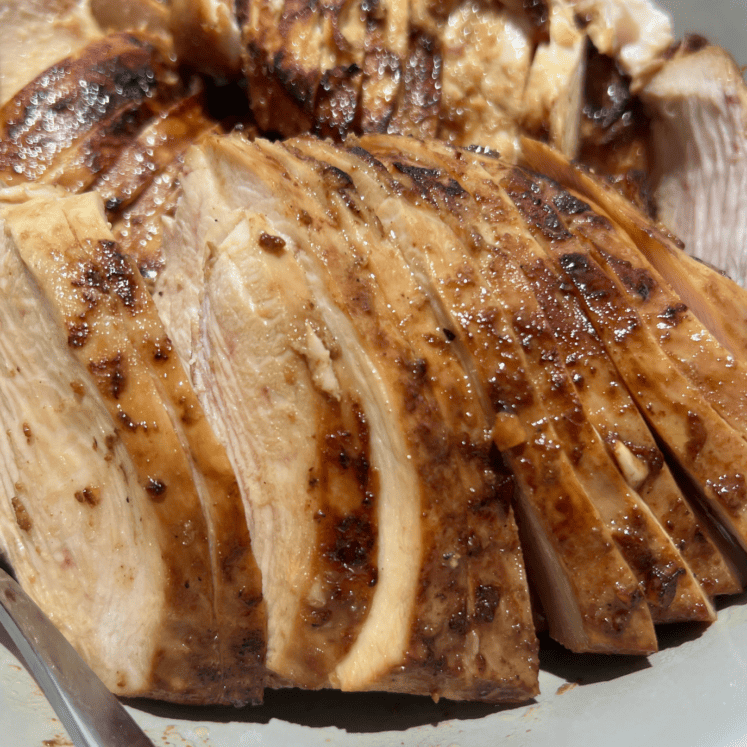 Garlic, Honey, and Mustard-Marinated Chicken: A Savory Dance of Flavors
---
Author: Cristina Curp, FNTP
Prep Time: 5 minutes
Marinate: overnight:
Cook Time: 20 minutes
Total Time: 25 minutes
Yield: 5 servings (1 breast) 1x
Category: Chicken
Method: Sear and Bake
Diet: Gluten Free
Description
It's juicy, hints at sweetness, boasts a burst of flavors, and is remarkably easy to prepare.
---
Scale
Ingredients
5 boneless, skinless chicken breasts
1/4 cup honey
1 tablespoon olive oil
1/4 cup coconut aminos
2 tablespoons Dijon mustard
3 tablespoons minced garlic
1 teaspoon salt
2 teaspoons ground pepper
---
Instructions
In a large bowl, combine honey, olive oil, coconut aminos, Dijon mustard, minced garlic, salt, and pepper. Stir well to ensure even mixing.
Gently place the chicken breasts into the bowl, making sure each piece is thoroughly coated with the marinade.
Cover the bowl and let the chicken marinate in the refrigerator for 1 to 3 days, allowing the flavors to deeply infuse.
When ready to cook, preheat your oven to 350°F (175°C).
Heat a large skillet over medium-high heat and add a dash of olive oil.
Sear the chicken breasts for approximately 3 minutes on each side or until they attain a golden-brown hue.
Transfer the seared chicken breasts onto a sheet pan.
Bake in the preheated oven for about 15 minutes, or until the chicken reaches an internal temperature of 165°F (74°C).
Recipe Notes:
You can use soy sauce (of gluten-free tamari) instead of amino if it's what you have on hand, but add 1 tbsp more honey, and reduce salt by 1/2 teaspoons.
Line your baking sheet with foil so the sauce doesn't stick
Nutrition
Serving Size: 1 breast
Calories: 220
Sugar: 12g
Sodium: 500g
Fat: 5g
Saturated Fat: 1g
Carbohydrates: 15g
Fiber: <1g
Protein: 25g
Keywords: Garlic Honey Mustard Marinated Chicken