This honey mustard salmon is cooked for crispy skin! It cooks up fast too! I wrote the recipe so you made the creamy collard greens first and then make the honey mustard salmon. The greens are a pressure cooker recipe but I've also included stovetop instructions. If you don't have collard greens, kale will work too!
Table of Contents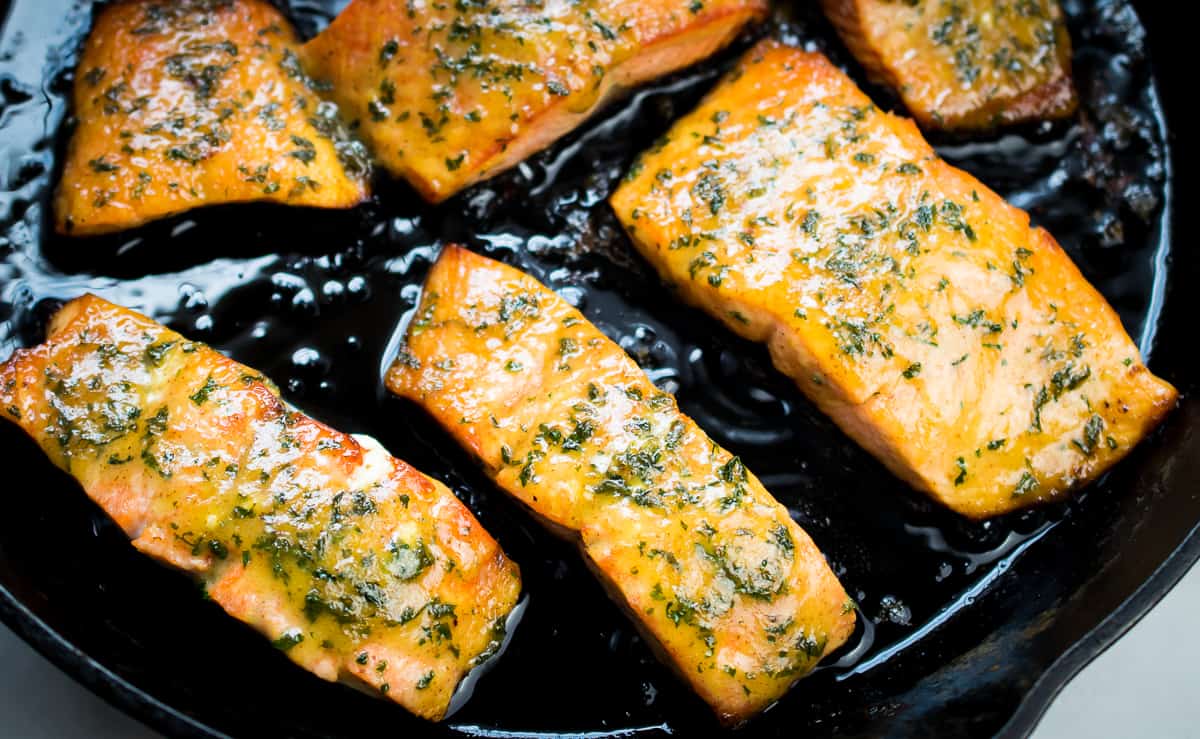 Cooking These Days
There's definitely a little more ingenuity and flexibility coming out of the kitchen, but I also feel fortunate that we've had plenty of food. Our stores are still open and our CSA delivery still comes every week with fresh produce and eggs. I had these salmon filets from Sitka Salmon Shares in my freezer and pulled them out to thaw.
Thawing Salmon
When you thaw your salmon, unwrap it from the plastic vacuum sealed pouch. Place on a plate with a bit of a rim on it. Place the plate on a level surface in the fridge and let the fish thaw overnight. If you're not going to eat it right away, don't despair. Drain the liquid from the plate and sprinkle a little salt on it and it will last another day in the fridge. Bonus this cures it a little and creates a wonderful crust on the meat of the fish. I often do that and did it when I made this recipe, it doesn't impact the final result much, but I think it sears better! These lightly cured salmon pieces were perfect for this honey mustard salmon!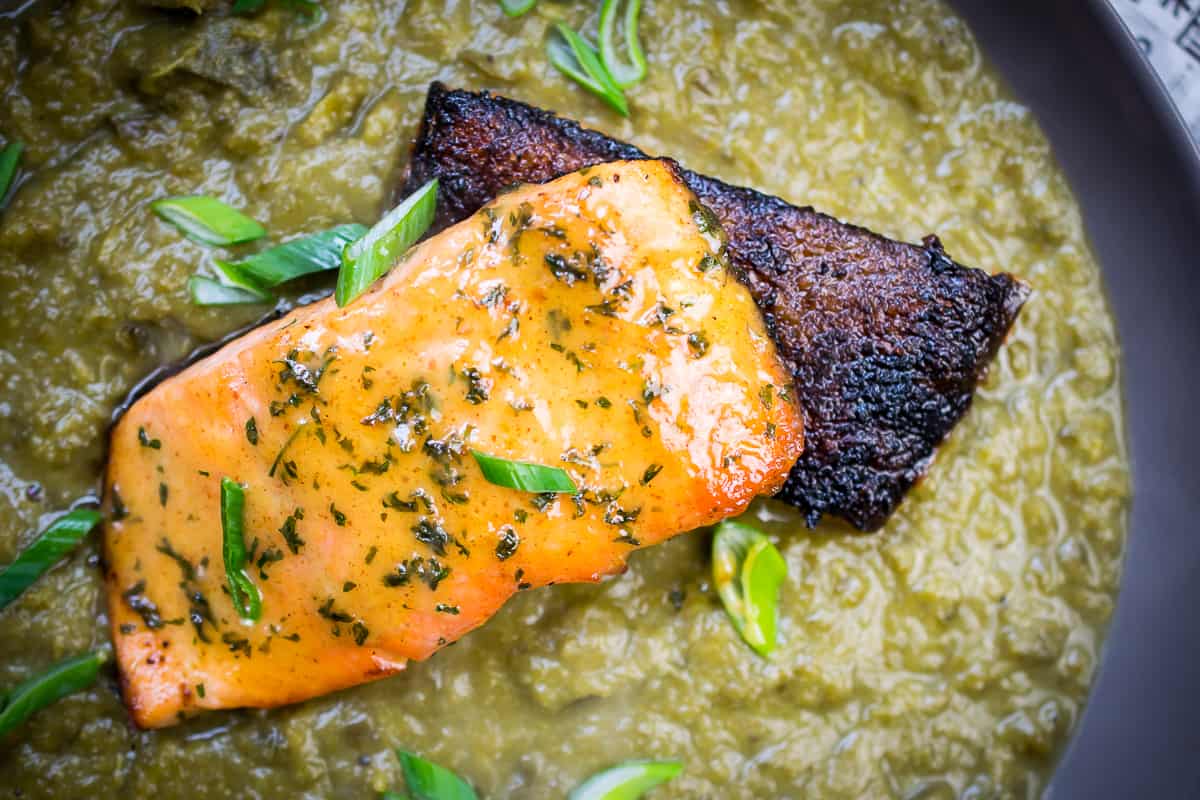 The Creamy Collards….
Aren't the prettiest thing to look at, but they're delicious and good for you. Also easy on the digestive tract! Made with garlic, cauliflower, and bone broth and pressure cooked or slow-simmered then blended up- this puree is the perfect base for this beautiful honey mustard salmon filets with crispy skin!
Nutrient Density!
This meal delivers a hefty dose of vitamin c from the greens and cauliflower (88% of your RDI in one serving). The salmon delivers 198% of your RDI in on serving which is great since we're all getting outside a little less and vitamin D is important for immune function. Read more on nutrients that support the immune system here.
This meal is also a fantastic source of vitamin A, selenium, B12, protein and omega 3 fatty acids!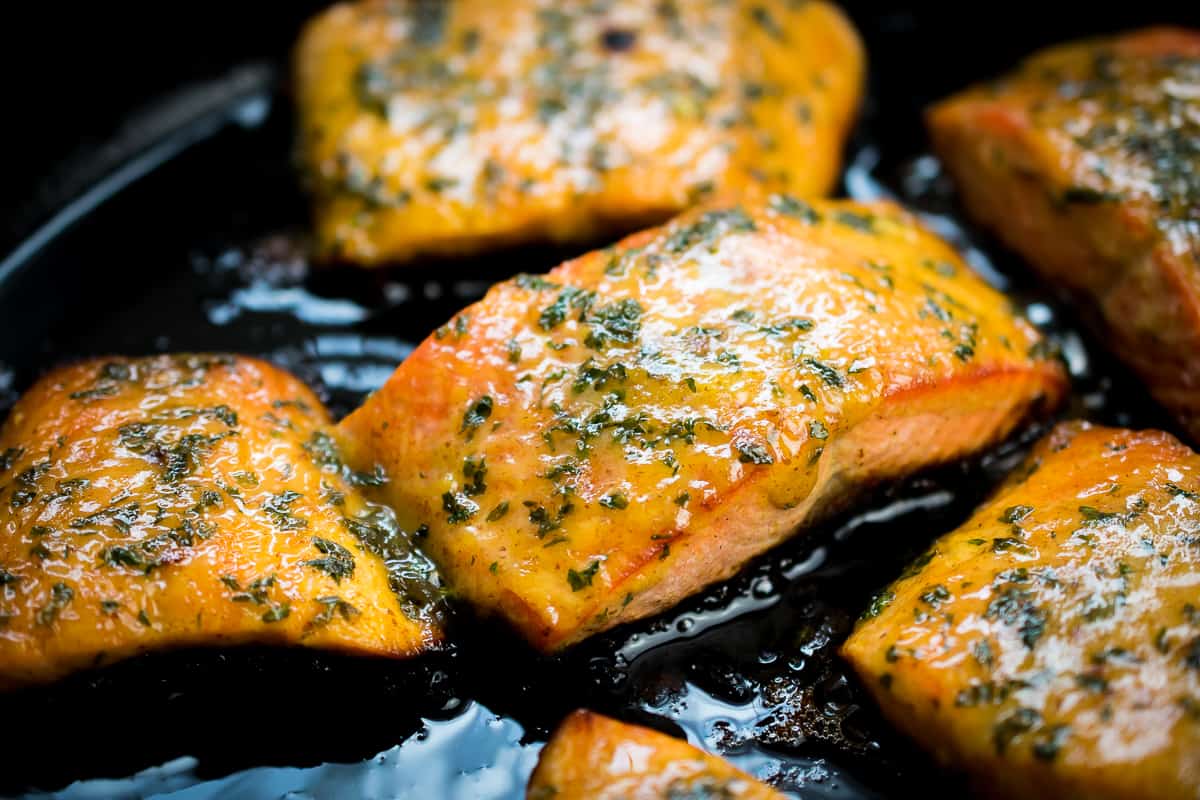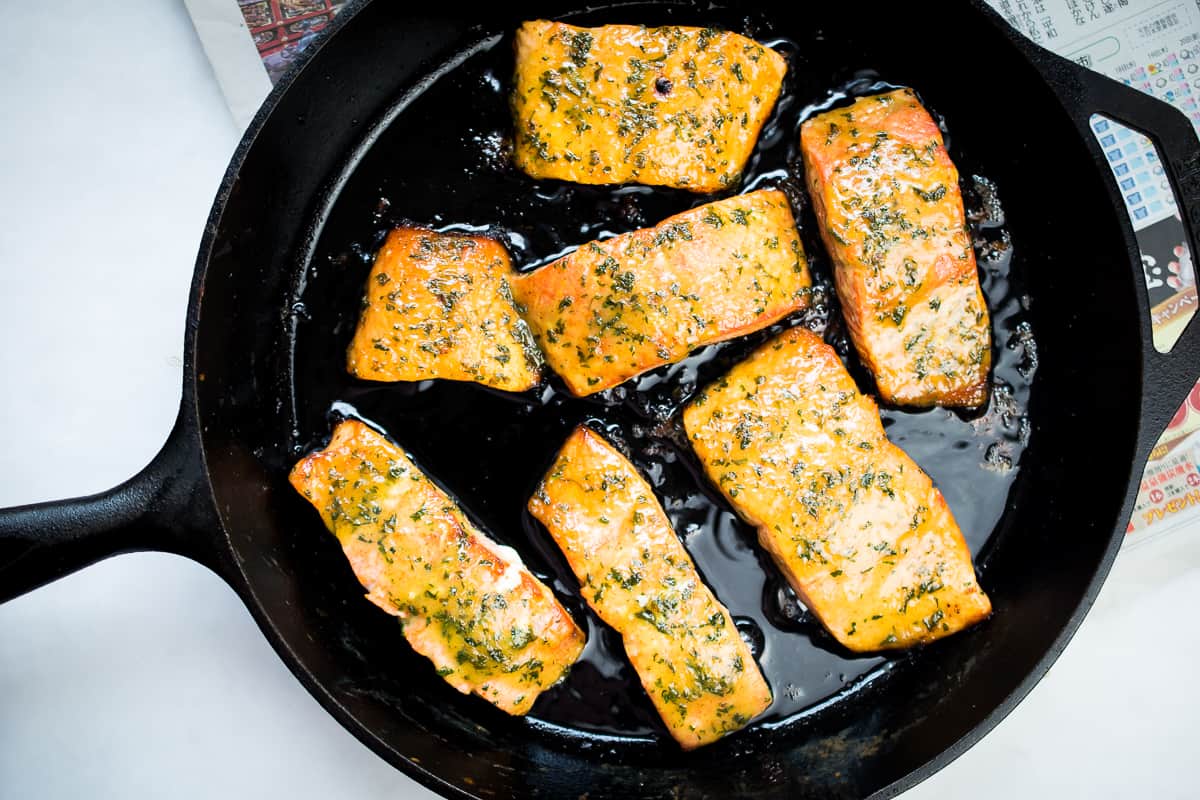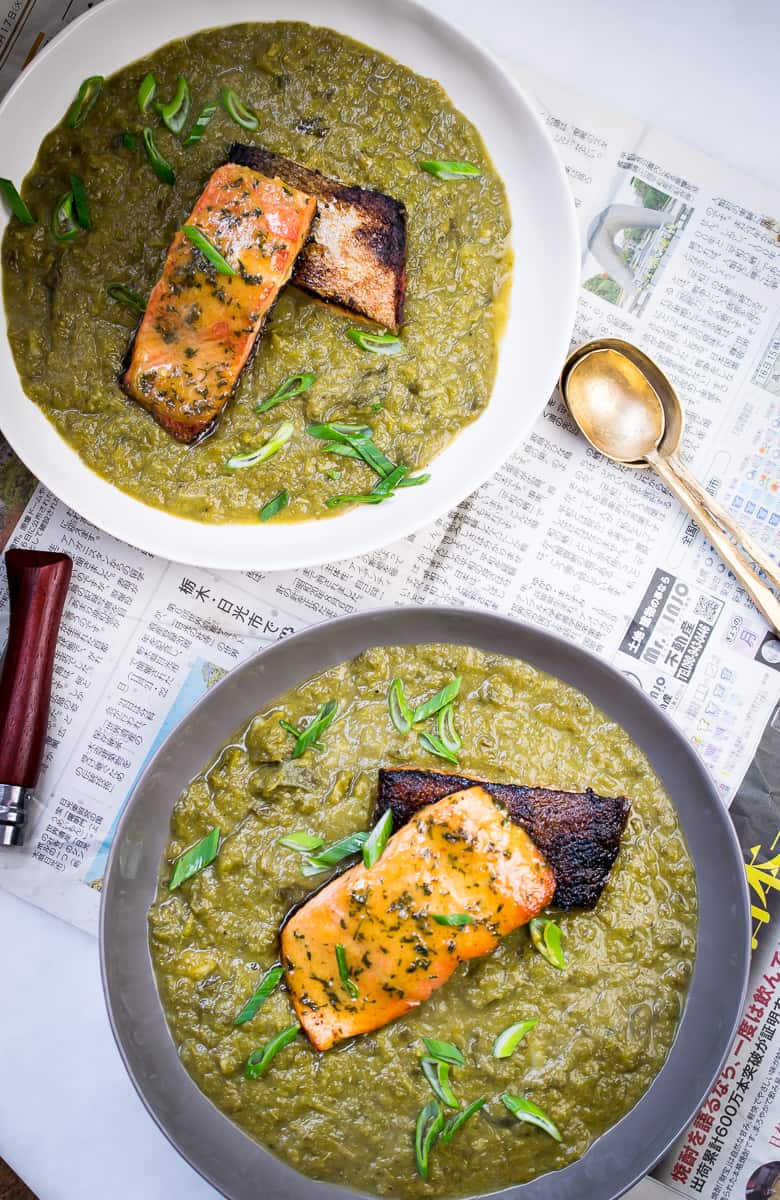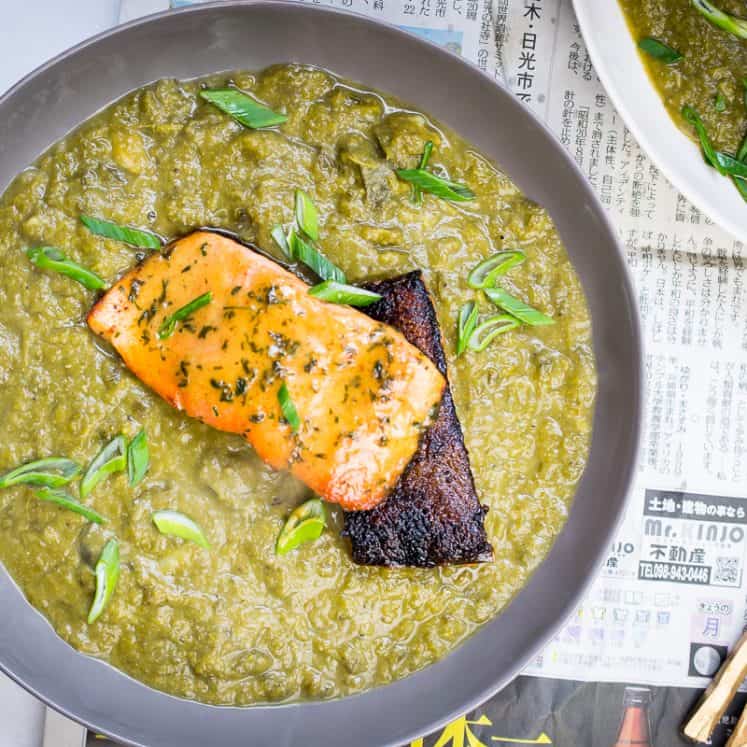 Honey Mustard Salmon and Creamy Collard Greens
---
Author: Cristina Curp
Prep Time: 15
Cook Time: 20
Total Time: 35 minutes
Yield: 4 servings 1x
Category: Entree
Method: Varied
Cuisine: Seafood
Description
Simple and delicious crispy salmon with creamy greens!
---
Scale
Ingredients
For the Collards
2 tablespoons olive oil
1 large onion, diced
4 cloves garlic, minced
1 bunch collard greens, chopped
½ head of cauliflower, cut into florets
2 teaspoons fine salt
1 teaspoon garlic power
1 teaspoon onion powder
½ teaspoon garlic powder
½ teaspoon black pepper (omit for AIP)
1 cups bone broth
For the Salmon
2 pounds deboned salmon filet
2 teaspoons fine salt
2 tablespoons Dijon mustard (sub Horseradish for AIP)
2 teaspoons avocado oil
1 tablespoon honey
1 teaspoon dried parsley (optional)
3–4 tablespoons cooking oil (coconut oil, lard, ghee etc)
---
Instructions
Heat your pressure cooker on sauté more (or heat 6 qt pot on the stove). When it comes to temperature drizzle in the oil. Add the onion and garlic and sauté for 2-3 minutes then add in the collards and stir well.
Add in the cauliflower, seasonings and broth. Close the lid and pressure cook on low for 15 minutes. For stove top, use 2 cups broth and simmer on low for 30 minutes with the lid on. Release the pressure from your pressure cooker manually- or when the collards are super tender in the pot, open the lid and insert and immersion blender. Blend until creamy and smooth! Keep hot in the pot while you make the salmon.
Cut your salmon into 4-ounce pieces. Pat dry, meat and the skin then salt liberally.
In a small bowl mix together the mustard, honey, parsley and avocado oil. Spoon that over the salmon pieces.
Turn your oven on turn broil on high, make sure one of the racks is set at the top.
Heat a large, oven safe skillet over medium heat. Put the cooking oil in the skillet, when it begins to sizzle, put the salmon pieces skin side down in the oil, cook for 4 minutes here.
Then transfer the skillet to the oven and cook under the broiler for 2-3 minutes.
Serve the crispy salmon pieces over a hearty bowl of creamy collards!
Nutrition
Serving Size: 1/4 recipe
Calories: 567
Fat: 34.4g
Carbohydrates: 12g
Fiber: 3.6g
Protein: 55.26g
Keywords: honey mustard salmon