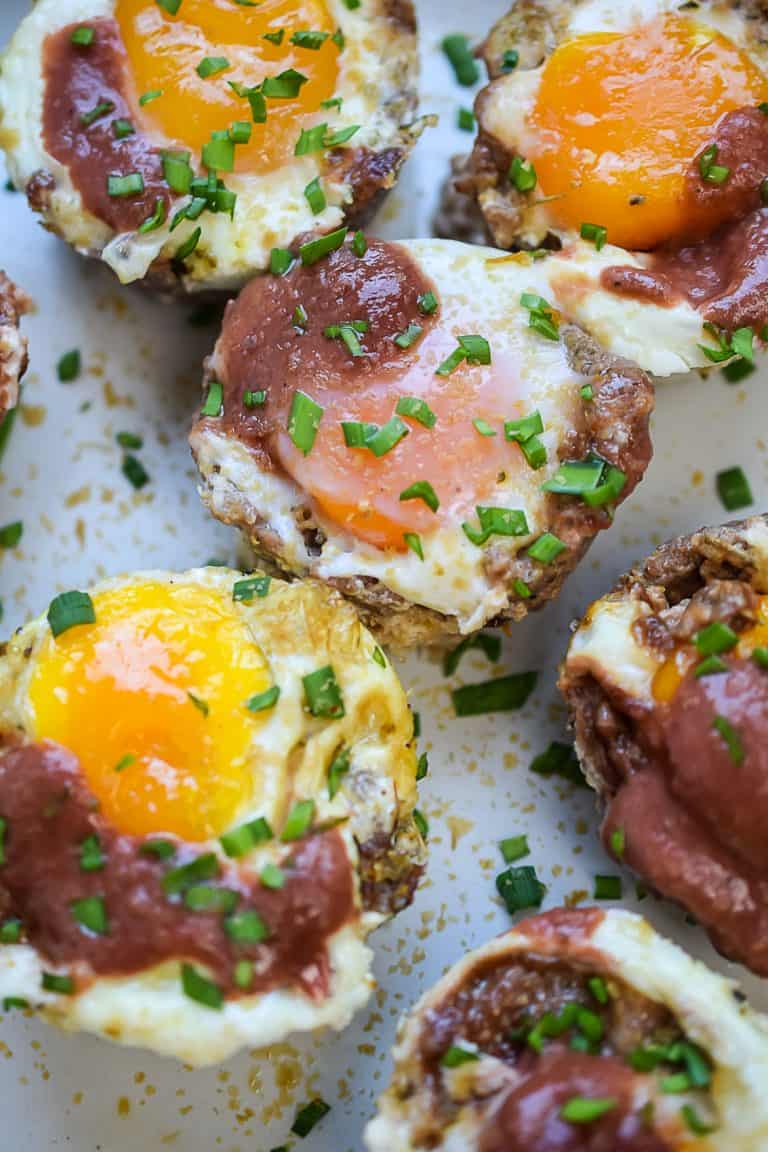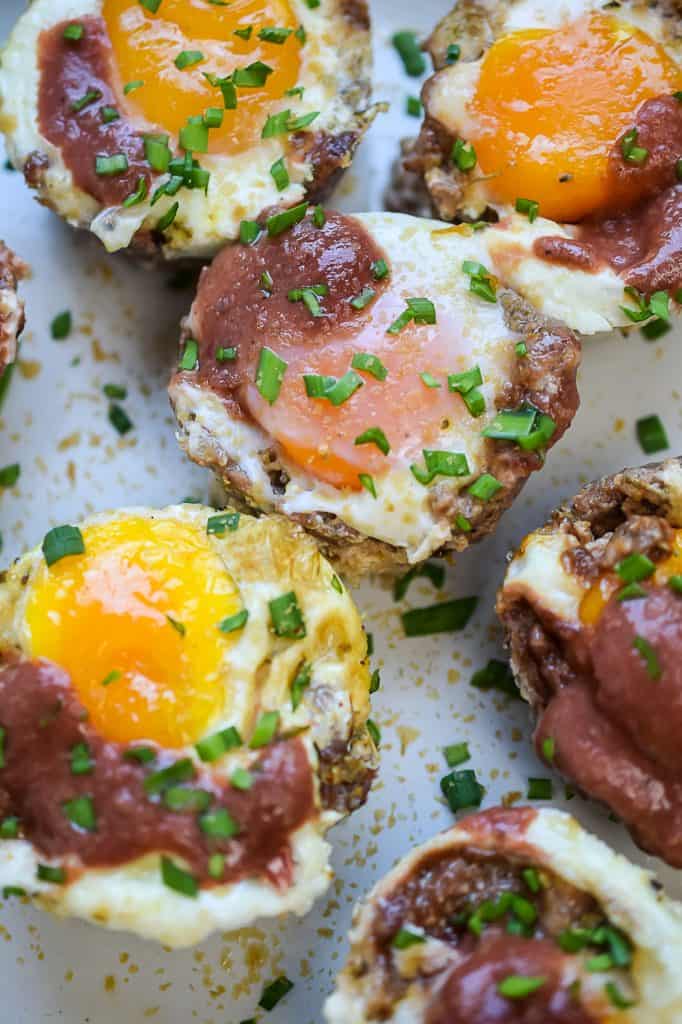 Pizza Egg. Sausage. Cups. Seems like a few words that don't belong together, but they do. Oh yes they do. Let me break it down for you.
I begin by pressing sausage into a muffin tin and making cups. The sausage cups are then filled with marinara, Italian seasoning, nutritional yeast and eggs. Boom. Pizza Egg Sausage Cups.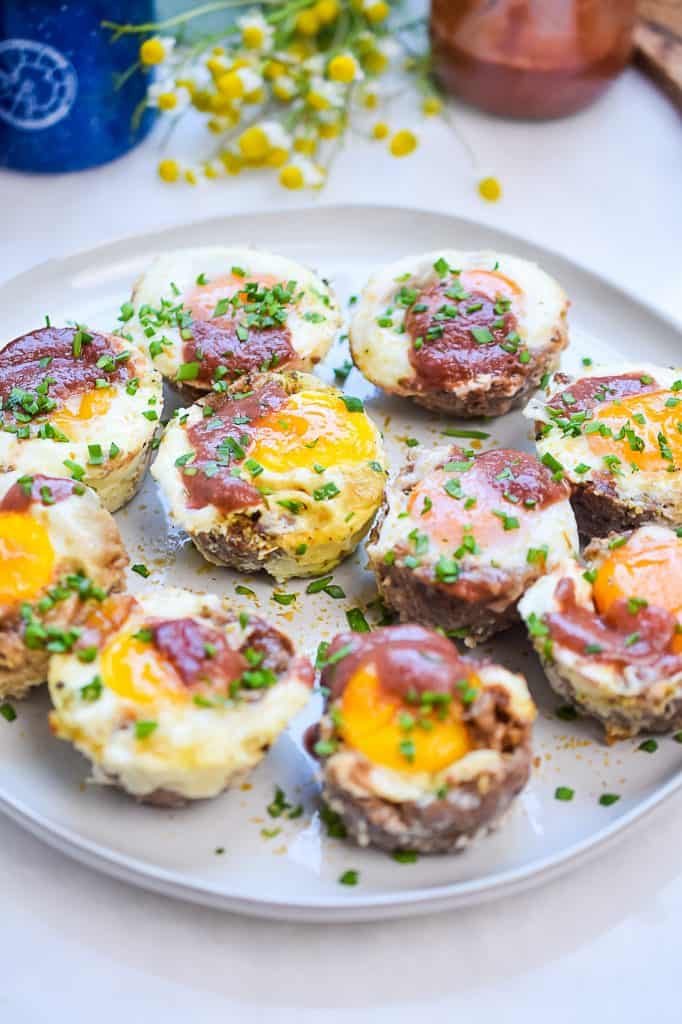 A note about the ingredients…
I like to use Butcher Box Breakfast Sausage for this because it's nightshade free and made from quality pork.
I also use nightshade free Roasted Beet Marinara from Made Whole cookbook, but if you can tolerate tomatoes, use whichever sauce you like.
Nutritional Yeast is what I use for cheesy flavor, but you can use a nut-based dairy free cheese or aged parmesan if you like.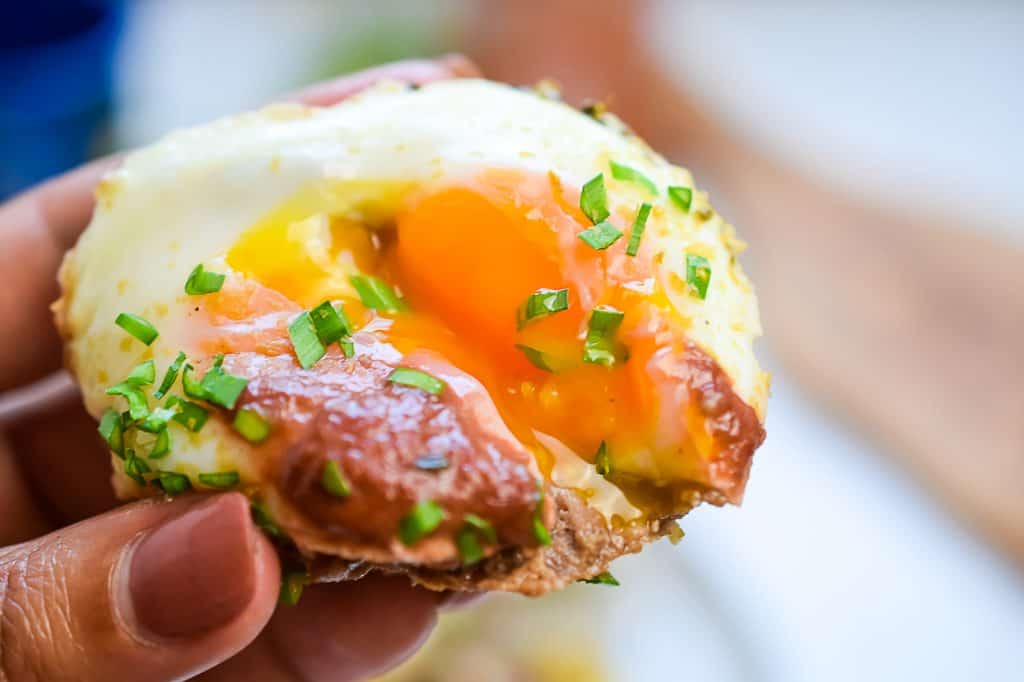 Tips for Success!
Use a good ground sausage and divide up into 12 even balls, pressing them down in to the muffin tin and then using a small bottle to shape the cup. See the picture.
When you par cook the sausage it will shrink, that's okay. Carefully drain fluid from the muffin tin if there is a lot. And give everything a nice coconut oil spray. That what if your egg spill outs of the cup it won't stick.
Use a spoon! You only need a teaspoon and maybe drop more to garnish of sauce per cup. Too much and they will be mushy.
Small eggs! Yes, they exist. Most folks always use large eggs from the store, if that's what you have, use only the large yolks, they will fit perfectly into the little sausage cups and you can add egg white to your liking.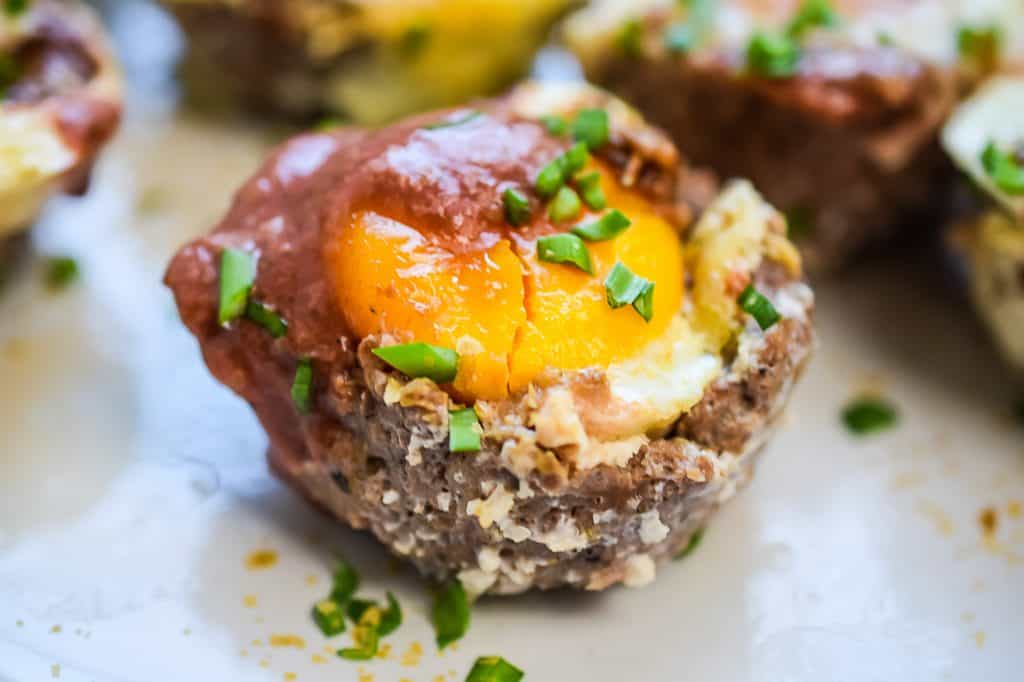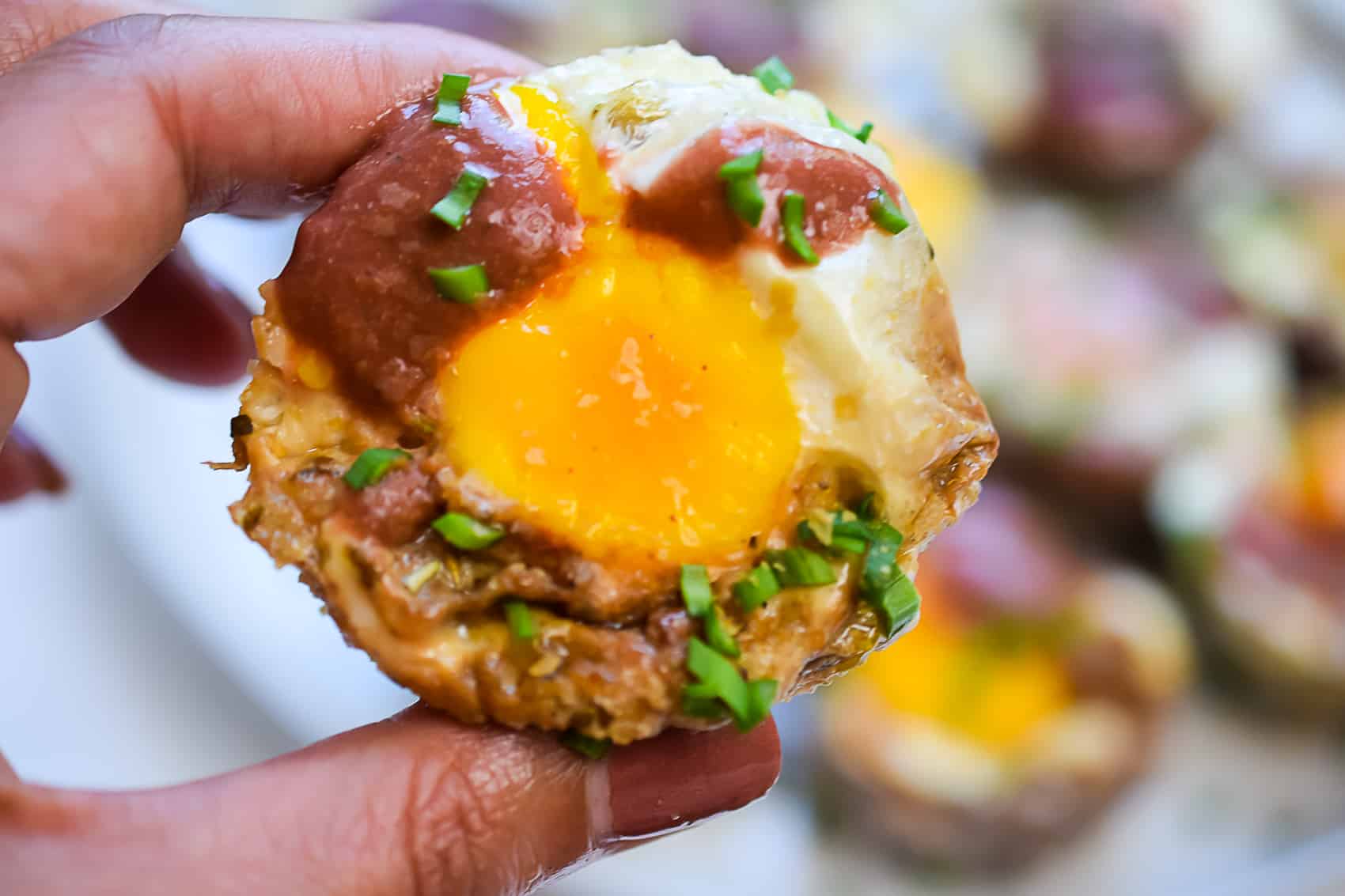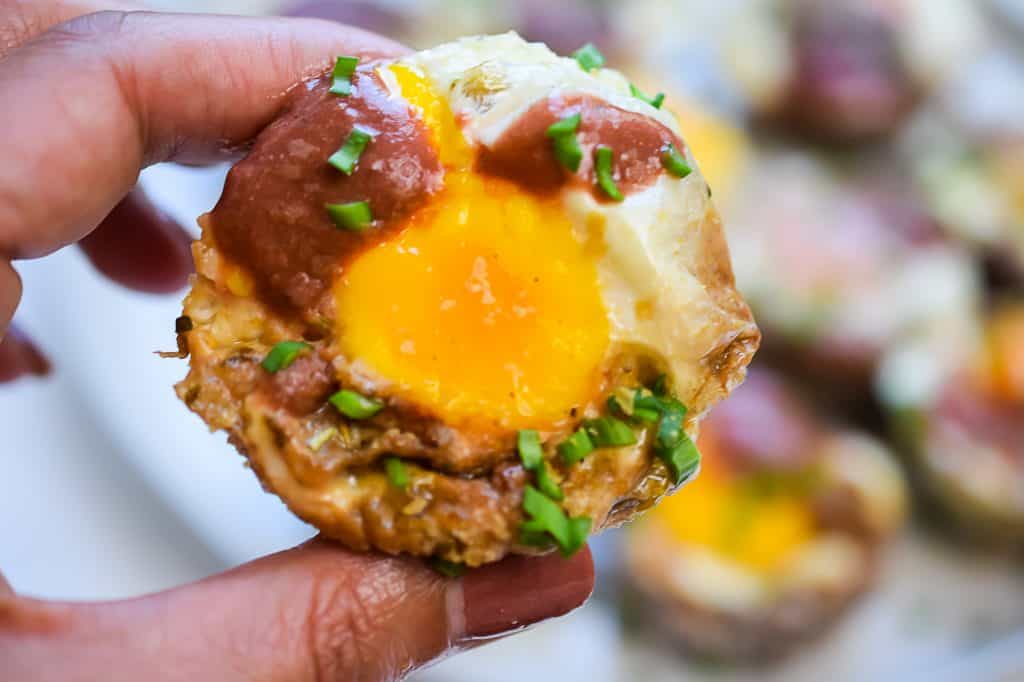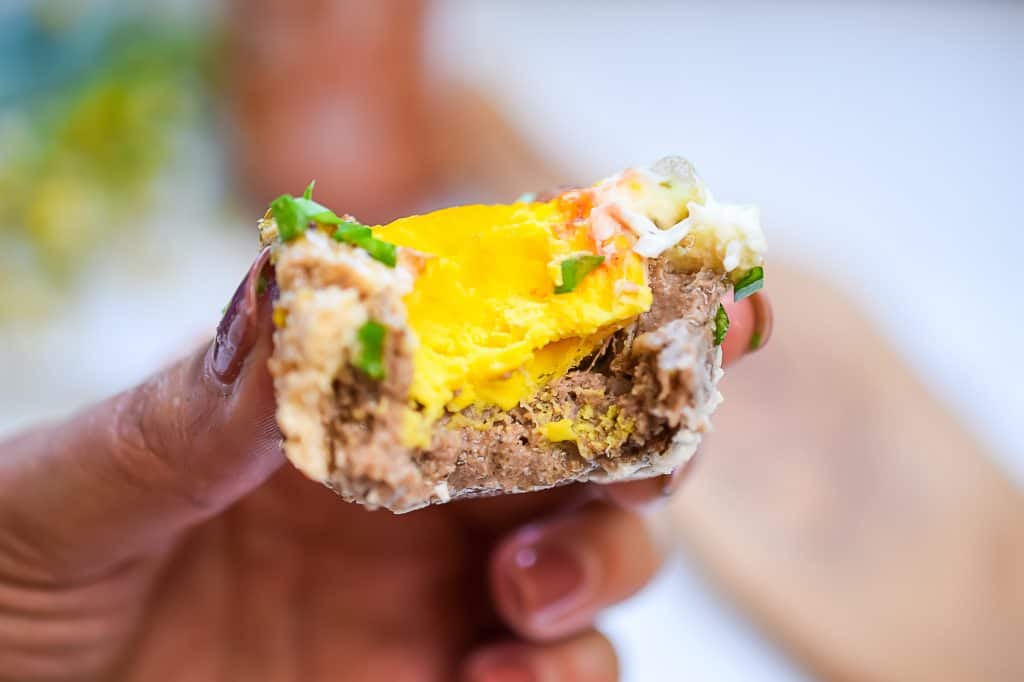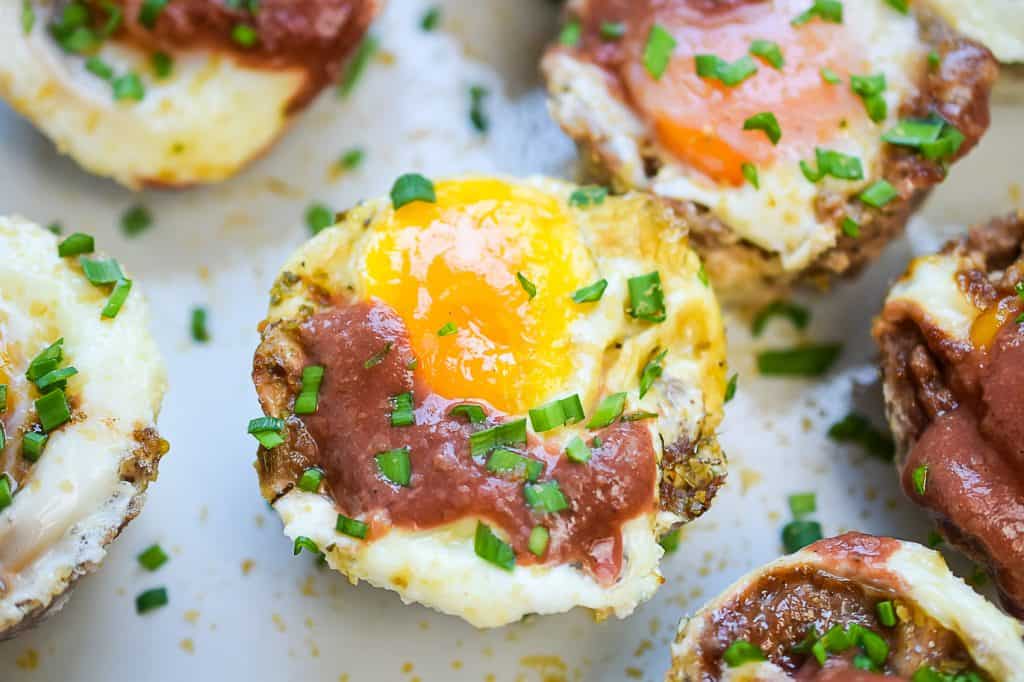 Pizza Egg Sausage Cups (keto, paleo)
---
Author:
Prep Time: 15
Cook Time: 20
Total Time: 35 minutes
Yield: 12 cups 1x
Category: Breakfast
Method: Bake
Cuisine: Italian
Description
Perfect for brunch or meal prep! These Keto Pizza Egg Sausage Cups are so easy and so good!
---
Scale
Ingredients
1 pound Butcher Box Ground Breakfast Sausage (for nightshade free) or Ground Italian Sausage
1/4 cup Marinara Sauce (I used the nightshade free recipe from Made Whole)
12 small eggs ( or 12 yolks only if you have large eggs)
1/4 cup nutritional yeast flakes (or parmesan cheese for those who can eat dairy)
1 teaspoon Italian Herb Blend
1/2 teaspoon fine salt, divided
minced chives
---
Instructions
Preheat oven to 350F.
Divide the sausage into 12 small balls, one for each mold in the muffin tin. Press it down then use a small bottle, like a spice bottle to press it in and make a cup. Sprinkle with 1/4 teaspoon salt.
Bake for 5 minutes. Remove from the oven (drain fluid if needed). Spoon 1 teaspoon of marinara in each sausage cup, then put the egg yolks or in each cup or crack the small eggs into them (it is okay if it spills over). Sprinkle with remaining salt, nutritional yeast and the herb seasoning over the eggs.
Bake for 15-20 minutes until eggs are done. The outer eggs will cook through and the inner cups will stay jammy! Just make sure the whites no longer jiggle. It's perfect for a crowd that has varied egg preferences.
Use a spatula to unmold the egg cups once they have cooled off a bit. Garnish with chives, add more salt to taste and drizzles of marinara… and dig in!
Recipe Notes:
Read the recipe post for tips for success!
Nutrition
Serving Size: 2 cups
Calories: 468.3
Fat: 40g
Carbohydrates: 3.3g
Fiber: 0.9g
Protein: 23.1g
Keywords: pizza egg sausage cups