"Anyone who has never made a mistake has never tried anything new."
― Albert Einstein
No truer words Al! I'd been posting pictures on Instagram of beautiful empanadas, made of sweet potato dough! The first time I made them they were perfect, so I knew I'd have to practice again. Second time, too potato-y, third time was darn good. Fourth time, I was all confident, I doubled the recipe. Naturally, I mucked it up. For the life of me that potato would just stick to the parchment paper & I could not roll out the dough. With a large bowl of floured mash in front of me, a skillet full of ground beef next to me… I decided to simplify my life, I would make papas rellenas.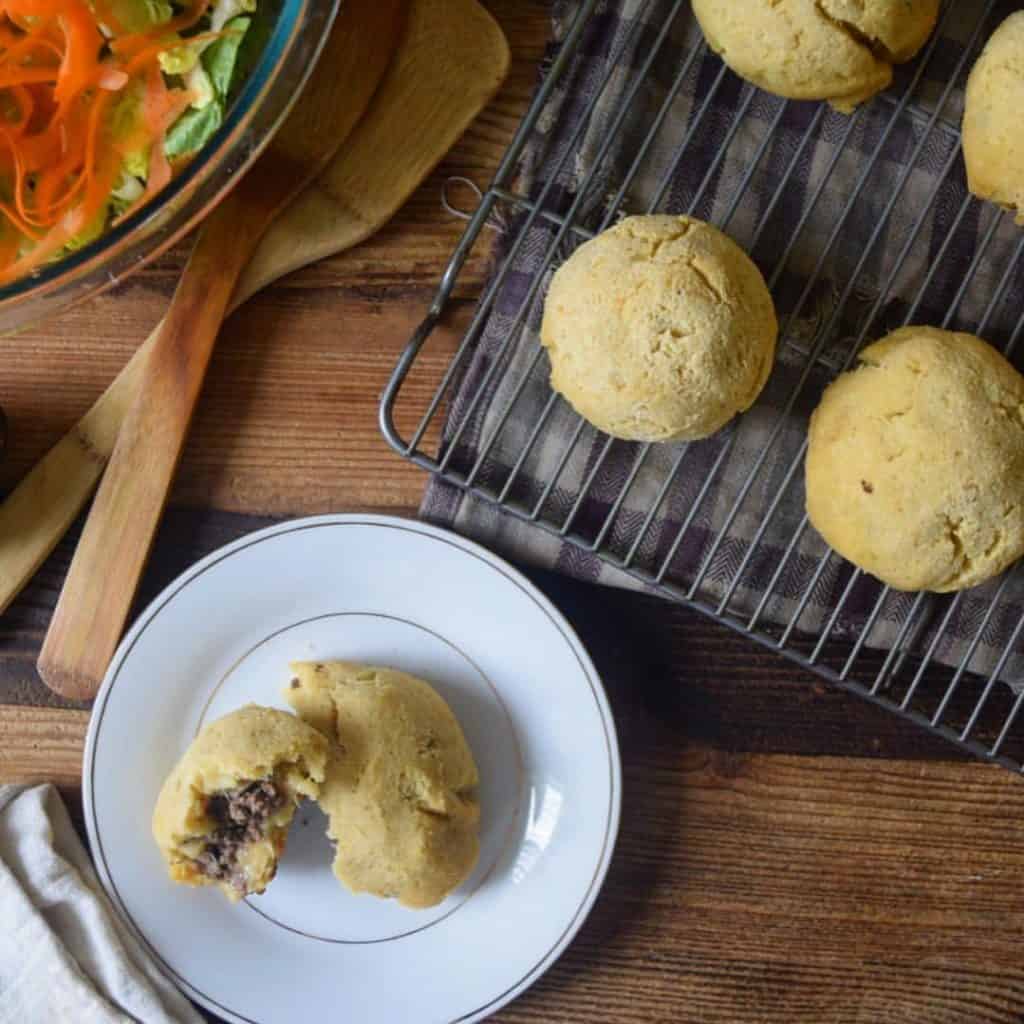 Papa rellena, which translates to stuffed potato; is a Cuban staple at any coffee stand or party. These little carb bombs are made using mashed potato dusted in flour & deep fried, filled with traditional picadillo (onions, olives, raisins, tomato etc). Obviously all that wasn't going to jive with me, luckily the "failed" dough worked better than expected!
I rolled up 8- 2 inch sized balls, made wells in them, spooned in some delicious spiced beef & radishes. Closed them, rolled them in olive oil, set them in the oven & crossed my fingers.
The result… a bun! A super bread like crispy outside, golden little balls. I was in love. Lighter than their traditional counterparts, not as greasy, yet crispy & portable, these stuffed sweet potato buns scream picnic food, party food & freeze me batch cook food! Sayonara empanadas, we have new meat stuffed, sweet potato, paleo pastry in town!
*you can fill these with anything, pulled chicken, greens & cauliflower cream or pulled pork!
Stuffed Sweet Potato Buns (Paleo, AIP)
---
Author:
Prep Time: 30
Cook Time: 40
Total Time: 70
Yield: 8 1x
Category: sides and snacks
Method: baking
Cuisine: Cuban
Description
Delicious Autoimmune Paleo Compliant Beef Stuffed Buns!
---
Scale
Ingredients
2 large bonito or Japanese sweet potato, about 1.5 pounds: peeled + boiled (do this ahead of time)
2/3 cup coconut flour
2/3 cup arrow root starch
2 tsp grass feed beef gelatin
1 tsp garlic powder
1 tsp salt
2 tsp baking powder (I make the Bob's Red Mill recipe, equal parts: baking soda, cream of tartar & arrowroot starch)
2 tsp apple cider vinegar
1/3 cup avocado oil + more for coating
1lb grass fed beef
1 onion
2 radishes
1/2 cup coconut aminos
1 tsp cinnamon
1 tsp ginger powder
1/2 tsp horseradish powder
1 tsp turmeric
1 tsp Pink Himalayan salt
---
Instructions
First prepare beef
In a large skillet heat oil, 1 tbsp.
Add sliced onion, radishes & cook until tender.
Add in beef, break up with spatula, add in salt & spices.
Stir constantly until browned & crumbly.
Add in coconut aminos.
Lower heat & simmer for 10 minutes.
Turn off heat, set aside to cool.
Dough
Pre-heat oven to 400F
Bring a pot of water to boil
Peel & dice the boniato, add to boiling water, boil until very tender.
Drain, let cool.
Place cooled potato in a bowl & mash with a whisk until smooth.
Add in flours, gelatin, baking powder & garlic + salt.
Add in vinegar, fold in.
While drizzling in oil, mix the dough until well combined.
If it doesn't seem to be coming together with the spatula, try mixing it with your hands, you're going to get them dirty in the next step anyway!
Shape 8 2 inch balls, like if you were making meatballs.
Once by one, pick up a potato ball, using your thumb make a 2oz sized well in the middle with one hand, while cradling it in the other hand.
Spoon in 1 tablespoon of beef mixture, more if it fits.
Then using your free hand, pinch together the potato dough to close.
Now roll the dough between both hands to make it a ball again. Gently dip it in the extra oil and roll it again to evenly coat it.
Place it on the sheet pan. Repeat with the remaining dough.
Bake at 400F for 30-35 minutes until just golden.
You don't want to toast them because toasted sweet potato has an overpowering bitter taste, great in fries, not in these!
These are heavy; I would portion 1 per person, maybe 2 if you're carb loading. Serve with salad 🙂