One of the most popular recipes at my mom's restaurant is her turkey sandwich with cilantro aioli and I have borrowed the recipe to share with all of you. I'm sure she won't mind! This cilantro aioli is the perfect condiment for veggies, meats… anything really. I love dipping roasted broccoli in it.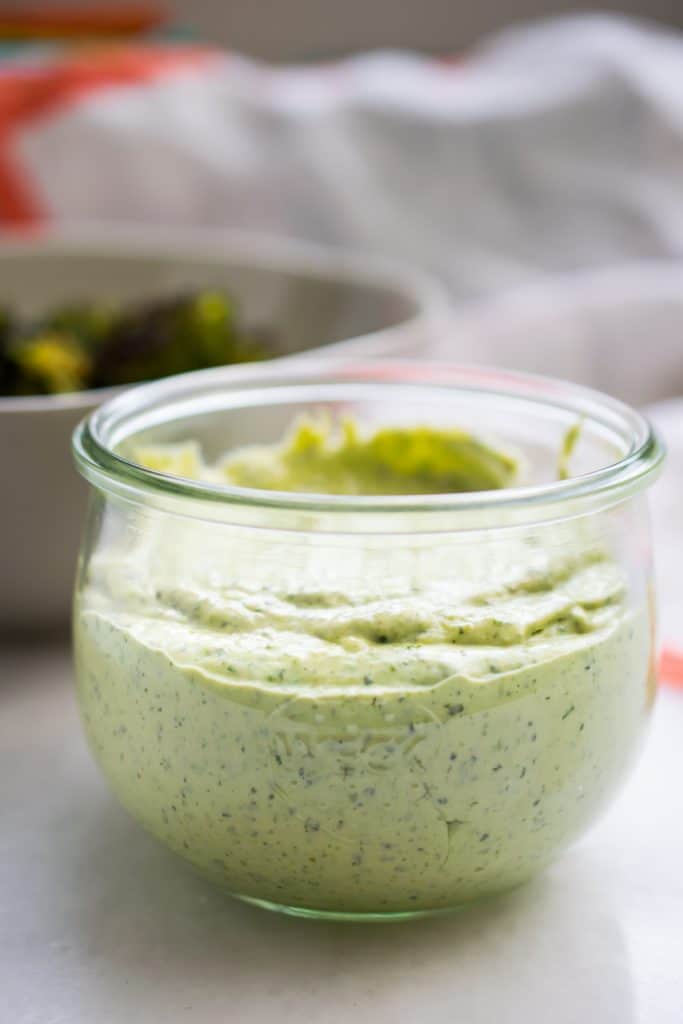 Cilantro Aioli is essentially Homemade Cilantro Mayo.
I love using avocado oil for mayo. It is my top pick because it has a very mild flavor. I also use three large room temperature egg yolks. The emulsified egg yolks and oil create the creamy magic that is mayonnaise.
Remember, the trick to the perfect homemade aioli made in the food processor is that little accessory that came with your food processor. The little tube with a tiny hole on the bottom that fits in the hole on top. Yeah. that's what you drizzle your oil through. It works like a charm!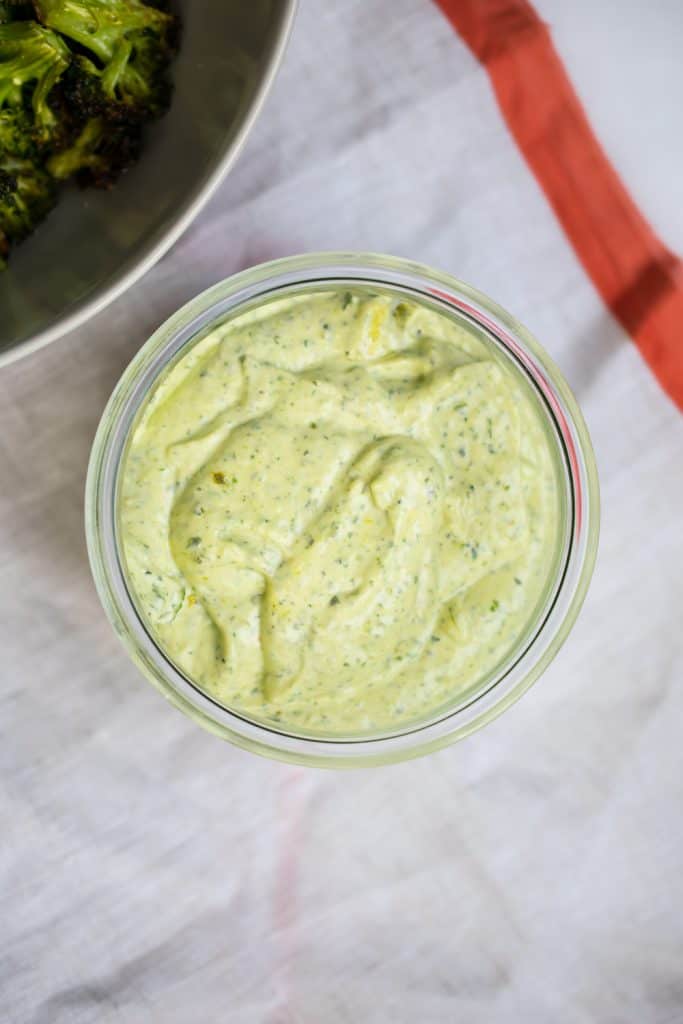 Why Not The Stick Blender?
Well, stick blender mayo is amazing, I know, my recipe linked below, but with the added components you need the blade of the food processor to really grind up the herbs and garlic. Totally worth the extra dishes, however.
I know this homemade Cilantro Aioli is going to be a new staple in your home. I can't wait to see what you put it on.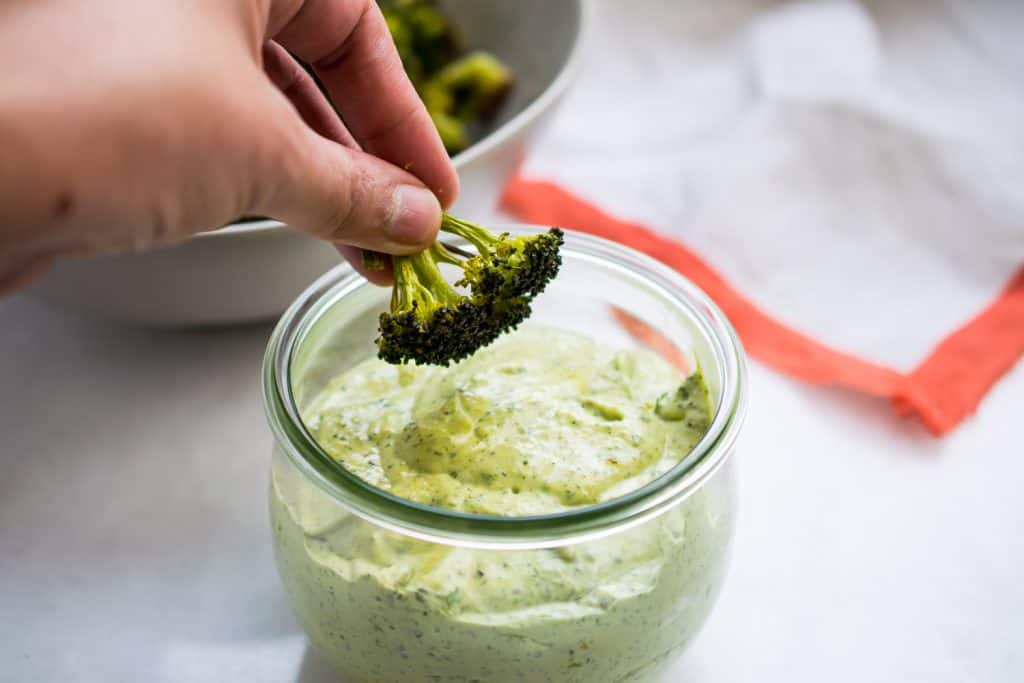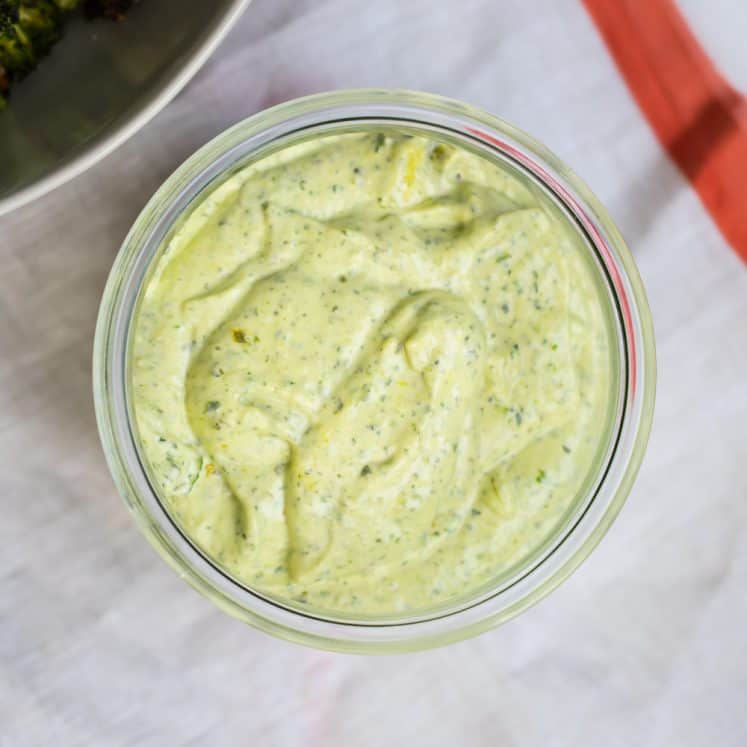 Cilantro Aioli (Homemade Cilantro Mayo, Paleo, Keto)
---
Author:
Prep Time: 10
Total Time: 10
Yield: 12 ounces 1x
Category: Sauce
Method: Food Processor
Cuisine: Cuban
Description
Creamy and Fresh Homemade Cilantro Mayo (Paleo, Whole30, Nightshade Free)!
---
Scale
Ingredients
1 cup chopped cilantro (stems and all)
3 cloves garlic
juice of 1 large lemon
1/2 teaspoon lemon zest
1 tablespoon dijon mustard
1/2 teaspoon fine salt
3 large egg yolks
1 1/4 cup avocado oil
---
Instructions
In food processor combine cilantro, garlic, lemon, zest and salt. Pulse to combine.
Add in yolks and turn it on.  While it's running drizzle in the oil, in a needle thin stream until it's emulsified.
Now, my usual tips for successful aioli is: make sure everything is room temp before starting and sometimes only adding some of the lemon at first and the rest after it's emulsified helps. But, I threw this together last minute with straight from fridge eggs and all… and it came out great! So maybe the Mayo Gods were smiling upon me! Remember to use the proper accessory to drizzle in the oil, the tube that fits in the hold of your food processor meant for making thin streams.
Nutrition
Serving Size: 1 tablespoon
Calories: 108
Fat: 12g
Carbohydrates: 1g
Fiber: 0.2g
Protein: 1g