This post is sponsored by Randalls®.
This decadent AIP Peach Cobbler has warm cinnamon and caramel notes and toasted coconut. It's allergen free and easy to make! When you switch to an AIP or any kind of special diet, food costs go up quickly, especially when baking. But shopping can still bring you joy and savings – I'll share with you my tricks.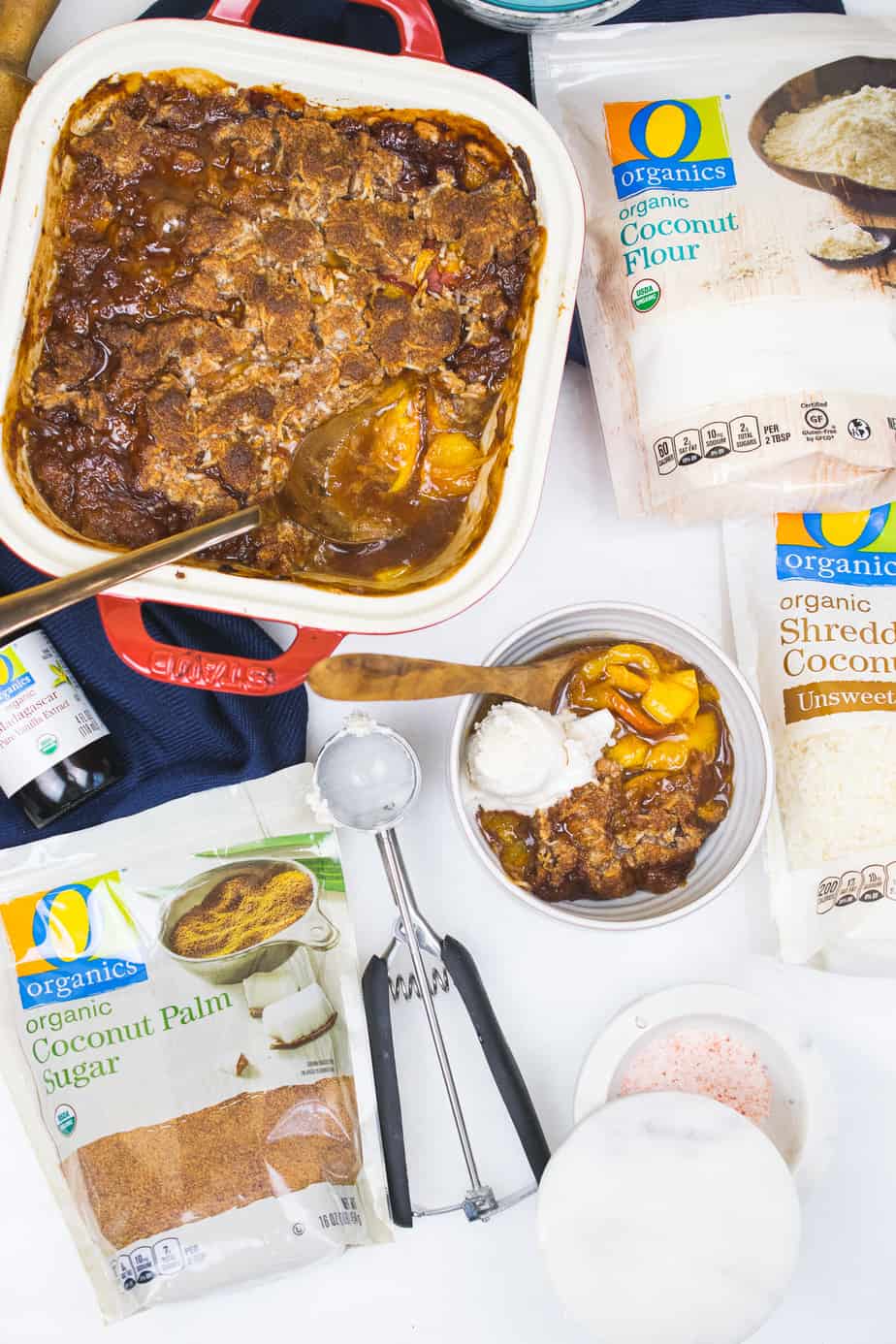 Table of Contents
Check Your Neighborhood Grocery Store
I always use my Randalls® Deals and Delivery app when shopping Randalls®. Since I'm a Randalls for U™ member, the deals are curated to my shopping habits. I just open the app and then browse and create my shopping list, with ease! I love shopping their brands like O Organics®, especially for those specialty items like coconut sugar and Madagascar vanilla bean extract.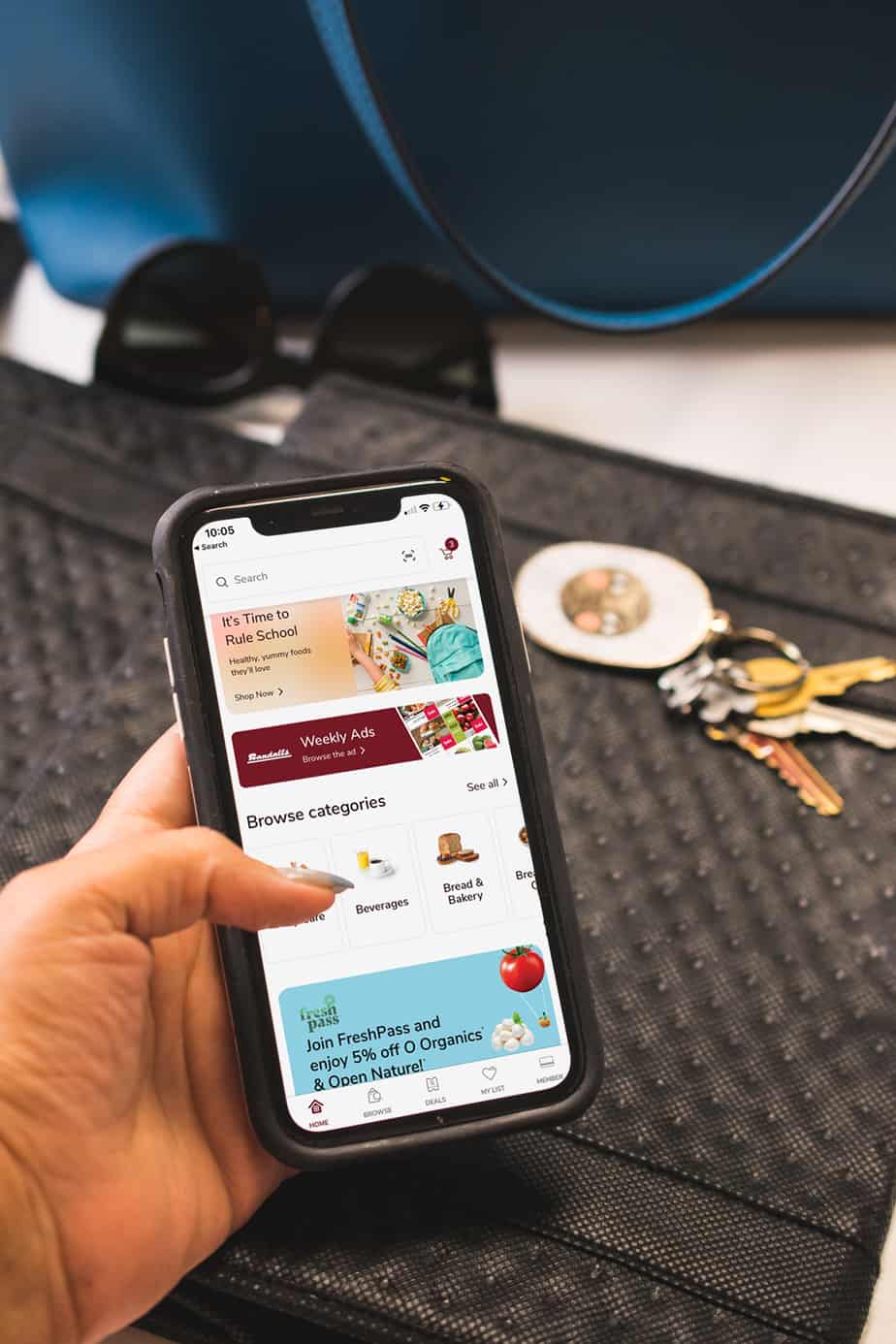 From the best salt selection, I've ever seen, to all my paleo lifestyle staples like grain-free flours, healthy fats, and a beautiful produce section, I love the shopping experience that Randalls® offers. It's my Zen time. Yeah, you can get your groceries delivered (the app makes it super easy if that's your preference), but I prefer to go to the store and handpick my produce and walk up and down the aisles waiting for the next recipe inspiration to hit.
You can download the Randalls® Deals and Delivery App and get your inspiration on or head to Randalls.com/foru for more info! You are automatically enrolled in the Randalls for U™ Member program when download the app and right now new Members will receive a welcome offer of $5 off your $25 or more purchase!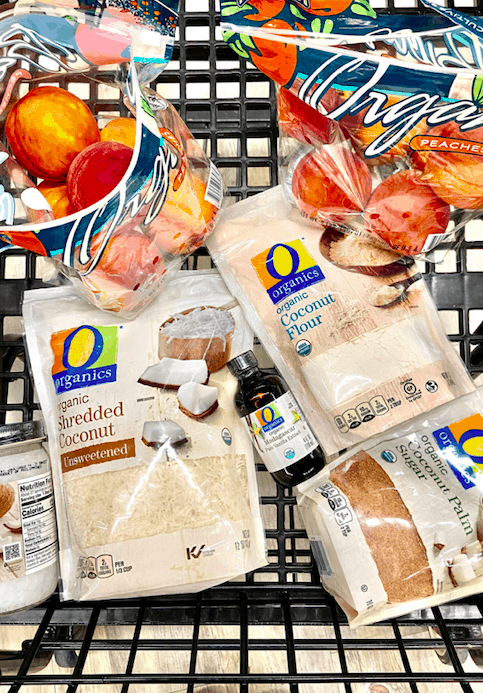 A Great Recipe Starts with Great Ingredients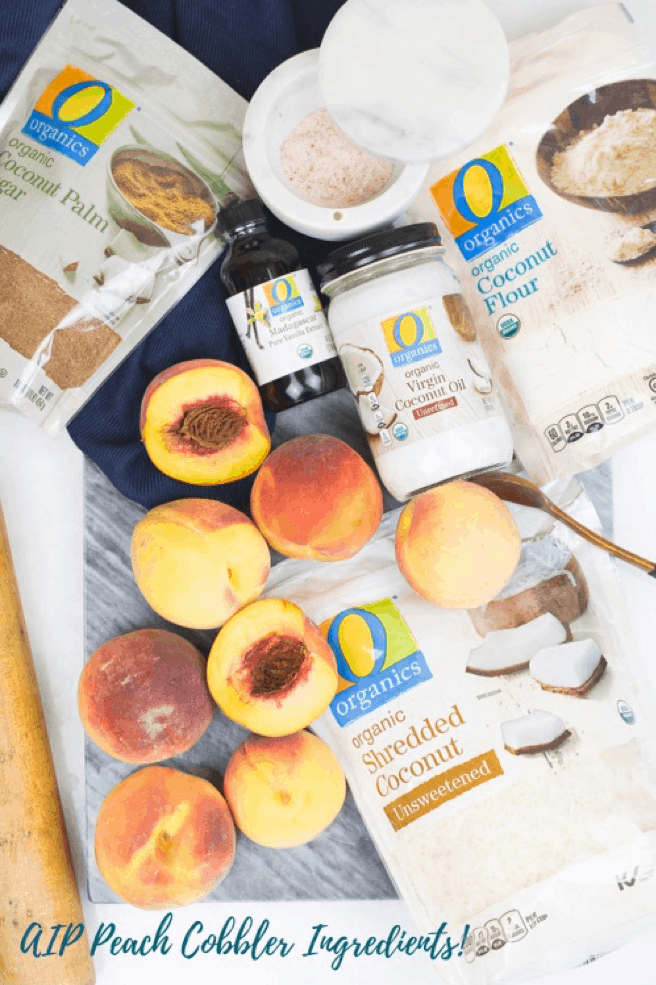 Ripe organic peaches
O Organics® Coconut Palm Sugar – this natural sugar is packed with minerals and has a lovely toasty, caramel flavor.
Arrowroot starch – this starch is a great alternative to those who don't normally tolerate cassava or tapioca starch
Cinnamon – ground cinnamon gives this cobbler that warm spice that fills the air with the scent of the holidays.
O Organics® Madagascar Vanilla extract – liquid gold!
Pink Himalayan salt
Juice of one lemon – this helps activate the binding power in the arrowroot, as well as bringing out the sweetness of the peaches.
O Organics® Coconut Flour and O Organics® Unsweetened Desiccated Coconut for a toasted coconut crust that will knock your socks off and keep it anti-inflammatory!
O Organics® Coconut Oil – to keep this bad boy dairy free. I prefer unrefined.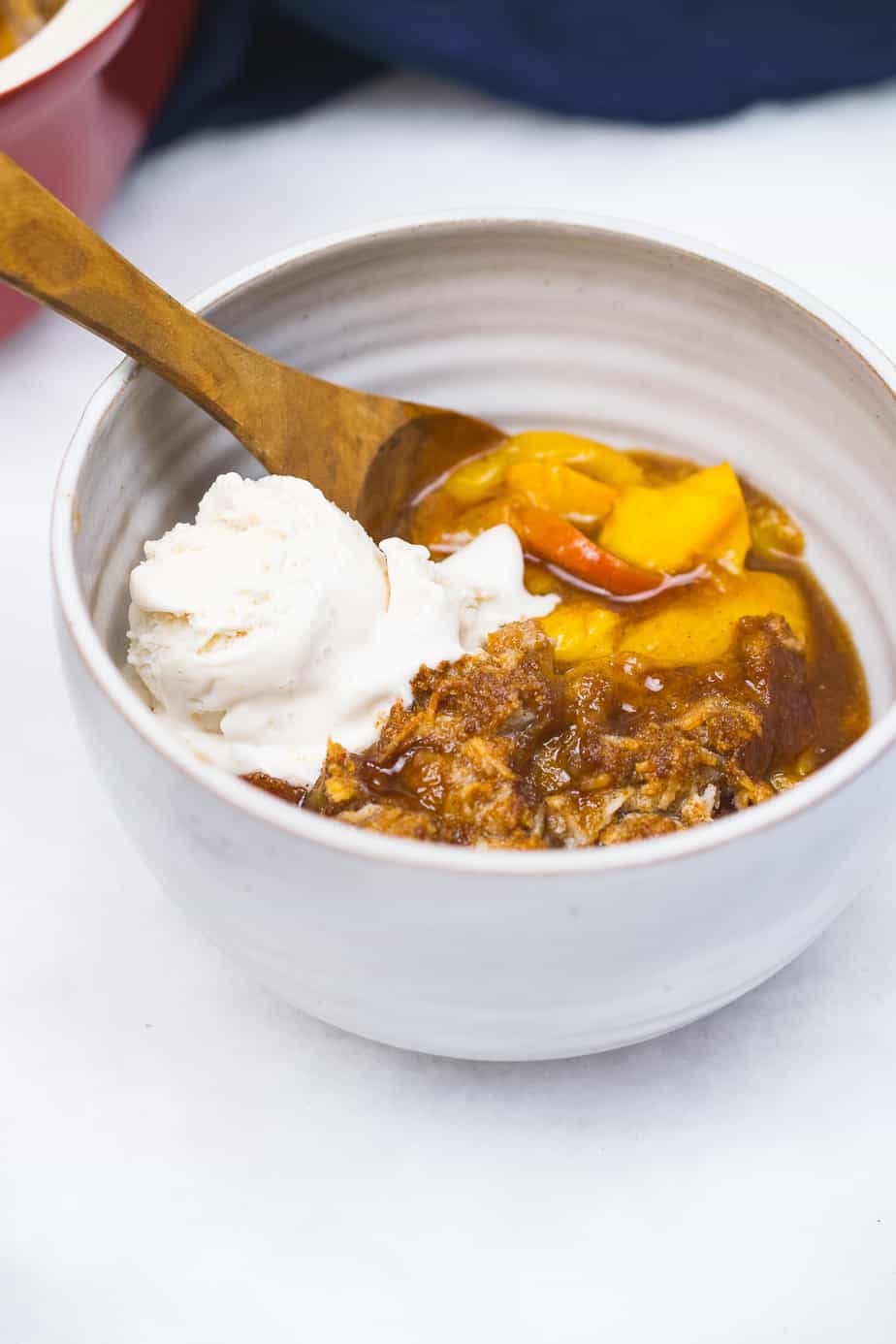 Easy AIP Peach Cobbler
This recipe was a breeze from its conception. From using the Randalls® Deals and Delivery App and Randalls for U™ to gather my list and clip my coupons, to shopping and cooking – the entire experience was as delicious and easy as this recipe.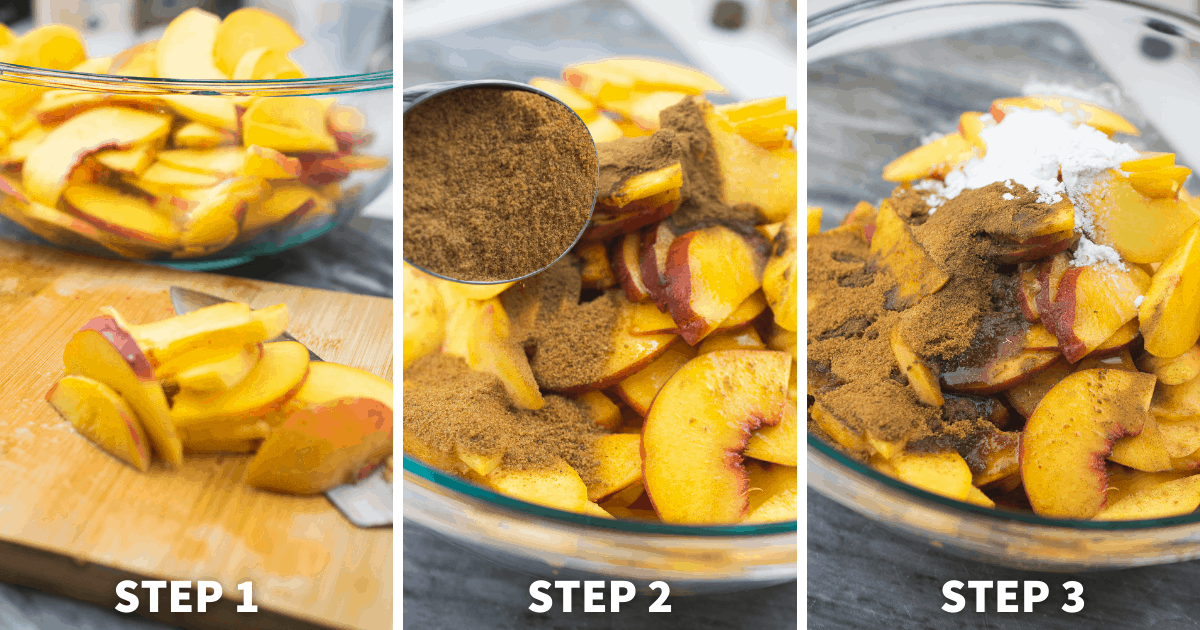 Slice and pit all of the peaches.
Mix them in a large bowl with all of the filling ingredients. Just toss until they're evenly coated in a sweet cinnamon glaze.
Transfer them to a baking and bake at 400F for 20 minutes.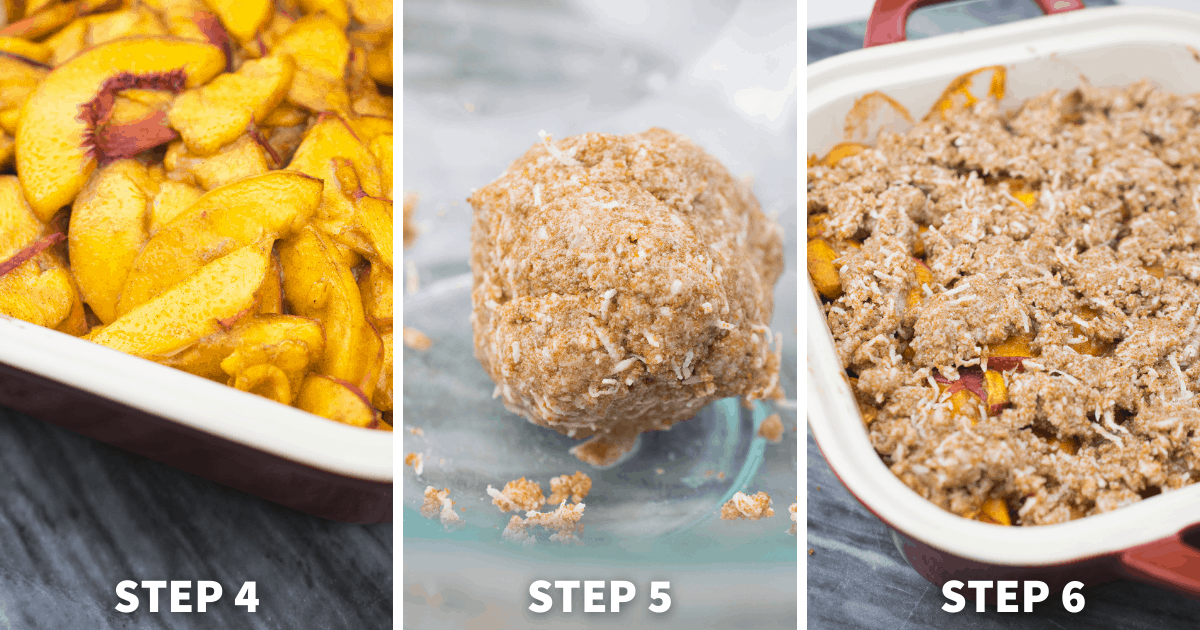 4. While the peaches cook down, make the crust. Mix the flours and salt in a medium bowl. Add in clumps of the coconut oil and use your fingers to cut it into the flour until the mix resembles sand. Make a ball and set it in the fridge.
5. Remove the peaches from the oven, let them cook for a few minutes.
6. Tear pieces of the crust ball and distribute evenly over the peaches. Gently flatten to create a crust. Bake for another 20 minutes. Serve warm with a scoop of your favorite dairy-free ice cream.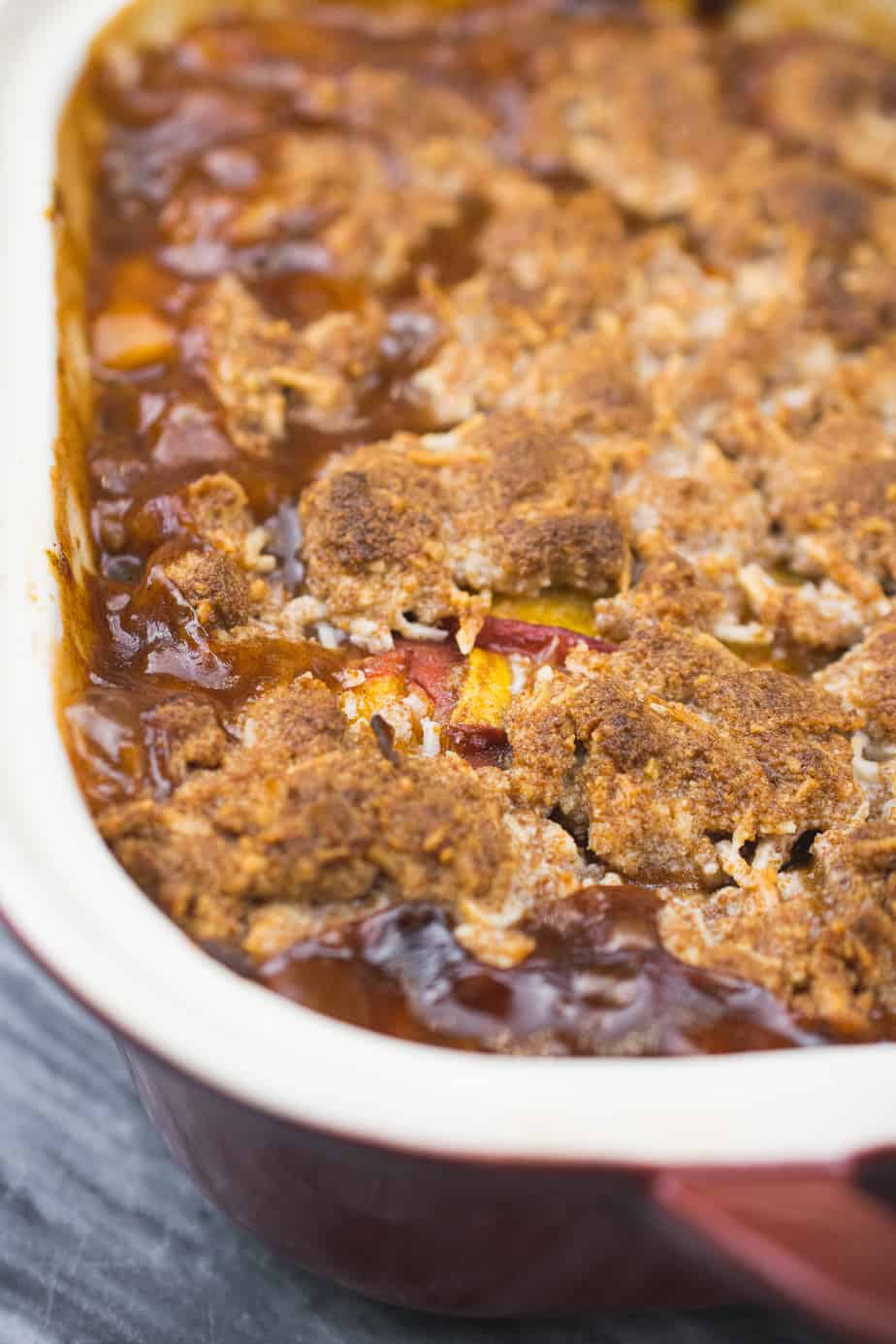 FAQ's
Does the Randalls® Deals and Delivery App only apply to Randalls®?
Each of the eleven Albertsons® brand banner stores their own own app. Check out your local Albertsons grocery store (like Randalls®) and get shopping, saving, and earning Rewards.
Can I use maple sugar instead of coconut sugar?
Yes, cup for cup!
Could I make this lower carb?
If you're NOT AIP (autoimmune protocol), then yes, you can use a low-carb sweetener instead of coconut sugar to make this sugar-free. I recommend allulose.
Do you really love grocery shopping?
Absolutely! I always have. Now, more than ever. Always looking forward to my next trip and my next savings at Randalls®. Randalls for U™ Members now have, even more, new perks to love.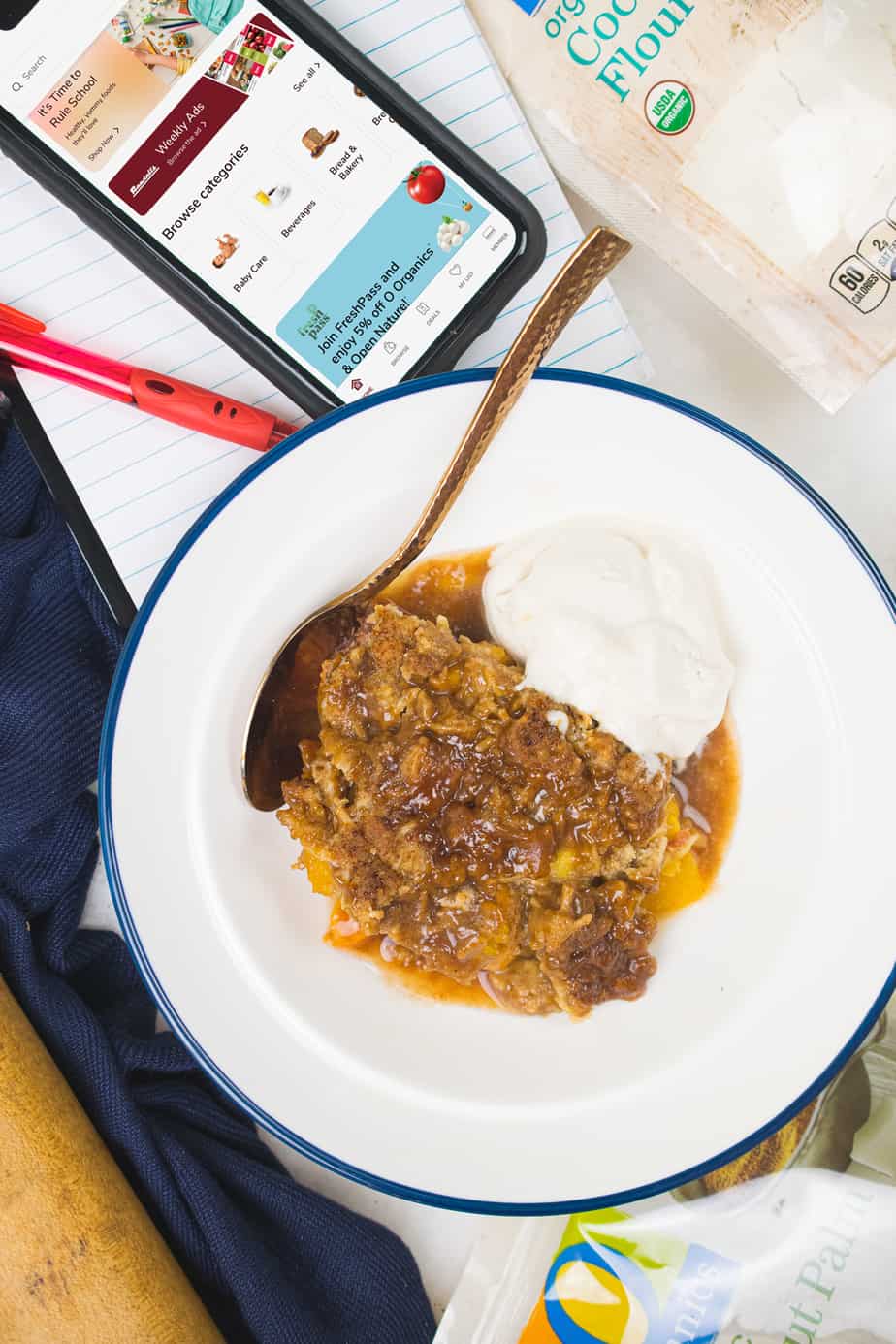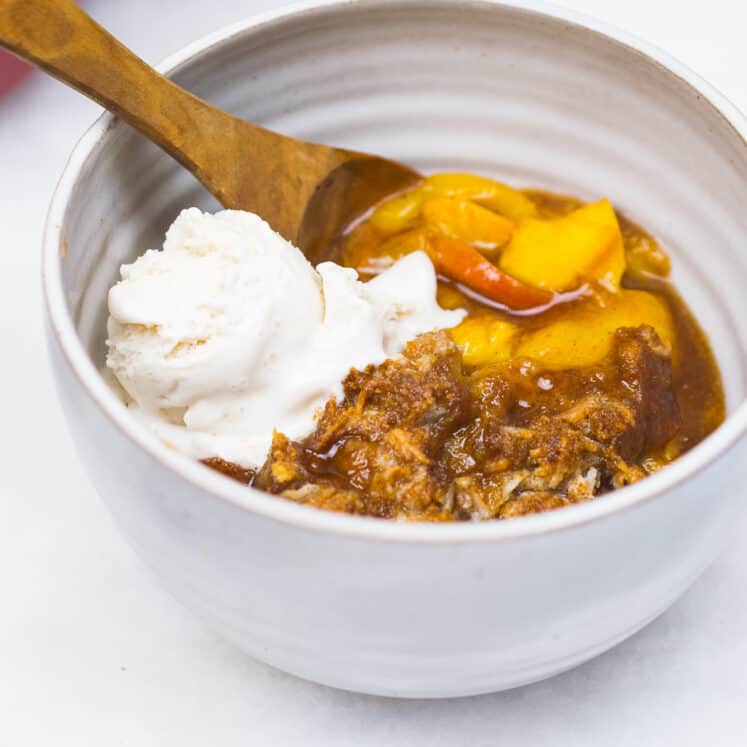 AIP Peach Cobbler with Toasted Coconut
---
Author: Cristina Curp, FNTP
Prep Time: 15 minutes
Cook Time: 40 minutes
Total Time: 55 minutes
Yield: 12 servings 1x
Category: Dessert
Method: Baking
Cuisine: Seasonal
Diet: Gluten Free
Description
Sweet, sticky, bubbly goodness! This AIP peach cobbler is free of inflammatory ingredients and common allergens. Made grain-free, gluten-free, egg-free, and nut-free, but you can't tell by tasting it. 
---
Scale
Ingredients
For the filling:
6 ripe peaches, pitted and sliced
1/4 cup O Organics® coconut palm sugar
2 tablespoon arrowroot starch
1 teaspoon ground cinnamon
1 teaspoon O Organics® vanilla extract
1/2 teaspoon unrefined salt
Juice of one lemon
For the crust:
1/3 cup O Organics® coconut flour
1/3 cup O Organics® unsweetened desiccated coconut
1/3 cup coconut sugar
3 tablespoon arrowroot starch
pinch of salt
1/4 cup O Organics® unrefined coconut oil, at room temp/ solid
---
Instructions
Preheat oven to 400F.
Combine the sliced peaches with all of the filling ingredients in a large bowl. Use a spatula to toss and mix until thoroughly combined.
Transfer the mix to an 8×8 inch baking dish. Use a spatula to spread it out evenly and flatten the top. Bake for 20 minutes.
In the meantime, create the crust/crumble. In a large bowl whisk together the coconut flour, desiccated coconut, coconut sugar, arrowroot starch, and salt.
Add in the solid coconut oil in clumps. Use your fingers to work it into the flour mix until the mixture looks like wet sand. Then shape it into a ball and set it in the fridge.
Remove the peach mix from the oven and let it cool for 15 minutes. Then take the chilled dough ball, break it up and distribute clumps evenly over the peaches. Gently flatten to create a crust.
Bake at 400F for 15-20 minutes, until the top is bubbly and a deep golden brown. Remove and let it cool for a few minutes. Serve as is or with a scoop of your favorite dairy-free ice cream!
Nutrition
Serving Size: 1/12 recipe
Calories: 149.8
Sugar: 16.2g
Sodium: 19.3g
Fat: 6.6g
Saturated Fat: 5.5g
Carbohydrates: 23g
Fiber: 3g
Protein: 1.3g
Cholesterol: 0mg
Keywords: AIP Peach Cobbler
This post is sponsored by Randalls®.