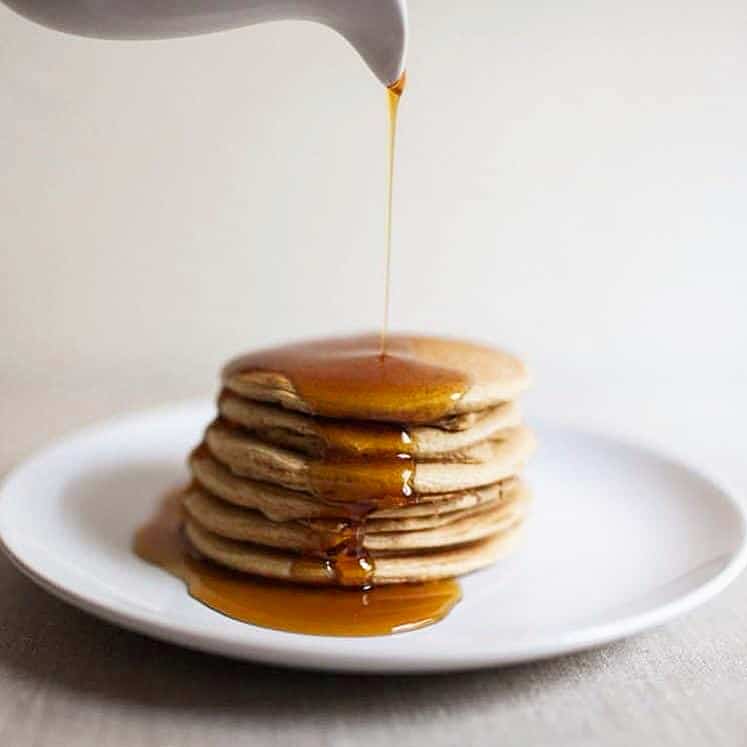 These Paleo Plantain Pancakes were among my first "book worthy" recipes I ever created. I even thought to save these for a book I wanted to write 3 years ago. I would have titled "Plantains and Paleo" but here we are!
The Paleo Plantain Pancakes
No, they're not the only plantain pancake recipe out there, but these are mine, and I love them and I want to share them with you.
Fun story, that beautiful picture above.. my dear friend Julie took it. She's in San Diego. She was helping me put together my book proposal and was amazing enough to make and photograph a few of my recipes for it. How awesome is that? Also, you see, a non-blogger, no chef person made that gorgeous stack of flapjacks and you can too!
Curious About Plantains?
They're not just for pancakes. The green plantain is a great source of resistant starch which feeds your good gut bacteria! More ways on how to prepare plantain here.
Paleo Plantain Pancakes
---
Author:
Prep Time: 10
Cook Time: 15
Total Time: 25 minutes
Category: Breakfast
Method: Stove Top
Cuisine: Pancakes
Description
Grain free, blender batter pancakes!
---
Scale
Ingredients
2 large GREEN plantains (3 if they are small)
4 eggs
1/4 tsp salt
2 tsp maple syrup (more for serving)
2 tbsp grain-free flour of choice (I use Otto"s, but tapioca, almond or tigernut work too!)
2 tsp baking soda
Ghee, butter, fruit, etc for topping!
---
Instructions
Peel your plantain. Cut off each end, and make a slit in the peel lengthwise then open the skin and peel it outwards and back. The greener the plantain, the harder to peel.
Cut into a few pieces and add it to the blender with eggs, maple syrup, salt, baking soda, and grain-free flour.
Cover blender and turn on low. Gradually increase the speed until the batter is moving. Blend until all the better completely smooth.
Heat a large skillet or griddle on medium-low heat.
Grease your skillet lightly. Pour 1/4 cup of batter per pancake. Cook 3-4 minutes per side. LOW AND SLOW, because plantain caramelized easily and you don't want them to burn.
Flip when the edges look done, cook another 1-2 minutes.
The batter will make 6-8 pancakes. you can also halve the recipe and it works great for a mini stack 🙂
Keywords: Paleo Plantain Pancakes