This Keto Noodle Bowl with AIP Teriyaki Sauce is made with gut healing goodness. Juicy meatballs, sweetener free teriyaki sauce, and crispy veggies, YUM!
There's nothing more satisfying than this Keto Noodle Bowl with AIP Teriyaki Sauce
Noodle bowls are oh-so-satisfying. A keto teriyaki bowl? Yes, please! Something about the delicious glaze sauce over savory meats and slurpy noodles … it just screams comfort food.
With all the moving stuff, book launch and travel… I've been pretty stressed out people and you know what… I haven't felt like cooking all that much. But today, today I felt good. I napped with Jack and has some tea, a good work out and I was inspired! This Keto Teriyaki Noodle Bowl was conceptualized in my head long ago and I was excited to bring it to life today.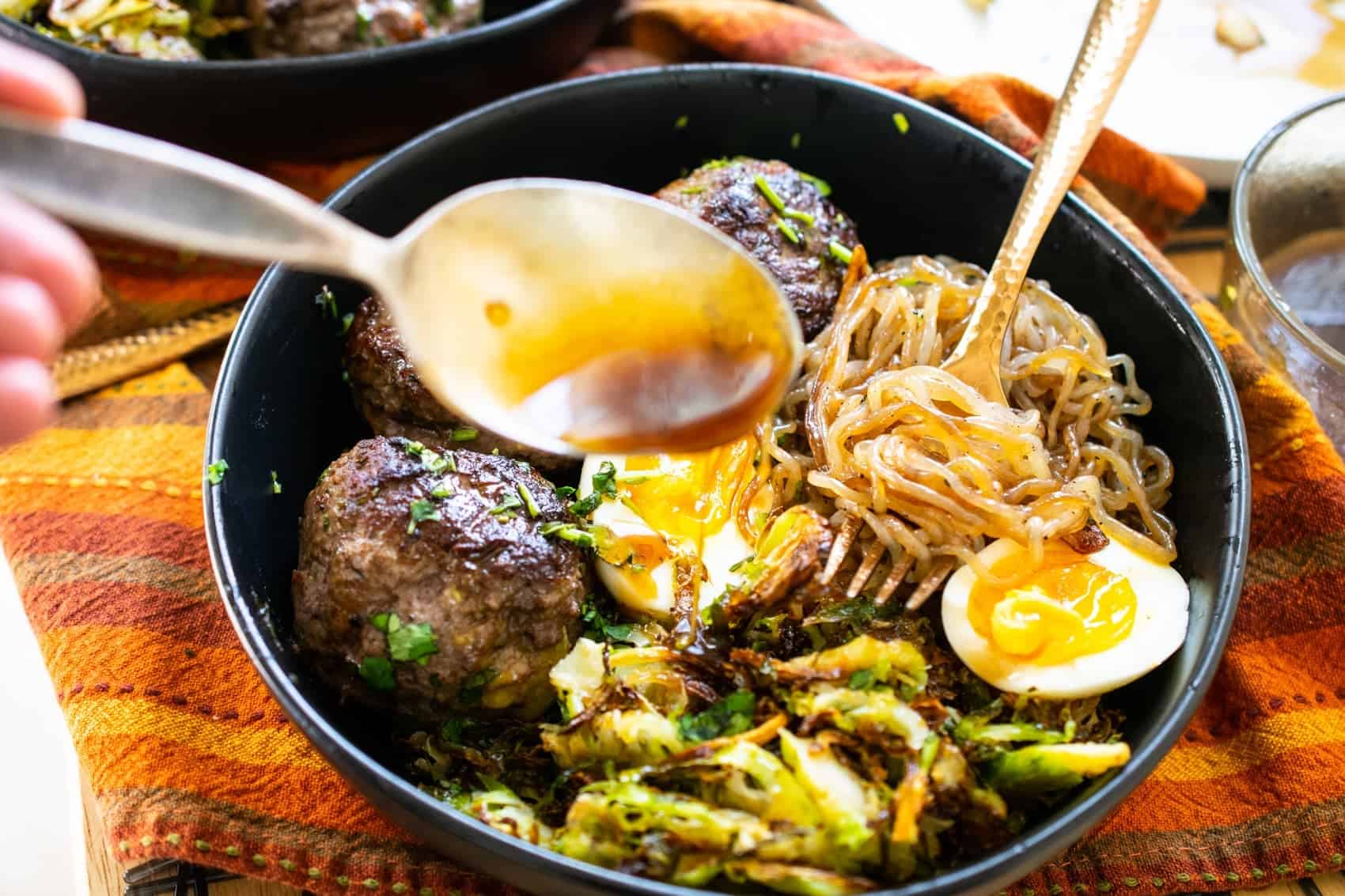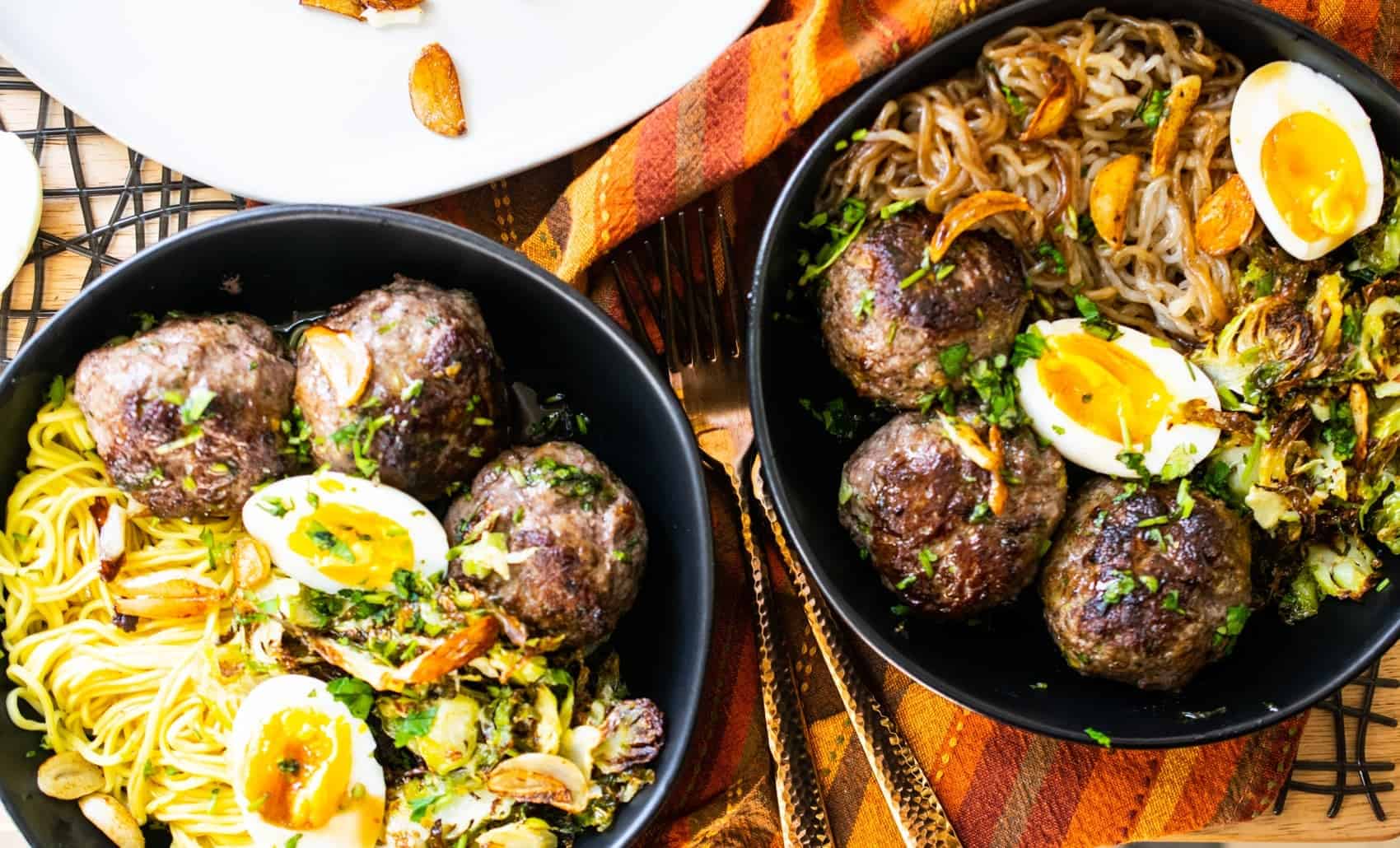 Breaking down this Keto Noodle Bowl with AIP Teriyaki Sauce
I just love when you dream up an idea and when you make it, it is exactly as expected. This keto teriyaki bowl is it! The meatballs are packed with fresh ginger and citrus. Juicy and tender with creamy avocado mixed into them.
The sauce is a combination of bone broth reduce with coconut aminos and red wine vinegar for sweetness and tang. Then bloomed gelatin is mixed in to thicken it all up and boom! You have legit teriyaki sauce. Glazy, salty and sweet.
What are shirataki noodles?
The noodles are shirataki noodles. Those magical yam noodles made of konjac root that are low carb and when prepared right, absolutely convincing. If you haven't had success with them before, try them my way! If you're not into it at all or on a Whole30, use zoodles (zucchini noodles)! Either way the recipe is the best keto teriyaki noodle bowl you've ever tried! I love bowls, I love eating keto and I love teriyaki. This keto teriyaki bowl is a dream come true!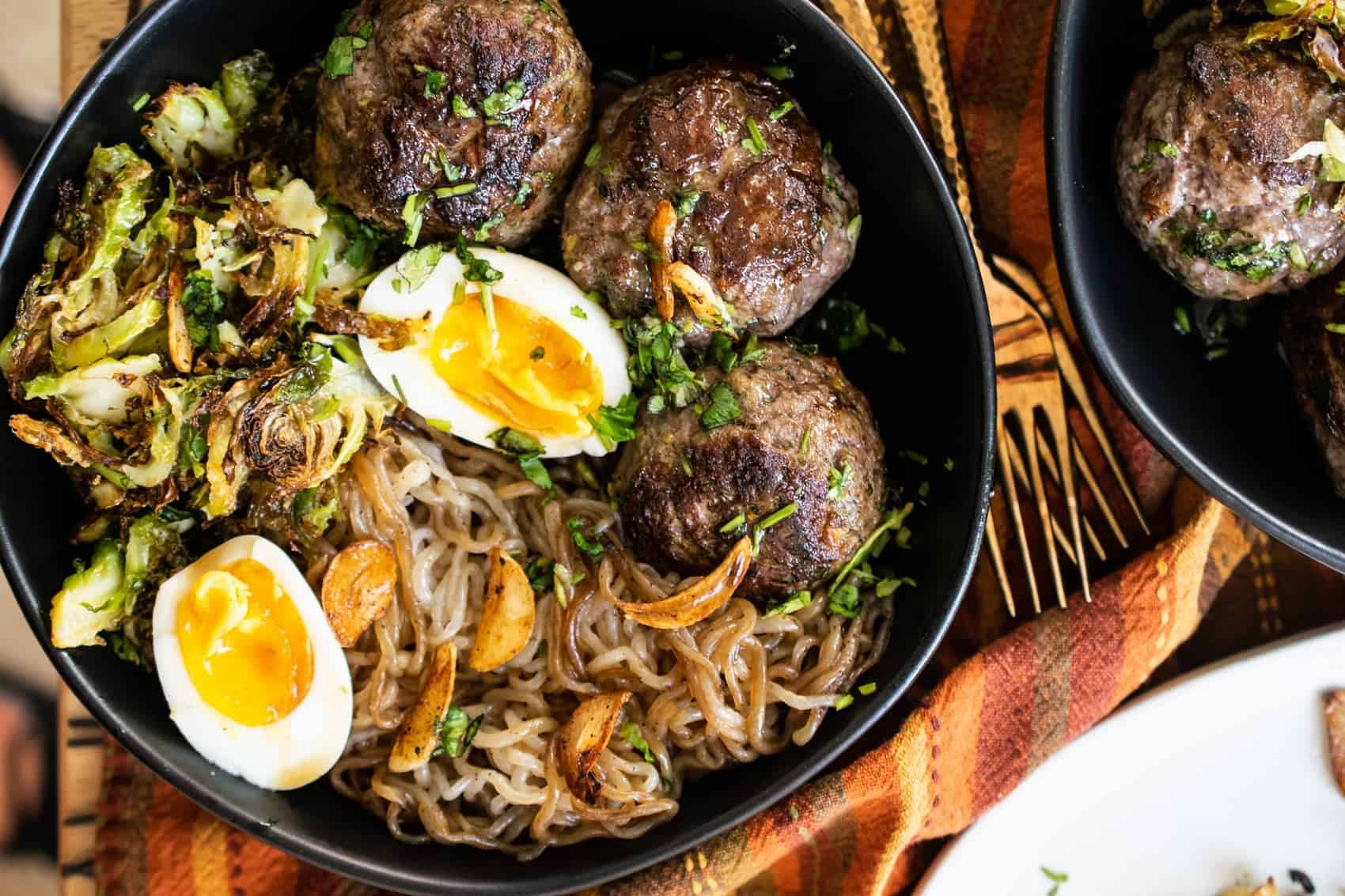 Optional Components of the Keto Teriyaki Noodle Bowl
Don't be scared by the long recipe and ingredient list. A lot of it is optional. Fried garlic, crispy Brussels sprouts, jammy eggs. You don't need them… but they are delicious. If you're AIP, leave the eggs out, the rest of the recipe is 100% AIP compliant! If you're on a Whole30, use zucchini noodles.
Shirataki noodles are made with 3% soluble fiber from konjac root and 97% water! They are grain and gluten free. Low carb and low calorie! Questions about SHIRATAKI NOODLES? Learn More HERE. You can also use glass noodles too. Whatever works best for you. The RECIPE here is mostly for the SAUCE and the Meatballs. The rest of the bowl is up to you!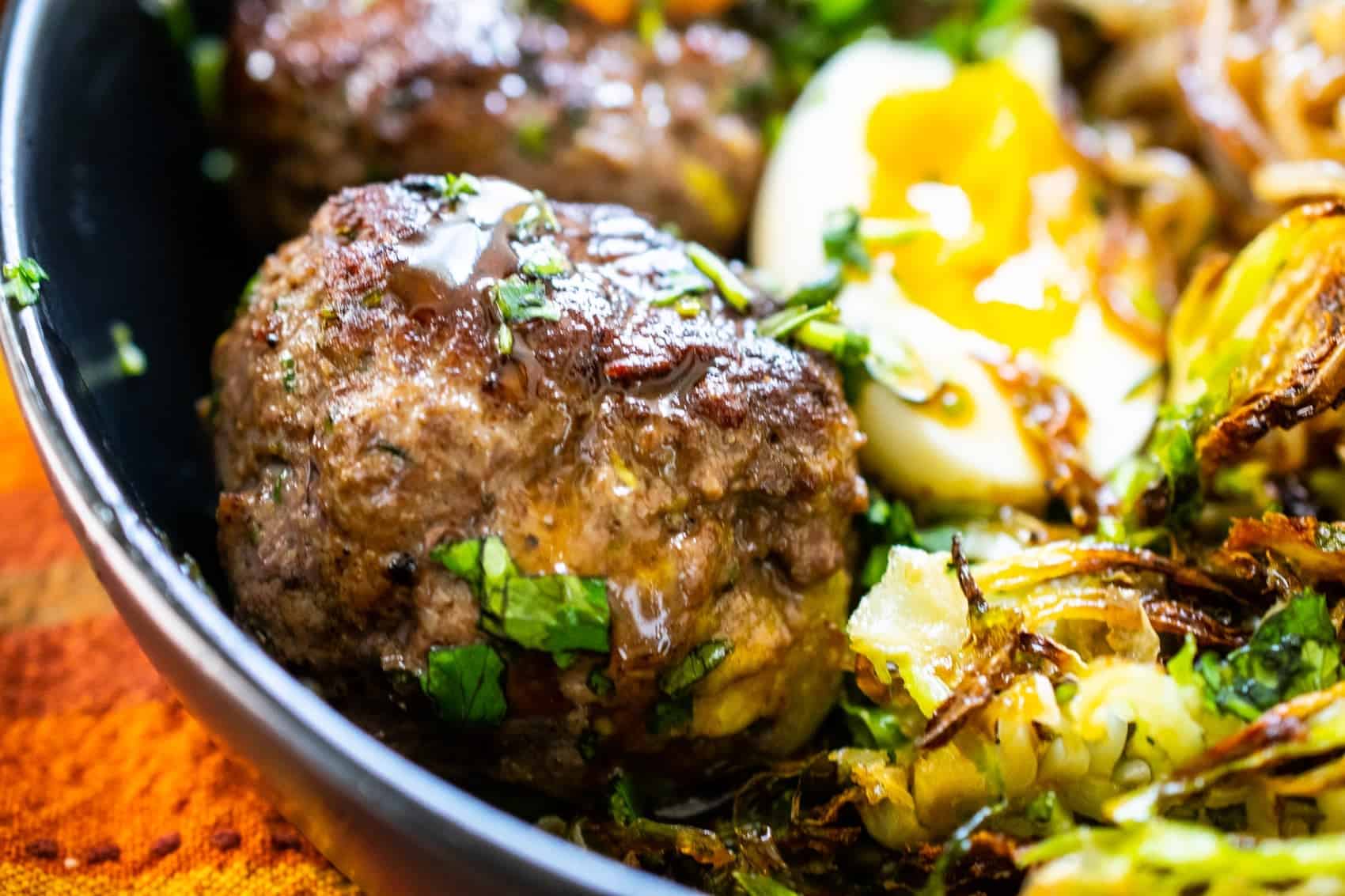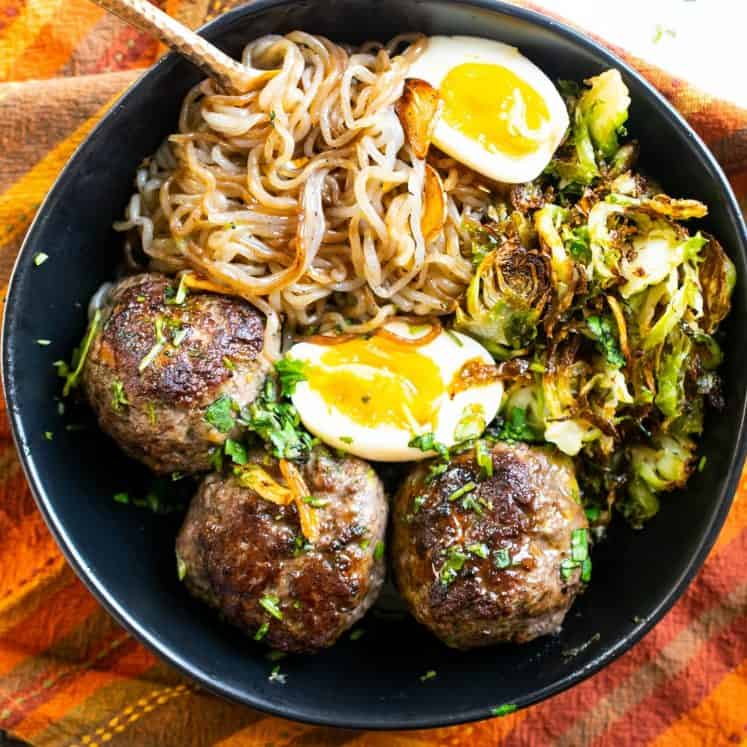 Keto Teriyaki Bowl
---
Author:
Prep Time: 10
Cook Time: 35
Total Time: 45
Yield: 4 1x
Category: Entree
Method: Varied
Cuisine: Asian
Description
Keto noodle bowl, squeaky clean. AIP and Whole30 friendly, read post above!
---
Scale
Ingredients
Meatballs
2 pounds ground beef 85% lean
1inch nub fresh ginger, peeled and zested
1 heaping teaspoon grated citrus zest (I used orange and lime)
2 teaspoons garlic powder
2 teaspoon fine salt
1 teaspoon dried parsley
2 tablespoons minced fresh cilantro, more to garnish
Half a ripe hass avocado
For Cooking
4 tablespoons avocado oil, more as needed
Sauce
Fixings
4 cups shredded Brussels sprouts
5 cloves garlic sliced
4 large eggs
Noodles
---
Instructions
Pre-heat oven to 400F.
In a large bowl mix together, the ground beef with the rest of the meatball ingredients until well combined, the avocado should be completely mixed in with only traces of green specks in the meat, no chunks left. Shape 12 large meatballs.
Bring a small sauce pot full of water to a boil. Put the 4 large eggs, gently in the pot. Boil for 7 minutes, then drain the water and add ice to the eggs, set aside.
Toss the Brussels sprouts on a sheet pan with 2 tablespoons avocado oil and 1 teaspoon salt. Spread them out flat over the sheet pan and pop in the oven- middle rack.
Heat a large skillet over medium heat. When it comes to temperature add 2 tablespoons of avocado oil to the skillet and brown 6 meatballs at a time, 2 minutes a side, then transfer to a sheet pan. Repeat with the remaining meatballs and then put them in the oven.
Add the meatballs to the oven, with the Brussels sprouts, for 10-15 minutes until the sauce and noodles are ready.
In the same sauce pot where you boiled the eggs heat the bone broth with the fish sauce, red wine vinegar, and 2 tablespoons coconut aminos. Bring to a boil and reduce for 10 minutes.
Add 1 scoop gelatin to the remaining coconut aminos and let it sit until it gels up solid. In the meantime, drain and rinse your noodles and submerge in cool water. Set aside.
Heat the skillet where the meatballs were browned and add a little extra avocado oil. Then add in the sliced garlic and fry until golden. Remove from the skillet.
Drain the noodles, add to the skillet, sprinkle with salt and sauté in the garlic infused fat for a few minutes while you finish the sauce. They will coat in the fat and get brown and yummy!
Remove the bone broth reduction from the heat, scoop in the solid coconut amino-gelatin mass and whisk into broth until smooth and thick. Set aside.
Remove the toasty Brussels sprouts and cooked meatballs from the oven.
Assemble your bowls: divide the noodles in between 4 large bowls, then the Brussels sprouts. Add 3 meatballs to each bowl. Garnish with fried garlic, minced cilantro. Peel the eggs and halve them. Add ½ -1 egg to each bowl. Spoon thick teriyaki sauce generously over each bowl and dig in!!
Recipe Notes:
The recipe is best with 3 meatballs per person. There will be leftover meat and leftover sauce. However, if you divide the entire recipe by 4… the macros are as listed.
The macros include ALL THE MEATBALLS AND ALL THE SAUCE.
Nutrition
Serving Size: 1/4 of recipe
Calories: 821
Fat: 56g
Carbohydrates: 18g
Fiber: 7.8g
Protein: 53g
Keywords: keto teriyaki noodle bowl, aip teriyaki sauce