Hey there, my friend! So, you wanna know why starting your day with a protein-packed punch is like giving your body a high-five for blood sugar regulation and hormone health? Well, get ready to have some fun because I'm about to break it down for you in a way that'll keep you entertained and informed!
First things first, let's talk about blood sugar.
You know that rollercoaster ride you feel after having a sugary breakfast? Wheee! Up goes your blood sugar, then crash! Down it goes, leaving you feeling hungry and tired. Well, protein is like the superhero of the breakfast world because it helps stabilize those blood sugar levels and keeps them from going on a wild ride. It's like having a cool, calm, and collected friend who keeps you balanced throughout the day.
Now, let's move on to hormone health.
Ah, hormones, those magical messengers that do all sorts of funky dances in your body. They're responsible for mood swings, energy levels, and even your metabolism. But here's the thing: hormones like insulin, which controls your blood sugar, work better when you've got a steady supply of protein. It's like giving those hormones a secret handshake that boosts their performance and keeps them in harmony.
But wait, there's more! Protein also plays a crucial role in helping you feel satisfied and full. Do you know that mid-morning slump when your stomach starts grumbling louder than your boss in a bad mood? Well, starting your day with protein can help fend off those hunger pangs and keep you feeling satisfied for longer. It's like having a hearty breakfast buddy who's got your back, keeping you fueled and focused until lunchtime.
But hey, protein isn't just about blood sugar and hormones.
It's also the building block for muscles and tissues. That's right, it's like the construction worker of your body, helping repair and rebuild all those cells that keep you going. So if you're into staying fit, strong, and fabulous, protein is your best friend, your workout buddy, and your body's very own superhero all rolled into one.
So, my friend, starting your day with protein is a total game-changer. It helps regulate your blood sugar, keeps your hormones happy and balanced, and even gives your muscles a boost. Plus, it keeps you feeling satisfied and full, so you can tackle the day like the superstar you are. So go ahead, power up with some eggs, yogurt, or maybe even a delicious protein smoothie, and let the protein party begin!
Remember, protein is like the secret sauce that makes your body go, "Yesss!" So why settle for a lackluster breakfast when you can kickstart your day with a protein-packed adventure? Stay awesome, my friend, and keep rocking that protein-powered lifestyle!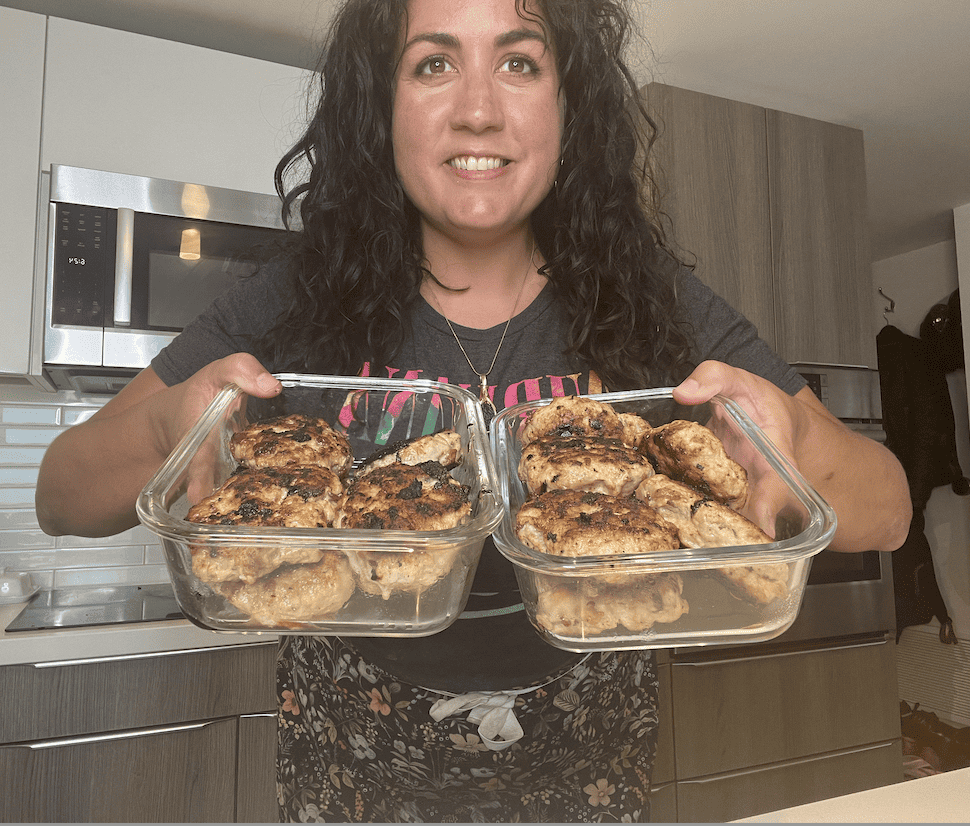 Caramelized Onion + Turkey Breakfast Sausage
The perfect recipe for your protein-packed breakfast! Make a batch once a week and heat them up with some sweet potato, fruit or put an egg on it!
Caramelized Onion Breakfast Sausage:
2 large Vidalia onion
1 tbsp butter or bacon fat
2 lbs ground turkey
2 tbsp dried rosemary
2 tsp salt
2 tsp cracked pepper
2 tbsp maple syrup
1 egg
1/2 cup almond flour or pork panko
Start by small dicing, the onion, and caramelizing it in butter in a large skillet over medium heat with a pinch of salt. Cook over medium-low heat, stirring occasionally, for about 30 minutes or until deep brown and sweet. Let your caramelized, onions, cool, while this happens, you can get the rest of the ingredients, ready, namely, you need to mix everything else in a large bowl. Adding in the onions once cooled. Shape 1/4 cup per patty and pan-fry them for 4 minutes on each side or until internal temp is 165F. Keep these in the fridge for an easy breakfast all week long.