Rhubarb Season 
Every year when rhubarb season rolls around my Instagram feed fills will all sorts of red confections. I must admit, I don't get why it's so popular to bake with. I mean, most recipes contain a few buckets of sugar to compensate for the naturally tart flavor of the rhubarb. Granted I also lack the cultural connection to baking with rhubarb, growing up first-generation American in a city submerged in Latin culture… I never even heard of rhubarb until I moved to the west coast.
I recall a woman at the grocery store explaining to me that it grows like a weed where she was from, she laughed at the fact that it was on sale at the store. I don't know why that contributed to my lack of enthusiasm about it, but it did. It wasn't until recently that rhubarb piqued my interest!
One of the things I love about the food blogger community. So much art, talent and inspiration. It was the FeedFeed Instagram, I was, these tacos with strawberry and rhubarb salsa. GAME CHANGER. Sweet and tart salsa is something I can get behind, especially because I don't eat tomatoes or peppers. I avoid nightshades because they exasperate my autoimmune disease. Boy have I missed a good salsa.
Lazy Cooking
Honestly, when I began putting this meal together there was no plan. I had chicken. I had the salsa which I whipped up with a few basics… strawberries, rhubarb, onion, garlic, cilantro, lemon and olive oil. At first, I thought I would make tacos. Then I got lazy. I didn't want to make tortillas. I wanted an easy throw it in the oven kind of meal. So… boom.
Why the almond butter? Well if you haven't done nut butter on your chicken, you're missing out. It gives it an almost breaded, starchy component and it REALLY works. So you get the best of a taco inspired meal, in a casserole! Add some cauliflower rice under the chicken and you really have a one pot meal that will WOW the ENTIRE FAMILY!
*Once rhubarb season has passed, look in your freezer isle for frozen rhubarb or leave it you, same goes for strawberries. Thaw, make your salsa and cook per instructions!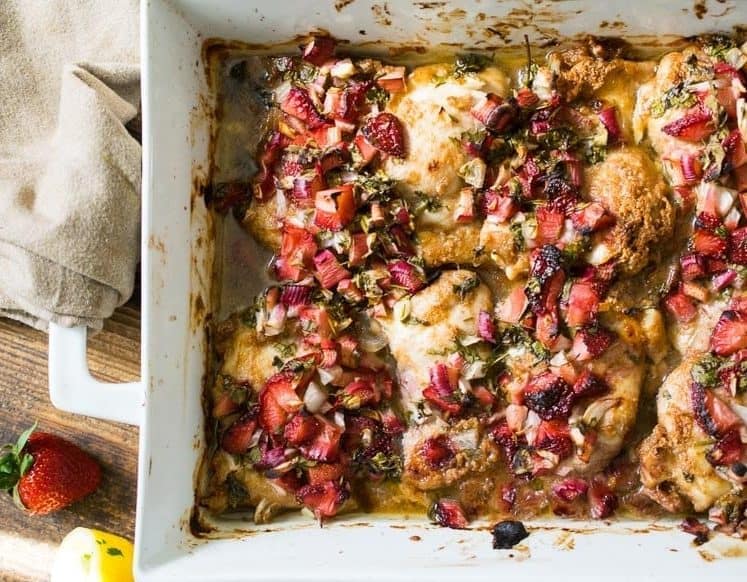 Roasted Strawberry-Rhubarb Salsa Chicken (Whole30, Keto, Paleo)
---
Author:
Prep Time: 20
Cook Time: 45
Total Time: 1 hour 5 minutes
Yield: 6 1x
Category: Entree
Method: Bake
Cuisine: Seasonal
Description
The perfect summer casserole with vibrant strawberry salsa that bakes up oh so delicious on succulent chicken!
---
Scale
Ingredients
2lbs boneless skinless chicken thighs
3 tbsp smooth, unsweetened almond butter (or other nut butter)
1 tsp garlic powder
1 tsp cumin
2 tsp salt
3 tbsp coconut oil
Salsa
1 cup diced rhubarb
1 cup diced strawberries
pinch of salt
1/2 cup diced onion
2 garlic cloves, minced
1/2 cup diced cilantro
1 lemon, squeezed
2 tbsp olive oil
2 tbsp coconut aminos
Optional:
---
Instructions
Pre-heat your oven to 400F. In a bowl combine all of the salsa ingredients and gently toss. Set aside.
In the casserole dish mix together chicken thighs, nut butter, coconut oil, and seasoning. Toss and mix, slathering the chicken. Then arrange your chicken thighs lined up, laying flat in the casserole dish.
Spoon salsa over the chicken and place casserole dish in the oven.
Roast for 45 minutes.
*Options: Add a layer of cauliflower rice to the bottom of the casserole dish before adding in the chicken and turn this baked chicken dish into a taco casserole!
Nutrition
Serving Size: 1/6 recipes
Calories: 295
Fat: 18g
Carbohydrates: 5g
Fiber: 1g
Protein: 30g
Keywords: roasted strawberry salsa chicken