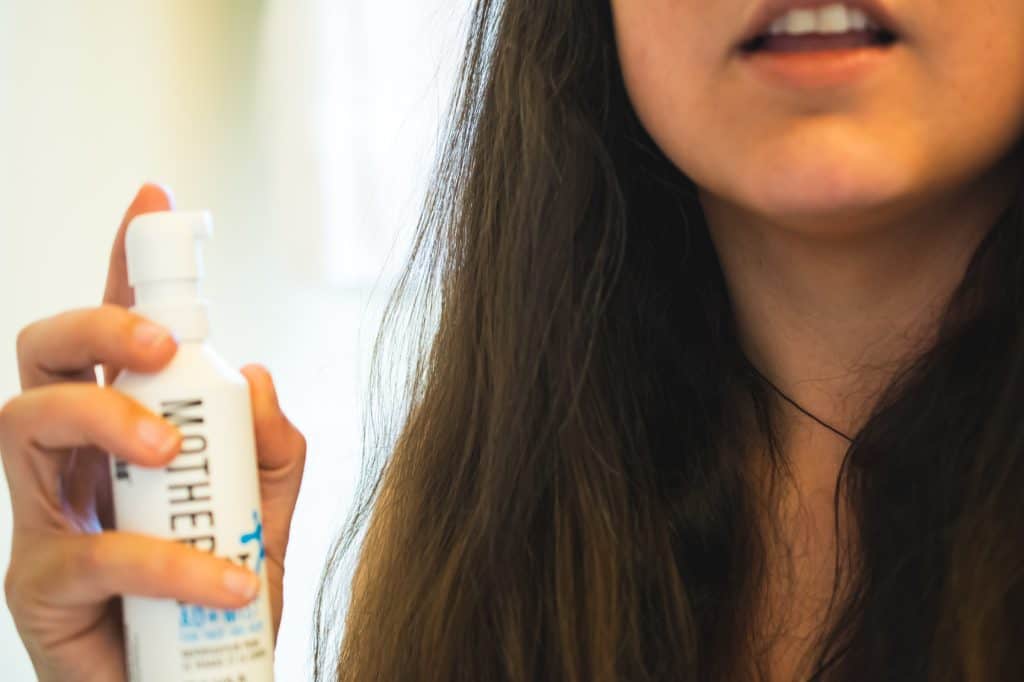 Healing From the Inside Out
I've suffered from skin issues my entire life. From really sensitive skin prone to razor rash and irritation to my inflammatory skin condition, Hidradenitis Suppurativa, which as you know, I've put into remission through diet and lifestyle choices (AIP + Keto, Non-Toxic Living, Movement, etc).  However, living with skin problems my entire life conditioned me to a rather harsh skincare regime… my method of management was always the same, go in with a kill all things soap, then soothe later with a moisturizer. It has been a lifelong tug of war.
Later when I began to look at my health from the inside out I learned how important a healthy gut microbiome was for my health. I spent years healing my leaky gut and nurturing the beneficial bacteria in my body to reverse my chronic inflammatory symptoms with great success. Now that my body is healed from the inside out, I baby it! I want to take care of my sensitive skin and do it using non-toxic, clinically tested allergen-friendly products.
Good Bugs in My Gut and On My Skin!?
This got me thinking… what about the good bugs on my skin? Our bodies don't just have good and bad bacteria in the gut, these bugs live all over us.
I've been wiping them out with every antimicrobial, antibacterial soap I could find for the past 20 years. Oh boy! This could explain the dry patches of skin and the reoccurring imbalances. This could also explain why my gym shoes get so funky!
Without the good bugs to protect my skin microbiome I have been leaving my body susceptible to all the bad bugs, and spoiler, those are the ones that stink. What if we looked at hygiene, not as a sterilization process, but a healthy balance.
Regaining a flourishing skin biome that keeps the peace between us and the world around us. Enter Mother Dirt! I had been checking them out for a while. I remember watching a Facebook video about them, it really stuck with me. The science made sense. You can read more about it at MotherDirt.com
Ammonia- Oxidizing Bacteria, our long-lost friend. Up until recent history, this little bug lived on our skin and kept us clean.
My Testimonial
So, science is really cool and you can read all about at Mother Dirt. But what was MY experience….??
While this is a sponsored post, my testimonial is 100% honest, and my word and opinions alone. Believe me, I am not gilding the lily here.
I LOVED IT. I have been using Mother Dirt products exclusively for personal hygiene for 30 days.
I shower once a day with their Cleanser. Then after my shower, I spray the AO  Mist on my hairline, underarms, and feet then moisturize with their caprylic acid moisturizer. I wash my hair once a week with the shampoo.
Results
The dry patch on my face, next to my nose has gone away and I don't have to constantly slather that area with oil to keep it from flaking. I washed my gym goes prior to starting this experiment and let me tell you, they don't stink! Which is no small feat. I wash them regularly but even after a few uses, they are back to living in the garage.
I have also suffered from dry scalp for a long time and yup, I hit it hard with tea tree oil shampoos for years that never resolved the issue. I will say the shampoo, I was skeptical about. I have a lot of hair and I don't style it, so if it was going to make my hair look dry it would not fly. Not only did it really help my scalp, but my hair looks lovely. I wash it with the shampoo. Towel dry. AO+ spray my scalp and then a little Morrocan oil on my tips. Dries up beautifully!
I'm putting in my next order for the Complete Care Kit now! You can find Mother Dirt on their site, MotherDirt.com which has a killer Earth Day Sale going on! Or even on Thrive! Which you know I love.