Keto brownies are sort of my thing. You see the most popular recipe on my site, for over a year running… a keto brownie! My flourless avocado brownies to be exact, followed by flourless pumpkin brownies! I personally prefer the pumpkin brownies, that was until yesterday. Yesterday I made these keto fudge brownies and yup, they're my new favorite. Hands down!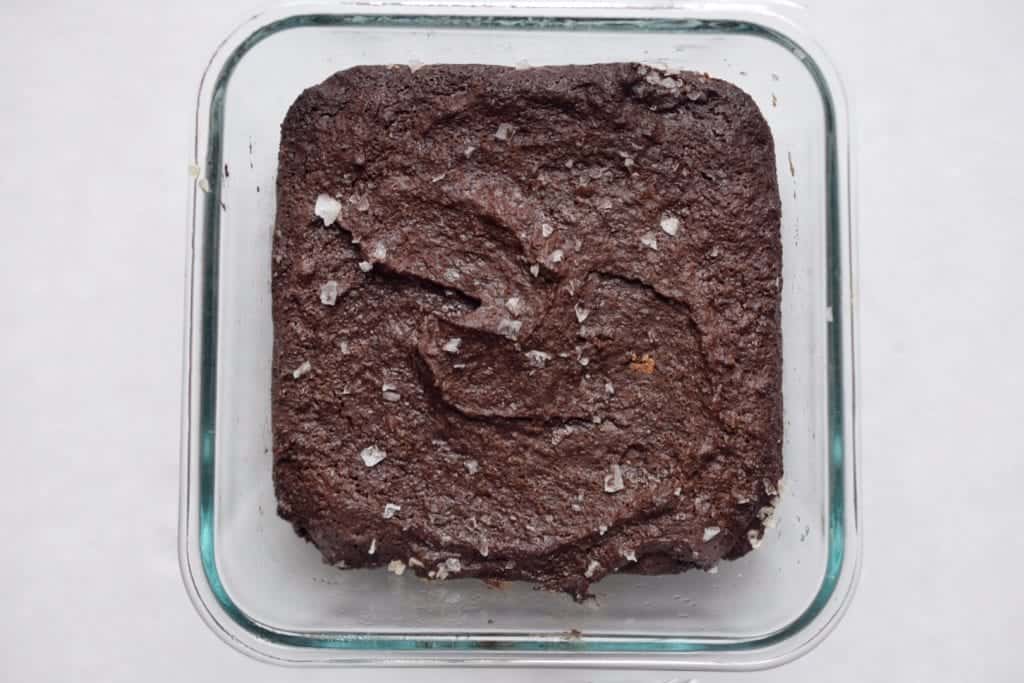 How Are They So Fudgey?
It's all about the melted chocolate. Melting down chocolate chips, and then mixing it with egg, similar to my souffle-like 3 ingredient mug cake (recipe here), it creates this ganache-like, chocolate mass that is so decadent. Then you mix it in with even more chocolate (unsweetened cacao powder) and you get this thick, super chocolate batter.
These Are Decadent
You have been warned! These keto fudge brownies, made with stevia-sweetened chocolate (or very dark chocolate) and sweetened with Lakanto are RICH. Finished off with flake sea salt and cut into four large pieces, I actually recommend cutting 8 pieces! Small brownie bites are equally satisfying.
Keto Fudge Brownie Substitutions
The recipes calls for 3 large eggs. Sorry, I don't think an egg replacer will work, but you're welcome to try and report back to me.
Yes, you can use cocoa powder over cacao powder, although cacao powder is usually much better quality and healthier for you.
I used Lakanto, but you can use Swerve too, I prefer the confectioners kind because it doesn't have the cooling aftertaste if you use swerve you might want to add a little stevia too. I find that swerve or pure erythritol isn't as sweet as Lakanto that also uses monk fruit.
For the paleo people, Coconut Palm Sugar or Maple Sugar will work in equal amounts. I don't recommend stevia, because it will alter the flavor, and powdered stevia even less because that stuff is usually full of junk.
The recipe uses 3 tablespoons of coconut flour. If you want to try with an almond meal you would need to use 9 tablespoons of almond meal, but I can't make any promises.
If you want to try with something other than coconut cream (the milk fat that separates from a can of full-fat coconut milk you can try cashew cream, I have a recipe here.
Okay! Now let's make some delicious keto fudge brownies!
These Keto Fudge Brownies are nut and dairy free and absolutely decadent! Made with a lots of chocolate and other real food ingredients, yum!
Keto Fudge Brownies (Easy, Delicious, Dairy and Nut Free)
---
Author:
Prep Time: 15
Cook Time: 25
Total Time: 40 minutes
Yield: 6 1x
Category: brownies
Method: baking
Cuisine: dessert
Description
Delicious, decadent, soft and fudgey keto brownies that are dairy and nut free! Brands used linked in post above!
---
Scale
Ingredients
1/2 cup dark chocolate baking chips or chopped up dark chocolate
1/2 cup coconut cream (unsweetened coconut milk fat from full fat canned coconut milk)
3 large eggs, room temperature
1/2 cup cacao powder
1/2 cup Lakanto granulated sweetener (see post for substitutions)
3 tablespoons packed coconut flour
1/4 teaspoons fine salt
1 teaspoon vanilla extract
coconut oil spray
4 cup glass bakeware (I use pyrex 5×5)
Flake salt to garnish, optional
---
Instructions
Pre-heat oven to 350F.
Heat a small sauce pot over medium-low heat.
Add in the chocolate chips and stir with a rubber spatula until they are mostly melted.
Add in the coconut cream and continue to stir over medium heat until you have a smooth chocolate sauce. Remove the pot from the heat.
Begin to mix the eggs into the ganache, one at a time,  with a fork. Make sure the first egg in full incorporated (you can't see the yellow) before adding in the next one. Set aside.
In a large bowl mix together the cacao powder, coconut flour, salt, and sweetener.
Use a spatula to add the wet chocolate mix to the dry chocolate mix. Add in the vanilla extract and fold in until a thick dark chocolate batter forms.
Grease the glass baking dish with coconut oil spray.
Use a spatula to scrape all of the batter into the prepared baking dish. Sprinkle with flake salt.
Bake in the center rack of your oven for 25-30 minutes until the top looks dry and the edges begin to separate from the sides.  *If you are using a metal baking dish it will cook faster, so watch it!*
Remove from the oven, do not cut open yet! This is a VERY moist brownie. You need to let all the melted chocolate in it harden up! Let it cool to room temperature, in a glass dish, this will take 30-45 minutes.
Then it should come out of the baking dish whole, with ease. I use a spatula to lift it up. Place it on a cutting board and cut into 4, 6 or 8 pieces. Share, and enjoy!
Recipe Notes:
See post for substitutions and brand info! 
5.6 net carbs per serving, 1/6 of the recipe. 
Nutrition
Serving Size: 1/6 of recipe
Calories: 122
Fat: 7.5
Carbohydrates: 8.9g
Fiber: 3g
Protein: 5.3g
Keywords: keto fudge brownies