When you have several food allergies, it can seem that celebrations are always dull, but this gluten-free vegan chocolate cake with pistachio buttercream is a dream come true. I make this for my private chef clients, and it is always a hit – allergies or not! This allergen-friendly cake is epic.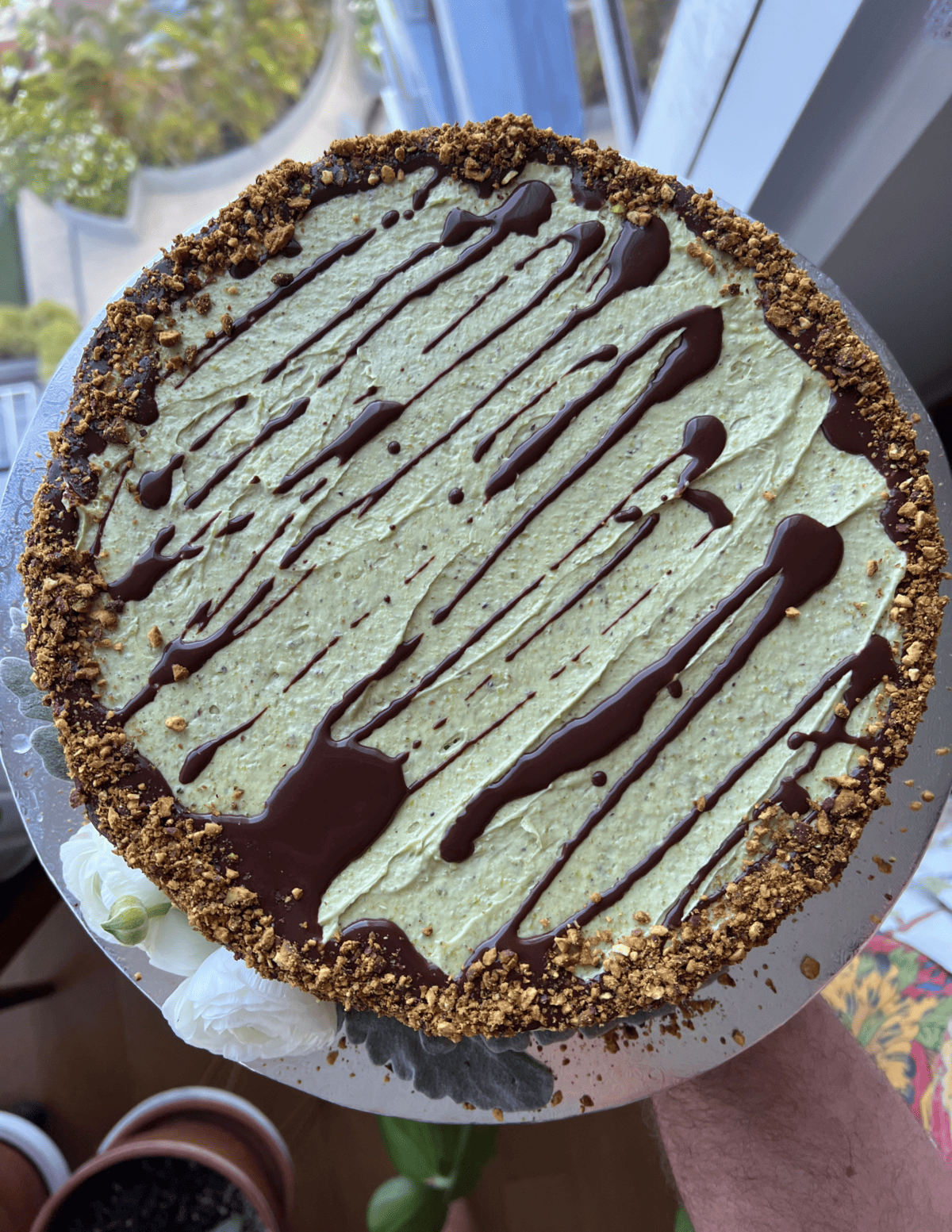 Table of Contents
The BEST Gluten Free and Egg Free Chocolate Cake
When I tell you that this cake is perfect, it is. Not one person I have made this for has not liked it. It's rich, decadent, moist and has a lovely crumb – not chewy or weird. It's absolutely amazing. Bonus you can use any buttercream/ frosting you like. I made a gluten free vegan German Chocolate Cake with it, using an avocado chocolate buttercream. Today, we're pairing the gluten free vegan chocolate cake with a traditional pistachio buttercream.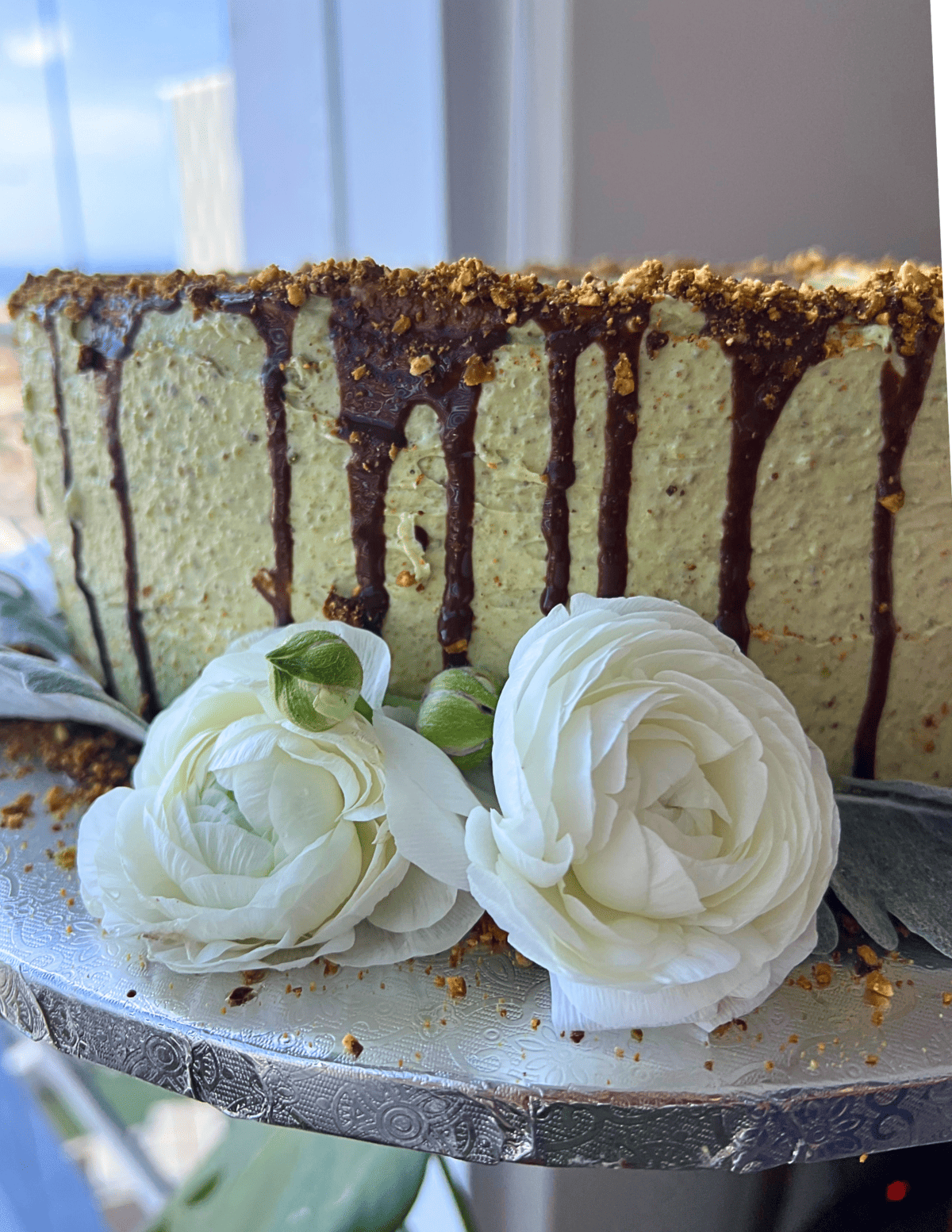 About the Ingredients
When you're baking with this many restrictions your ingredients need to be exact. I highly recommend using brand of flour that I use — not all cup for cup gluten free flours are created equal and I have tried the all!
For the Pistachio Buttercream
1 cup Butter or palm oil shortening for vegan buttercream
1 cup shelled pistachios
1/2 cup dairy free milk
2 cups powdered sugar
a pinch of salt and a little vanilla extract
If you're looing for another frosting options check out my Keto Chocolate Cake or my Dairy Free Cream Cheese Frosting.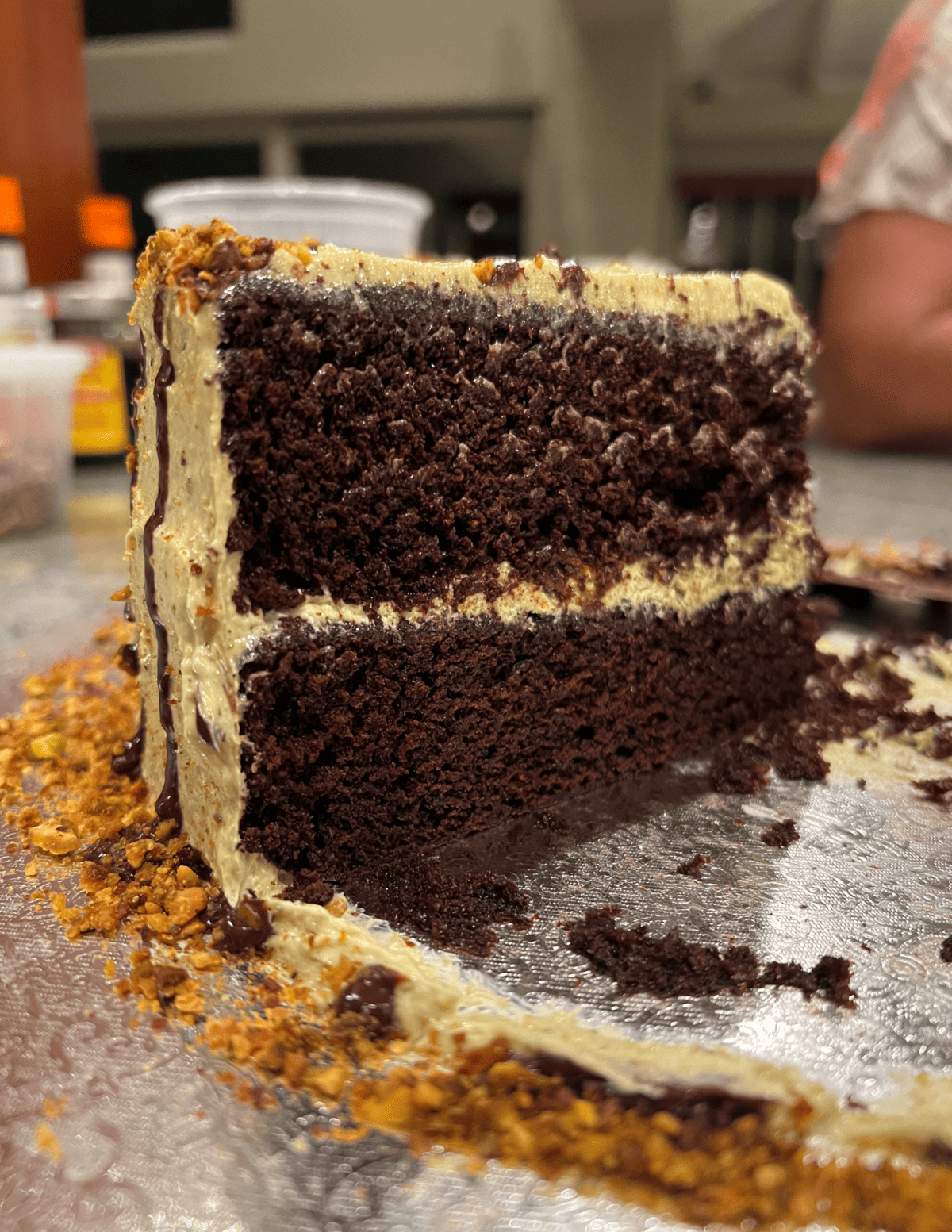 Tips + Tricks for Baking Success
Start by having all of your ingredients measured out ahead of time. Make sure to preheat your oven head of time and if you have a thermometer, make sure it's calibrated to the right temp. You will be surprised at how many home ovens are not accurate! These other steps will ensure success:
When measuring dry ingredietns spoon the flours etc into the measuring cup, tap down and use a knife to spatula to scrape the top to flatten, then add to the bowl.
Always cut out a circle of parchement paper thats flush with the bottom of your cake pan. Lightly grease the pan, put in the parchment paper, then light grease and dust with cacao powder – not flour or the cake will look weird because it's chocolate.
When making buttercream, let your butter soften at room temp for at least 2 hours before whipping it or your buttercream won't be smooth.
Always let your cake FULL cool before frosting. I like making my cake the night before, and frosting it the next day.
Don't skimp on the extras! See recipe box notes for crunchies and ganache!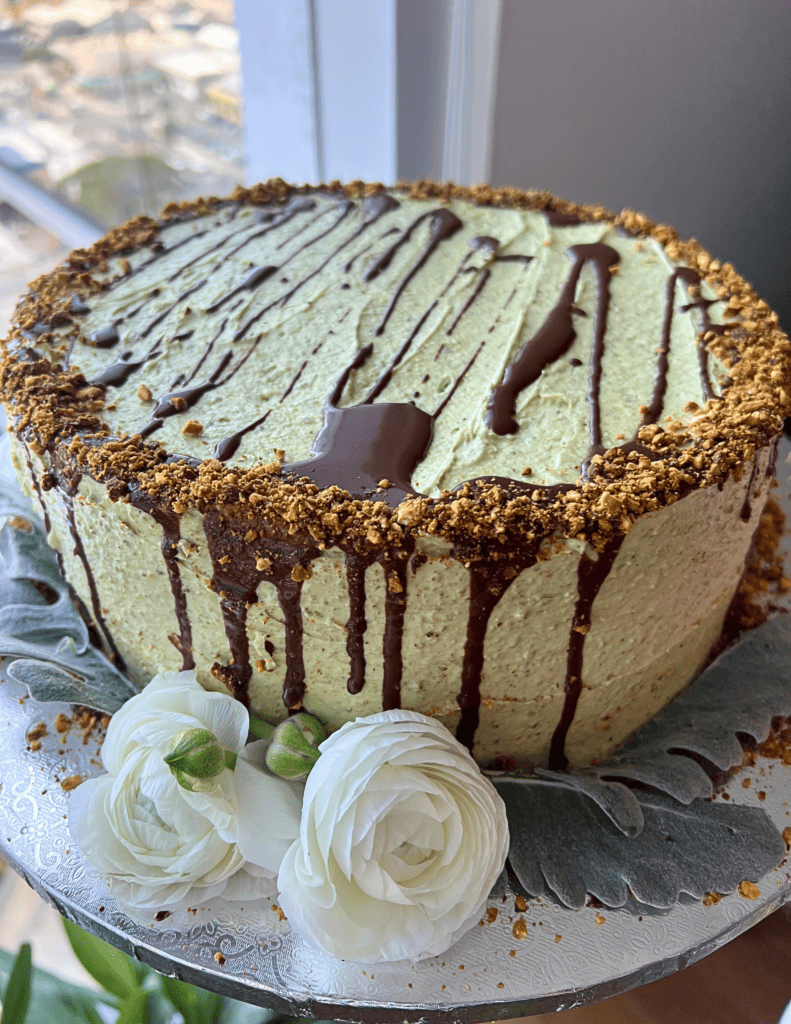 You May Also Like These Recipes…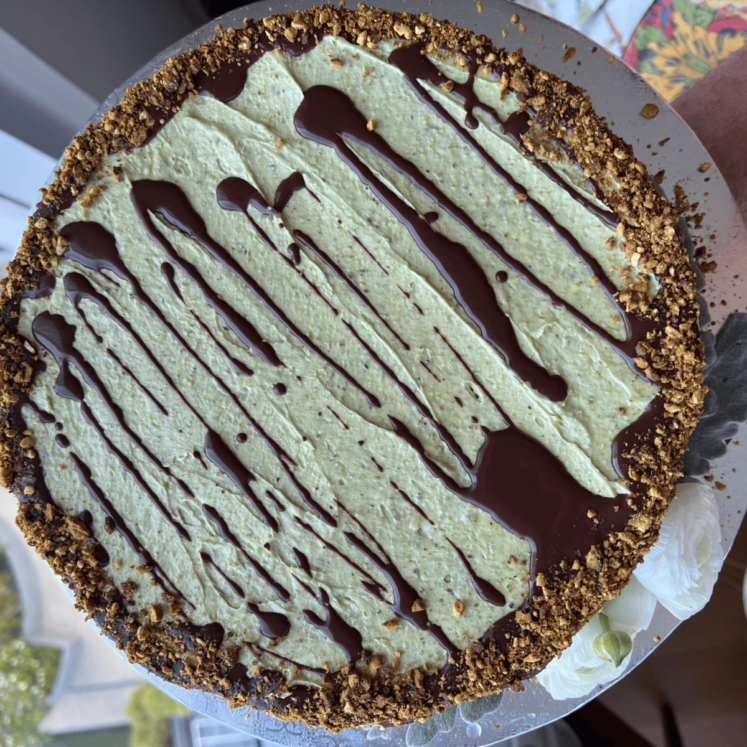 Gluten Free Vegan Chocolate Cake with Pistachio Buttercream
---
Author: Cristina Curp
Prep Time: 40 minutes
Cook Time: 35 minutes
Total Time: 1 hour 15 minutes
Yield: 16 servings 1x
Category: Dessert
Method: Bake
Cuisine: American
Diet: Gluten Free
Description
An updated version of the first recipe I ever posted to this blog! An egg and gluten free cake with pistachio buttercream
---
Scale
Ingredients
For the Gluten Free + Vegan Cake
1 cup coconut or almond milk
1 tablespoon apple cider vinegar
1 tablespoon psyllium husk powder 
1/2 cup water
2 1/4 cups King Arthur Flour (with xantham gum)
1 1/2 cups light brown sugar
1/4 cup dark brown sugar
3/4 cup cocoa powder (unsweetened)
3 teaspoons baking powder
1 teaspoon baking soda
1 teaspoon salt
1/2 cup avocado oil 
1 tablespoon vanilla extract
1 cup boiling water (up to 1/4 cup more if needed)
Pistachio Buttercream
1 cup shelled pistachios
1/2 cup nut pods creamer or cashew milk
1 cup softened butter or dairy free alternative 
1 teaspoon vanilla extract 
2 cups powdered sugar
1/2 teaspoon salt
For Toppings:
Ground up pistachios + chocolate chips
---
Instructions
Bake The Cake
Pre-heat the oven to 350F. Grease 2 8-inch cake pans and line with parchment paper, grease again and dust with cacao or cocoa powder. 
Mix the dairy free milk and apple cider vinegar and set aside. In another small bowl or cup mix the water and psyllium husk and set aside, this mix will gel to a thick apple sauce consistency. 
In a large bowl mix the flour, sugars, cocoa or cacao powder, baking powder, baking soda and salt.  
Get your hand mixer out. To the bowl with the dry ingredients you are going to add the milk and vinegar mix and the psyllium husk mix (be sure to stir it up well before adding). Also add in the avocado oil and mix on medium speed until well combined. 
Lower the speed of the mixer and slowly add in the boiling water – the mix should be rather runny at this point, if it's still thick, add 1/4 cup more water. Psyllium husk absorbs a lot of water. 
Divide the batter evenly between the cake pans, set them on a sheet pan (it helps them cook evenly). Bake at 350F for 35 minutes or until the edges separate from the side of the pan and the center looks cooked through. Always do a toothpick test. 
Remove from the oven and set on a rack to cool – after 30 minutes, un-mold and let cool completly before frosting. The cake will be moist and a little sticky on the outside so careful where you place it, I recommend putting down parchment paper. 
Make the Buttercream
In your food processor grind the pistachios to a crumb. Then add in the milk and process until its a fairly smooth paste. Use a spatula to remove and set aside. 
In the bowl of your stand mixer with the paddle attachment, whip the butter until light in color and fluffy. Add in the vanilla and pistachio paste and mix until well combined. 
Then sift in the powdered sugar until well combined and the buttercream has a nice creamy but full bodied texture. 
You can add a few drops of plant based food coloring (Whole Foods has it) if you want to boost the green color.
Recipe Notes:
Pro Tips:
I like adding ground up pistachios and chocolate chips to the center of the cake when I frost it for texture, and these look great on top for decoration too! 
Drizzling chocolate ganache on top is beautiful too! I recommend chilling the frosted cake for 2-4 hours before adding the ganache.
Nutrition
Serving Size: 1 slice
Calories: 495
Sugar: 49g
Sodium: 400g
Fat: 22g
Saturated Fat: 4g
Carbohydrates: 70g
Fiber: 8g
Protein: 4g
Keywords: Gluten Free Vegan Chocolate Cake with Pistachio Buttercream