Welcome to Body Wise podcast with your hosts (and sisters) Laura Mar, Sexual Health Educator, and Cristina Curp, NTP, as they navigate the intricacies of the body's innate wisdom and our strong intuition. Join us for meaningful conversations and expert interviews dissecting the rituals surrounding food, cooking, movement, sex, love, and mindfulness. 
Listen On
iTunes | Stitcher |  Spotify | PlayerFM | Podbean | Libsyn | YouTube
Please subscribe and leave a review! Thank you!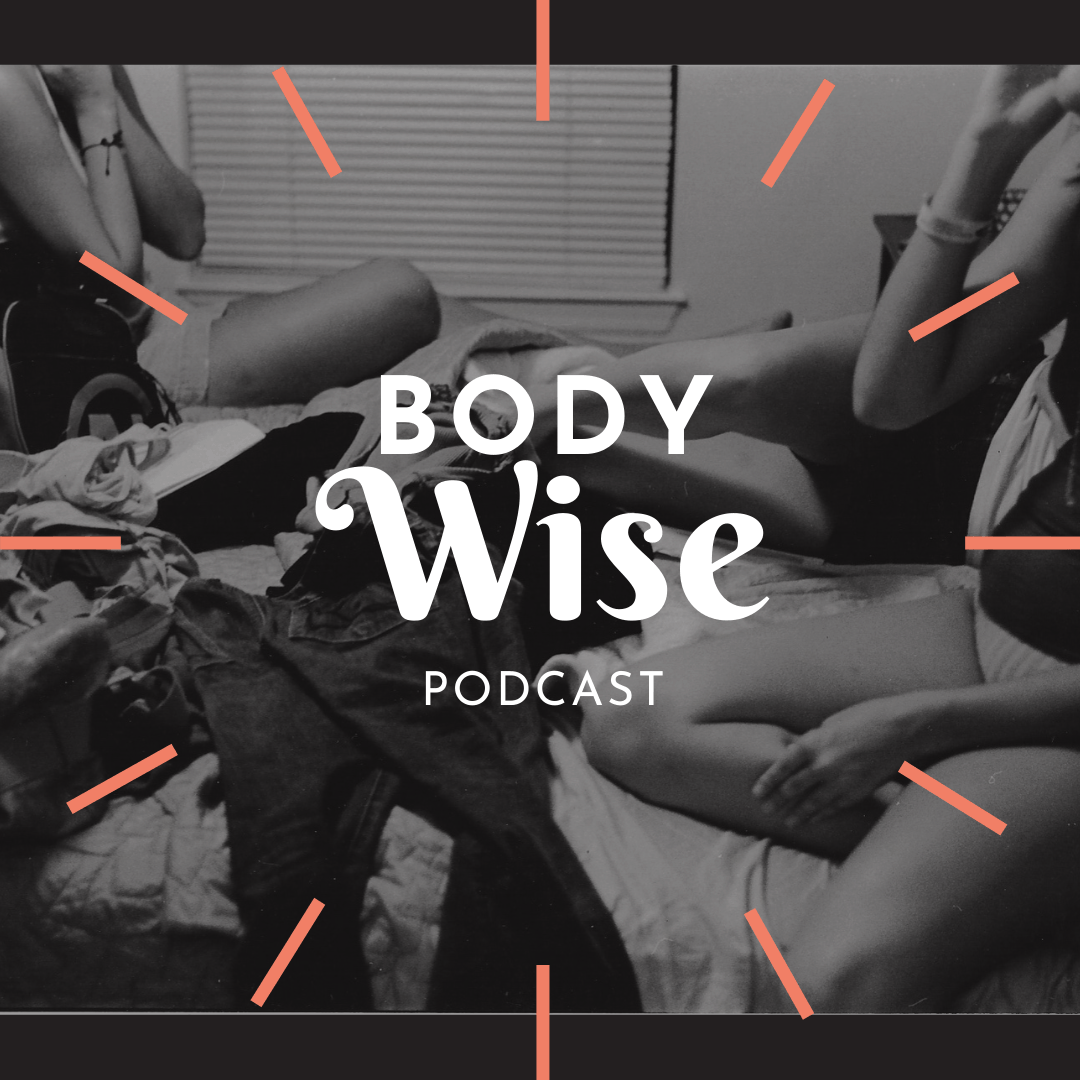 We aim to share our collective wisdom in order to empower people who cycle, people who parent, people who what to heal and people who yearn for authentic human connection. Sharing stories and discoveries of the authentic human experience and how it is inevitably all intertwined with diet, lifestyle, community, and sex.
About your Hosts
Cristina Curp holds a BA in Sociology and Anthropology from Florida International University and is a certified Nutritional Therapy Practitioner. Author of Made Whole and Made Whole Made Simple. Creator of The Castaway Kitchen, mother, chef, and autoimmune warrior. Food as medicine advocate and body-positive fitness enthusiast. Cristina lives in Alexandria VA with her family and eagerly plots her return to South Florida to be with the rest of her coven, aka her sisters and mother.
Laura Mar holds a BA in International Studies from the University of Miami and is certified as a Holistic Sexual Health Educator. An entrepreneur and co-founder of Green Gables Cafe, Laura now dedicates her time to helping people have better periods, explore their hormone health and sexuality, family plan and more. She lives in South Florida with her younger sister, Anavictoria and two daughters.
GET BODY WISE:
Episodes
New episodes will release 2 times a month on the 1st and the 15th! Be sure to subscribe on your favorite platform so you don't miss a beat!
Body Wise Podcast Episode 1
Nice To Meet You | January 5th, 2020
Get the transcript for Episode 1 HERE
Welcome to the Body Wise podcast with your hosts: Laura Mar, Sexual Health Educator, and Cristina Curp, Nutritional Therapy Practitioner. We figured we'd start with introductions and a bit of our individual backgrounds and experiences in women's health so you can better understand what brought us to this moment and the conversations we hope to have in future episodes of the show.
TOPICS:
Meet Cristina (00:18)
Meet Laura (04:23)
Getting back to ancestral wisdom (16:27)
Where does body disconnect come from? (24:25)
Health through the lens of social media (26:11)
Body autonomy and acceptance in Latin culture (29:05)
High school, the patriarchy, and cervical fluid (30:52)
Addressing healing, the food connection (37:00)
Building the Body Wise community (39:23)
Body Wise Podcast Episode 2
Sex Is Not A Bad Word | January 15th, 2020
Get the transcript for Episode 2 HERE
Let's talk about … TALKING about sex. It's not a bad word; sex is a basic, biological, primal, pleasurable experience and everyone should be able to talk about it so that we can create healthy boundaries around sex and enjoy it more. Educating yourself about sex, talking to your kids about sex, communicating your needs with your partner, and even porn — nothing is taboo, we're talking about it all.
TOPICS:
Talking to your kids about sex (00:16)
How to educate yourself on sex so you can talk to your kids (08:21)
Talking to your partner about sex, getting real about sex (15:20)
Taking back your power in sexual situations (20:45)
Connecting with your partner (23:30)
The anatomy of arousal (27:38)
Reclaiming your body and self pleasure as self care (32:03)
Porn: friend or foe? How to find ethical porn, talking to your kids about porn (34:41)
Normalizing conversations with your kids about nudity, attraction, and sex (41:57)
SPONSORS:
RESOURCES:
Body Wise Podcast Episode 3
Stress, Stress Baby | February 1st, 2020
Get the transcript for Episode 3 HERE
STRESS! We all have it … and we're not always good at managing it. This episode, we're talking about signs of stress and how to manage stress: foods to eat to support your body, vitamins, minerals, and supplements for stress support, how stress impacts hormones, connecting to your body and your senses to come back to yourself, preventative measures for high stress moments, and more.
TOPICS:
Letting yourself let go of the hustle (5:00)
Eating to nourish your body and manage stress (7:26)
Non-food ways of nourishing ourselves and recharging (14:11)
Symptoms and signs of stress (18:43)
Making the choice to take care of yourself and why it's so important (21:49)
How stress impacts hormones (34:41)
Supplements for stress (40:28)
The power of surrendering to yourself (44:53)
PARTNERS:
RESOURCES:
Body Wise Podcast Episode 4
How to Live Awesome with Mark Sisson | February 15th, 2020
Get the transcript for Episode 4 HERE
What does it mean to live an awesome life? If you had to describe a balanced, healthy life, what would you include? There's more to it than eating quality food and moving your body — we need human connection, family time, and the opportunity to slow down and tune in. This episode with Mark Sisson dives deep into what it truly means to #liveawesome.
TOPICS:
What Mark Sisson eats (9:06)
Mark Sisson's creative process (15:22)
The key to living awesome (20:23)
Why it's so important to feel connected (23:27)
Getting back to the simple primal things for fulfillment (26:30)
The ultimate definition of a rich life (30:46)
How to fail and hustle less (31:48)
PARTNERS:
RESOURCES:
Body Wise Podcast Episode 5
Boundaries with Kyndra Holley | March 1st, 2020
Get the transcript for Episode 5 HERE
Strong personal boundaries serve as a blueprint for how we treat ourselves, and can teach others how we want to be treated in our relationships, whether they're romantic, platonic, or familial. Healthy boundaries go beyond relationships and impact our lifestyle, finances, and more. In this episode with Kyndra Holley, we're talking about what boundaries look like, how to maintain them, how gentle honesty can empower others, and more.
TOPICS:
Introducing Kyndra and boundaries within our friendship, chatting about Peace, Love, and Low Carb (02:35)
Creating boundaries on social media, navigating internet trolls (10:45)
Managing expectations on social media (16:31)
Setting boundaries in every day life (21:44)
Building a digital community while minding boundaries (24:57)
The importance of sharing your real self and owning your story (29:15)
How to be okay with not making everyone happy (47:25)
PARTNERS:
RESOURCES:
Body Wise Podcast Episode 6
The Inflammation Spectrum with Dr. Will Cole | March 15th, 2020
Get the transcript for Episode 6 HERE
What is inflammation? What does it look like? And what can we do about it? In today's episode, we're chatting all about inflammation with leading functional-medicine expert, Dr. Will Cole. Going beyond elimination protocols and reintroduction periods, we get to the heart of inflammation, the emotions that come with flare ups, and addressing the lifestyle components that contribute to stress.
TOPICS:
What is inflammation? (4:09)
Addressing inflammation with elimination protocols (14:01)
The emotional component of reintroducing foods (17:57)
Managing stress and lifestyle inflammatory triggers (24:34)
Addressing burnout and chronic stressors (29:16)
How healing your body can change your life (36:52)
Supporting gut health with real food (39:13)
RESOURCES:
Made Whole Made Simple, my second paperback, is HERE! If you have a copy, please leave a review and tag me on social when you cook from the book @thecastawaykitchen and @madewholecookbooks, and hashtag #madesimple. Find more information about the Made Simple Book Tour here.
Rate the podcast and leave a review on iTunes to be entered to win a $50 Whole Foods gift card and a signed copy of Made Whole Made Simple! We'll announce the winner in a future episode, so keep listening to find out if it's you!
Find more from Dr. Will Cole at drwillcole.com, plus follow him on social media @drwillcole
Check out Dr. Will Cole's books:
Body Wise Podcast Episode 7
Mindfulness and Muscles with Danny and Maura Vega | April 1st, 2020
Get the transcript for Episode 7 HERE
When it comes to losing weight and building muscle, there's more to it than what you do in the kitchen and the gym. Today's episode with Danny and Maura Vega touches on building holistic practices that strengthen your body and mind. It's not just about the short term benefits, but about creating sustainable practices and incorporating mindfulness to support overall wellness as individuals and as a family unit.
TOPICS:
Introducing Danny and Maura Vega (3:30)
Managing working, training, and raising a family together (10:00)
Building a fat fueled family (15:14)
Danny's holistic approach to training (19:10)
How mindset impacts training (24:31)
What burn out looks like (33:09)
What to do when you're overstressed (38:27)
How societal norms impact stress (42:45)
RESOURCES:
Body Wise Podcast Episode 8
Confident as Fu*k with Elle Russ | April 15th, 2020
Get the transcript for Episode 8 HERE
In this episode with Elle Russ, we're talking about how Elle learned to become Confident as Fu*k, cultivate self-esteem, why it's your responsibility to reparent yourself, and how vulnerability is the key to overcoming shame. Elle Russ is the host of the Primal Blueprint Podcast, a speaker and writer, and the author of Confident as Fu*k and The Paleo Thyroid Solution.
TOPICS:
The Paleo Thyroid Solution (4:20)
Becoming the expert on yourself (11:55)
Confidence versus self-esteem (13:04)
How to reparent yourself (and why you should!) (17:49)
Cultivating grit (25:54)
How to confront and deal with shame (30:06)
Turning your truth into your power (42:20)
RESOURCES:
Body Wise Podcast Episode 9
Decoding Weight Loss with Karen Martel | May 1st, 2020
Get the transcript for Episode 9 HERE
Balancing the struggle to feel comfortable in your body while figuring out how to appreciate who you are, striving for overall health, and still working on weight loss and fitness goals is a juggling act. It's not as simple as calories in, calories out, fasting all the time, or getting a daily workout in, and the modern woman is carrying a heavier stress load than ever before. In this episode, Karen Martel is decoding weight loss and the biggest barriers for women.
TOPICS:
How intermittent fasting can negatively impact sex hormones and weight loss (2:48)
Stress for the modern woman (6:50)
Women, keto, and fasting: why more isn't better (10:18)
Decoding weight loss for women (13:27)
Why keto works for men (16:52)
Calories in, calories out, and why it doesn't work (17:48)
Timing fasting, feasting, and workouts with your cycle and age (22:24)
Seasons of life and how they affect insulin sensitivity and weight (32:16)
When to shift your priorities away from weight loss (34:02)
Why being lean doesn't equate to being healthy (42:52)
RESOURCES:
Body Wise Podcast Episode 10
Laura's Back! | May 15th, 2020
Get the transcript for Episode 10 HERE
Laura is back! We are together in Tampa where we are co-parenting and finding new ways to support ourselves by supporting each other. Even with familial support, life is hard right now … and that's okay. We are both very different in how we structure our day and our time to ourselves, and our kids bring even more variety to the mix. We thought it would be cool to share what we're doing and what we've learned as we co-parent in this phase of life during the current crisis.
TOPICS:
Laura's back, what she's been up to (00:48)
Consequences of motherhood coming first, everything else second (02:45)
How co-parenting with family benefits us as individuals (06:45)
Our relationships with rest (09:43)
Rediscovering passion within your calling (14:12)
Empowerment through knowing ourselves and our bodies (22:47)
Honoring yourself by slowing down (32:30)
How our kids are responding to co-parenting (37:18)
Future projects we're planning together (41:59)
RESOURCES: 
The Cycle Science Private Class has sold out, but we'll keep you updated with new classes in the future!
Don't forget to support Body Wise Podcast by leaving a rating and a review on iTunes.
Body Wise Podcast Episode 11
Get to Know Your Flow with Nicole Jardim | June 1st, 2020
Get the transcript for Episode 11 HERE
Laura is teaming up with the period girl herself, Nicole Jardim, to talk about why your period is not meant to be a curse, how to educate yourself on cycle health, the importance of women's health outside of our fertility, why hormonal birth control is NOT a magic pill, and how to advocate for your body and your overall health. This episode is filled with so many nuggets of wisdom from two people who are absolutely adamant about women's health; it's a must listen!
TOPICS:
Meet Nicole Jardim and Fix Your Period (01:12)
How cycle health education impacts overall wellness (05:12)
Where to start and how to fix your period (08:01)
The power of knowing your body (12:50)
How changing your wellness narrative can improve your health (16:24)
Changing your relationship with your period and your hormones (19:52)
How your menstrual cycle affects your overall health (20:39)
Gut health and your cycle (25:13)
What diet is best for women (31:26)
What happens when you fix your period (38:09)
RESOURCES: 
Body Wise Podcast Episode 12
Discovering Your Inner Healer with Dr. De'Nicea Hilton | June 15th, 2020
Get the transcript for Episode 12 HERE
Laura talks with De'Nicea Hilton, doctor of Oriental medicine, Holistic PLAY Activator, and creator of Playful Healing Spaces for women. By recognizing what tools serve you in the moment, you can give yourself the freedom to move through your healing journey. Dr. De'Nicea's approach applies to every aspect of life, and gives us all permission to embrace, embody, and express our perfectly authentic selves.
TOPICS:
Meet Dr. De'Nicea Hilton and PLAY (01:30)
How self awareness leads to healing (05:19)
How to use one symptom to unpack the root cause (10:14)
Treating chronic illness with a holistic approach (15:45)
Depersonalizing from a condition (18:33)
Bringing awareness to wellness (22:06)
How to add more play to your life (24:40)
Reframing and embracing perfection (30:56)
Moving from shadow work into spectrum work (41:20)
RESOURCES: 
Don't forget to support Body Wise Podcast by leaving a rating and a review on iTunes.
Find Dr. De'Nicea online at De'NiceaHilton.com
Body Wise Podcast Episode 13
From Home Chef to CEO of a National Brand with Angela Mavridis | July 1st, 2020
Get the transcript for Episode 13 HERE
Cristina talks with Angela Bicos Mavridis, founder of TRIBALÍ Foods. Angela discovered the nurturing power of real foods growing up in her grandmother's Greek kitchen. After 30 years on a processed vegetarian diet, she listened to her body's innate wisdom, started incorporating meat, and THRIVED. Angela is fulfilling her mission to make ancestral eating easier in the modern world, and might just change the food industry in the process.
TOPICS:
Meet Angela and TRIBALÍ Foods (00:18)
Jumping into the market of consumer packaged goods (07:35)
How to pursue your dream (12:42)
Making healthy food work when you have no time (16:12)
Food deserts and food insecurity, and making a difference (18:18)
Balancing motherhood with entrepreneurship (22:04)
Being the change within the packaged goods market (26:46)
How to get your business off the ground and into the grocery store (31:19)
Confidence and mindset of a change maker (35:14)
RESOURCES: 
Body Wise Podcast Episode 14
All Moms Are Super Moms | July 15th, 2020
Get the transcript for Episode 14 HERE
Cristina and Jean Choi, both super moms, talk pregnancy, motherhood, building a business, and doing it all with integrity and intuition at the forefront. After struggling with her own wellness and the lack of care in the conventional health industry, Jean Choi looked inward for answers and found her own innate wisdom, leading her to a healthy pregnancy and a more balanced life as a new mom, cookbook author, and full time food blogger.
TOPICS:
Meet Jean Choi and What Great Grandma Ate (00:18)
Balancing motherhood and a full time job (4:07)
Shifting career paths to find health answers (8:50)
Amenorrhea, digestion, and making the connection (12:47)
Preparing for motherhood (16:28)
Removing mom shaming and judgment (19:50)
Empowerment through pregnancy and cultural awareness (25:48)
Birthing experience and the new normal of early motherhood (29:20)
The best foods and exercise for postpartum recovery (35:54)
Reclaiming your power in pregnancy (40:27)
Body trust and healing (43:52)
RESOURCES: 
Body Wise Podcast Episode 15
Life After Elimination Protocols | August 1st, 2020
Get the transcript for Episode 15 HERE
Cristina is riding solo and talking about all things elimination protocol. From the difference between AIP, paleo, and Whole30. Plus what to eat, how to reintroduce foods, what to do when it feels like nothing is working, what labs and tests to request, and the mindset work behind healing. After all, we can choose to thrive, in whatever that looks for each individual.
TOPICS:
Cristina's background and the beginning of her health journey (1:55)
Paleo as a blueprint (5:41)
Whole30, AIP, and elimination diets (6:57)
When, how, and why you should reintroduce foods (8:33)
Which elimination protocol is right for you? (11:18)
Cristina's life after elimination diets (12:28)
Identifying reactions, worth-it foods, and hard-no foods (15:59)
Getting the most out of healing through mindset (22:43)
What to do when elimination protocols don't work (24:41)
Getting "back to normal" after an elimination diet (27:47)
Making choices for your health (30:12)
RESOURCES: 
Don't forget to support Body Wise Podcast by leaving a rating and a review on iTunes.
Body Wise Podcast Episode 16
Healthy Eating and Happy Living with Brianna Wilkerson | August 15th, 2020
Get the transcript for Episode 16 HERE
Cristina and Brianna cover a variety of topics related to health, from building a better relationship with food, to safe and healthy weight loss that lasts, plus cycle health as the fifth vital sign, Whole30, essential oils, stress management, the role holistic coaching can play in a health journey, and so much more.
TOPICS:
Meet Brianna Wilkerson and Madewell345 (4:19)
Brianna's experience with weight loss (5:01)
How to get into health coaching (7:15)
Whole30, paleo, and the gateway to good nutrition (12:30)
Why stress is such a huge health obstacle (16:01)
The ERC Method: eliminate, reduce, cope (20:22)
The mental benefit of one on one and group coaching (22:54)
Incorporating essential oils in a wellness practice (25:37)
The Healthy Eating and Happy Living Summit (26:48)
Unpacking miseducation surrounding women's health (29:43)
Life coaching as a stepping stone to wellness (33:39)
RESOURCES: 
Body Wise Podcast Episode 17
Love Your Cycle with Laura Mar | September 1st, 2020
Get the transcript for Episode 17 HERE
We can't appreciate what we don't understand, so in this solo episode, Laura is guiding you through the first step of loving your period through education. Cycle phases, hormones, anatomy, and physiology, plus how we change mentally and energetically throughout different parts of the cycle. We are not broken, the system is, and taking back our power is the first step in healing.
Post-recording Note from Laura: Cervical mucus is amazing! Not only because it alerts us to impending ovulation but because it is designed to keep sperm alive and facilitate passage to the egg once it's released. That's right, sperm can live for up to five days in our bodies if cervical mucus is present! It's a fertility powerhouse.
TOPICS:
Meet Laura and Love My Cycle (00:19)
The importance of cycle education (1:10)
The physiology of the menstrual cycle, from Day 1 (3:50)
Fertilization (or not) and what happens after (9:35)
Tracking your cycle (12:37)
How our brains change throughout the menstrual cycle (13:43)
The four phases of the cycle (14:41)
Mind/body/spirit/earth connections (16:09)
Science as an empowerment tool (17:20)
Optimizing your fertility naturally (19:15)
Education before medication (22:14)
RESOURCES:
Body Wise Podcast Episode 18
Creating an Online Community with Cristina Curp | September 15th, 2020
Get the transcript for Episode 18 HERE
As humans, we need the support and companionship that comes with community. Nowadays, that's a bit more challenging, but luckily, you can build your own community just by being yourself. Everyone has something to bring to the table, and there's a seat for us all. Pull up a chair as Cristina talks about what she looks for in an online community, what she's doing to build her own community, and how you can build yours online.
TOPICS:
The importance of community (00:30)
Where online communities started (1:59)
What you need to start an online community (02:38)
Choosing your platform (7:40)
The value of pricing your content appropriately (8:15)
The importance of confidence in community (12:37)
Choosing the business model that works for you (13:51)
What is your message and what do you want to teach the world? (19:40)
How the blogging community and social media has changed recently (21:21)
Setting boundaries on social media (24:13)
The benefits of nurturing a community (26:45)
Choosing where to build a platform that works for you (28:17)
The ultimate goal of community (32:56)
Mi Casa Cooking Club and closing comments from Beyonce (34:26)
RESOURCES:
Body Wise Podcast Episode 19
The Sacred Feminine with Daniele Della Valle | October 1st, 2020
Get the transcript for Episode 19 HERE
The Sacred Feminine lives within all of us, and it's calling for us to wake up and step into our power. Cristina and Daniele talk about what it means to be a witch and how to harness your gifts in a way that makes you feel closer to your truth. We all have something to bring to the table, and we can all share and become stronger in sisterhood.
TOPICS:
Meet Daniele Della Valle (00:19)
Activism and using your privilege for good (1:38)
Disrupting the wellness space with inclusivity and creating a system for all (06:21)
Awakening to rewilding of women (16:09)
The healer identity, witchcraft, ceremony, and the Sacred Feminine (18:47)
The importance of sisterhood and honoring our cycles (24:38)
Embracing femininity, and the health implications of disconnection (25:28)
The power of orgasm and the importance of self-pleasure (31:55)
Social media and the female experience (39:17)
How travel builds empathy and connection (45:00)
What's on the horizon (48:25)
RESOURCES:
Body Wise Podcast Episode 20
From Breaking up to Co-Parenting with Derek Warriner | October 15th, 2020
Get the transcript for Episode 20 HERE
This episode is very personal and intimate. Laura and Derek share about their experience uncoupling. From finding the courage to talk about divorce, to being on the same page, to the divorce process, to rage, to acceptance and surrender, to finding love and gratitude for each other, to learning about themselves as individuals … all while co-parenting and wanting the best for their kids.
TOPICS:
Derek, Laura, and their perspectives (00:18)
Bringing up the topic of divorce (02:52)
The emotional elements of uncoupling (03:59)
How the financials and logistics of divorce led to a breaking point (08:25)
Unraveling what went wrong (17:50)
What changed to make things right (22:36)
Rebuilding trust within a broken relationship (26:50)
Co-parenting in the midst of divorce (30:23)
The paradox of pain and healing … and growth (32:18)
Life lessons from divorce (34:39)
RESOURCES:
Body Wise Podcast Episode 21
What Holistic Really Means with Angie Alt | November 1st, 2020
Get the transcript for Episode 21 HERE
Cristina talks with Angie Alt about what's been left unsaid in the holistic wellness space. Ignoring obstacles to holistic wellness like food insecurity, police violence, and generational trauma causes harm and real health consequences to communities of color. We need to be brave enough to imagine, address, and integrate a more holistic approach to wellness to make it accessible for everyone.
TOPICS:
Meet Angie Alt (00:19)
The importance of activism within the wellness community (04:06)
Defining holistic wellness (05:23)
The less talked about barriers to wellness (08:24)
Representation in the wellness space and whiteness co opting wellness (10:42)
Making AIP accessible for all cultures and getting to the real root of root causes (12:33)
Addressing the violence obstacles for Black and brown communities (20:25)
Starting the conversation: why human rights aren't political (22:51)
How to get over the fear of getting it wrong (27:49)
Why imagining better is the key (31:30)
Getting realistic about barriers to holistic wellness (34:32)
Politics as a root cause for autoimmune disease (36:09)
Why self care and bootstrapping aren't a cure-all (37:54)
Getting through to the other side of defensiveness to shift perspectives (42:00)
Going beyond the food and taking back our power (47:03)
RESOURCES:
Don't forget to support Body Wise Podcast by leaving a rating and a review on iTunes.
Find more from Angie Alt:
For further reading:
Body Wise Podcast Episode 22
Demystifying Therapy | November 15th, 2020
Get the transcript for Episode 22 HERE
Cristina talks with her therapist, Keesha Sullivan about all things therapy. From how to find a holistic therapist, to identifying programming, plus developing a better relationship with the ego and its purpose, how to know when to bring your kids to therapy, whether or not you can heal, and so much more. This episode is full of valuable insight that helps diffuse the stigma associated with therapy.
TOPICS:
Meet Keesha Sullivan (01:24)
Approaching therapy from a holistic standpoint (03:41)
Programming and the subconscious mind (04:33)
Collaborative therapy (05:37)
What is transpersonal therapy? (06:58)
Identifying the ego and its purpose (08:09)
The importance of feeling your feelings (11:21)
What is hypnotherapy? (13:16)
Therapy for children (17:25)
Where solution-based therapy misses the mark (24:15)
How to find the right therapist (26:25)
What is PTSD and can it be healed? (30:15)
Why it's important to not "should" your feelings (35:17)
Healing your relationship with food through hypnotherapy (40:29)
Breaking up with a therapist (48:23)
RESOURCES:
Body Wise Podcast Episode 23
Everyday Latina | December 1st, 2020
Get the transcript for Episode 23 HERE
Cristina talks with Gemma Aguayo-Murphy about Latinx heritage and cooking. From healthy swaps to dealing with guilt from swapping seasonings possibly shaming the ancestors, making meals work for the entire family, finding flavors that fit your food intolerances, and more.
TOPICS:
Meet Gemma Aguayo-Murphy (00:18)
Keeping your ancestors alive through recipes (03:13)
Balancing traditional Mexican dishes with paleo (04:40)
Finding food freedom in ancestral dishes (07:37)
Making food swaps work (11:32)
The Americanization of ancestral meals (15:15)
Navigating food intolerances and picky palettes in Latinx cuisine (17:24)
Honoring the ancestors and our people with healthier options (22:07)
The importance of making information accessible (26:07)
Making meals and sharing a day in the life (28:58)
Pregnancy and childbirth during a pandemic (31:35)
Favorite recipes from Gemma's blog and where to find her online (35:02)
RESOURCES:
Body Wise Podcast Episode 24
The Space Between Healing Protocols and Weight Loss Diets | December 15th, 2020
Get the transcript for Episode 24 HERE
Cristina is interrupting the regularly scheduled body shaming diet dogma to bring you a new perspective on pursuing health in the new year. We've all had enough to deal with in 2020, let's not start another year off by traumatizing ourselves with diet culture. Instead, Cristina is inviting you to explore the space between healing protocols and weight loss diets to find what really makes you thrive.
TOPICS:
Making the shift from weight loss to healing (00:48)
Weight loss as a side effect of healing (03:49)
Why intuitive eating misses the mark for managing autoimmune diseases (06:04)
Elimination diets as wellness tools (07:23)
The importance of experimenting to see what really works (08:09)
Using dietary protocols without diet dogma (10:51)
Finding flexibility within your eating template (12:53)
Ancestral eating as a template and a lifestyle (15:31)
Tweaking things to build personalization within a protocol (20:23)
Looking back to see how far you've come in healing (21:07)
Diet as the foundation for overall wellness and loving yourself into healing (24:23)
RESOURCES:
Don't forget to support Body Wise Podcast by leaving a rating and a review on iTunes.
Join Cristina's online community and become part of Mi Casa Cooking Club
Body Wise Podcast Episode 25
Finding More Play in the Year Ahead with Cristina Curp and Laura Mar | January 1st, 2021
Get the transcript for Episode 25 HERE
Cristina and Laura are celebrating Body Wise Podcast's 1 year anniversary with a 2020 wrap up and some thoughts for the year ahead. They explore how we can all get back to ourselves after so much trauma and so many dysregulating experiences — it doesn't have to be complicated! We can get back into our bodies and our hearts through playfulness, laughter, and fully embracing moments of childlike joy. Happy New Year from Body Wise to you and yours!
TOPICS:
Celebrating year one of Body Wise Podcast (00:27)
The energy of the new year … in the middle of winter (01:25)
Following the cycles of energy (03:32)
Takeaways from 2020 (04:43)
Burning out and feeling tired "for no reason" (09:59)
The emotional labor of 2020 (15:28)
Managing energy and expectations in 2021 (17:53)
Finding moments of peace and joy to bring you back to your self (23:55)
Preparing for 2021 (27:55)
Playfulness as a spiritual tool (30:06)
The value of play (32:35)
Last messages for 2020 and welcoming in the year ahead (34:24)
RESOURCES:
Don't forget to support Body Wise Podcast by leaving a rating and a review on iTunes.
Join Cristina's online community and become part of Mi Casa Cooking Club
Body Wise Podcast Episode 65
The Invisible Corset with Lauren Geertsen | January 15th, 2021
Get the transcript for Episode 26 HERE
Cristina chats with body connection coach Lauren Geertsen about how we can heal our relationship with food while healing the relationship and trust we have with our bodies. Lauren is the author of The Invisible Corset and has dedicated herself to helping clients around the world trust their bodies and step into their soul purpose.
TOPICS:
Meet Lauren Geertsen (00:20)
Where food as medicine worked, and how it fell short (01:20)
Body connection coaching (03:34)
How diets fail, why fat people aren't inherently unhealthy, and fat discrimination (05:10)
The difference between affirmations and afformations (09:22)
The power of flower essences (12:15)
How our disconnection from our bodies harms us (14:22)
Visualizations, reintroductions, and what to do after we heal (18:42)
The 5 strings in The Invisible Corset (22:13)
The history behind controlling the female body (28:51)
Where body positivity falls short (33:02)
How the beauty industry disconnects us from our true selves (37:27)
Our bodies as our true soul mates (50:19)
RESOURCES:
Don't forget to support Body Wise Podcast by leaving a rating and a review on iTunes.
Find more from Lauren Geertsen:
Join Cristina's online community and become part of Mi Casa Cooking Club