Hey! We have a guest post! Steve is a fellow blogger and health enthusiast. I think we learn so much from each other in this community, that it would be cool to share other people's stories on here too! TCK Fam, meet Steve! 
 He blogs over at http://www.theketosteve.com/
He made us these, thanks Steve! Recipe below!
His Story:
Hello there! If you are reading this then you might be wondering who exactly is
Keto Steve? Well I started my Keto Journey back in January of 2016 and
when I first started I was kind of like you. I was sitting there wondering where
to start and what would really happen to my body.
In the beginning it was all just a "science experiment" if you will, I wanted to
see what would happen to my body if I cut down on carbs and sugar. Within
the first few weeks it was relatively difficult, I was so used to getting fries with
a burger that it was second nature to me. I had to reprogram my brain into
getting a side salad or veggie instead of fries. The good news is that over time
my body got with the program and adapted to the new diet. Thankfully I didn't
get the "keto flu" as it's called, I can't really speak to how I avoided it but I
guess I'll just chalk it up to pure luck.
After a month on the diet I lost roughly 10-15 pounds which I honestly thought
wasn't possible. All my life I had never really been a big kid but apparently, I
had weight to lose and off it came. I had to start buying smaller clothes and
wearing belts which I hadn't done since I was a kid. It was kind of a surreal
experience for me, this whole science experiment had a hypothesis I never
thought could happen.
With this new lifestyle came a desire to cook more of my own food instead of
constantly eating out. I came to appreciate the cooking process more and it
made me hyper-analyze what I was putting into my body. One thing kind of
led to another and I started posting my food on Instagram. In the beginning, it
was just for fun and figured I could provide some inspiration for others. Over
time people started to take notice and began asking me for recipes or if I had
a website. I was at a fork in the road, keep it casual or turn up the heat and
start taking things seriously.
Long story short I made a website then began creating recipes and gained a
following on Instagram. Like I said, it was all just for fun in the beginning, but
for me it's more about helping others and sharing my story. It's important to
know that this doesn't have to be a journey you do alone. Don't be afraid to
reach out to others and ask for guidance or advice. We're all on the same
team when it comes to self-improvement and 9 times out of 10 our objectives
are the same, to get healthier.
When I was first starting out I wasn't afraid to email dieticians, doctors or
whoever would respond to my questions. If you're out fishing with 20 different
fishing poles the chances of you getting a bite on a line is relatively high.
Heck, I'm by no means a health professional but the very least I can do is
share my experiences with you or refer you to someone who is better
equipped to assist you.
With that being said I do hope that I was able to inspire you in some way. It's
never too late to make a change, especially when it comes to your healthy.
Take care of your body in the best way you can, because it's the only one
you've got!
Thanks for following along and I do appreciate you taking the time to read a
little more about me. If you ever want to get in contact with me feel free to
message me on Instagram or email me at steve@theketosteve.com.
Good Luck! 
The Recipe
Quintesential keto recipe. Eggs and avocado. Whole food. Simple. Nutritious.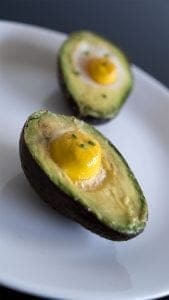 USS AVO
---
Scale
Ingredients
2 Eggs
1 Avocado
1 tsp of Ground Pepper
1 tsp of Chopped Chives
---
Instructions
Preheat the oven to 350
Cut open the avocado and remove the seed
Carefully carve out a large hole in each side of the
avocado to make room for the eggs
Slowly pour 1 egg in each side of the avocado
Sprinkle the pepper on top of each egg piece
Bake the eggs in the oven for 30 minutes until the
inside is firm
Remove the pan from the oven and allow it 4-5
minutes to cool then enjoy!