Breakfast on the autoimmune protocol can be hard, the best approach is to think outside the box! This AIP Breakfast Bowl is the perfect healing, anti-inflammatory morning meal for your AIP elimination phase. Free of nightshades, dairy, eggs, nuts, seeds or seed bases spices. It's a simple shrimp and bacon sheet pan served over a veggie puree that cooks up quick in the pressure cooker.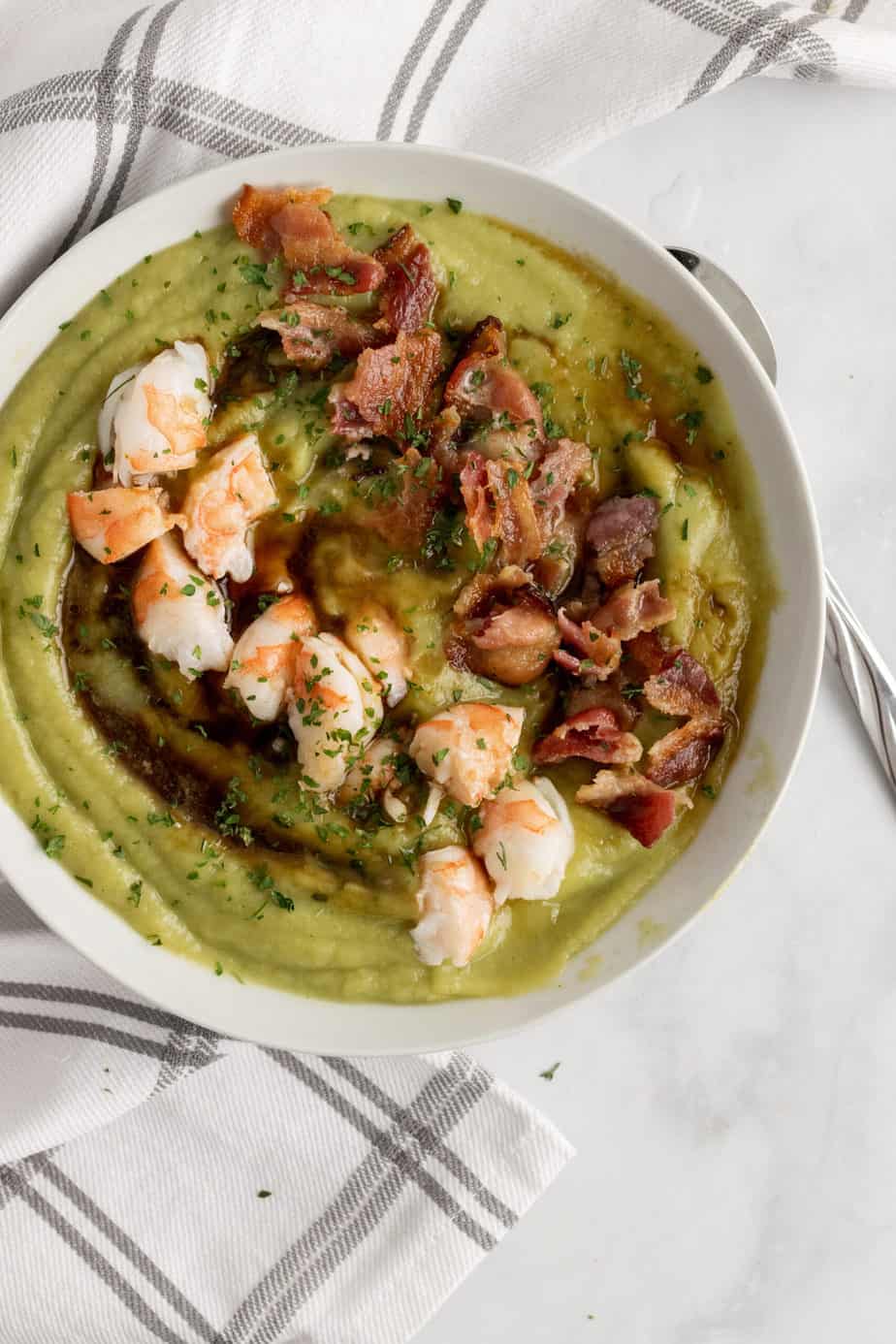 Table of Contents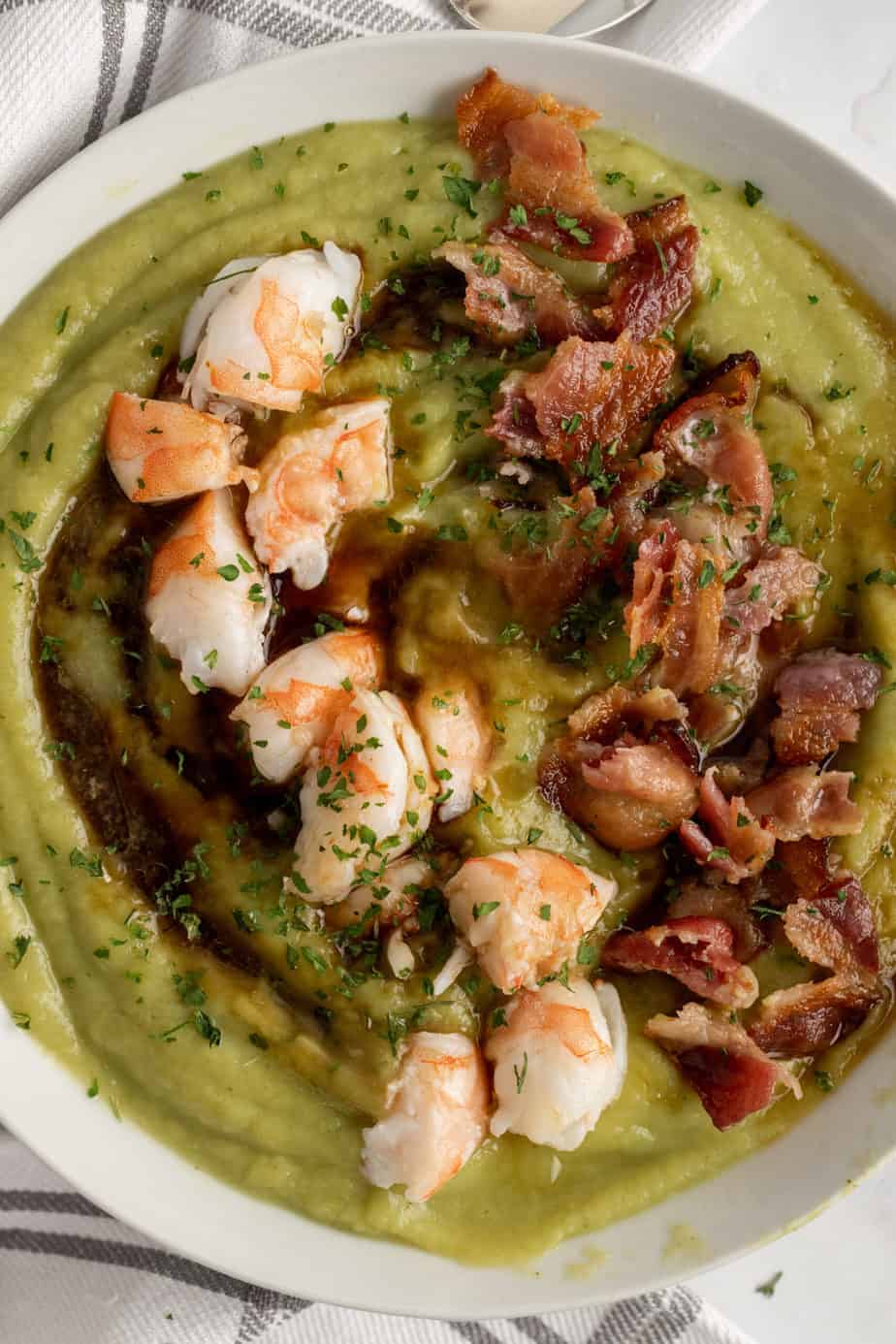 Shrimp for Breakfast?
This is a pretty standard meal for me. It's easy, it makes extra (broccoli puree), and it's delicious! There is something that I love about purees topped with protein. My mom used to make us "pure de malanga" as kids and put steak over it, with the pan sauce… oh em gee. So good. I think I was shooting for that here, a childhood comfort food. The way the thick puree coats each bite. Yum! This AIP Breakfast Bowl is comforting and delicious! Yeah, not your typical breakfast… but after three Whole30's and the autoimmune protocol, you kind of let go of traditional meal standards.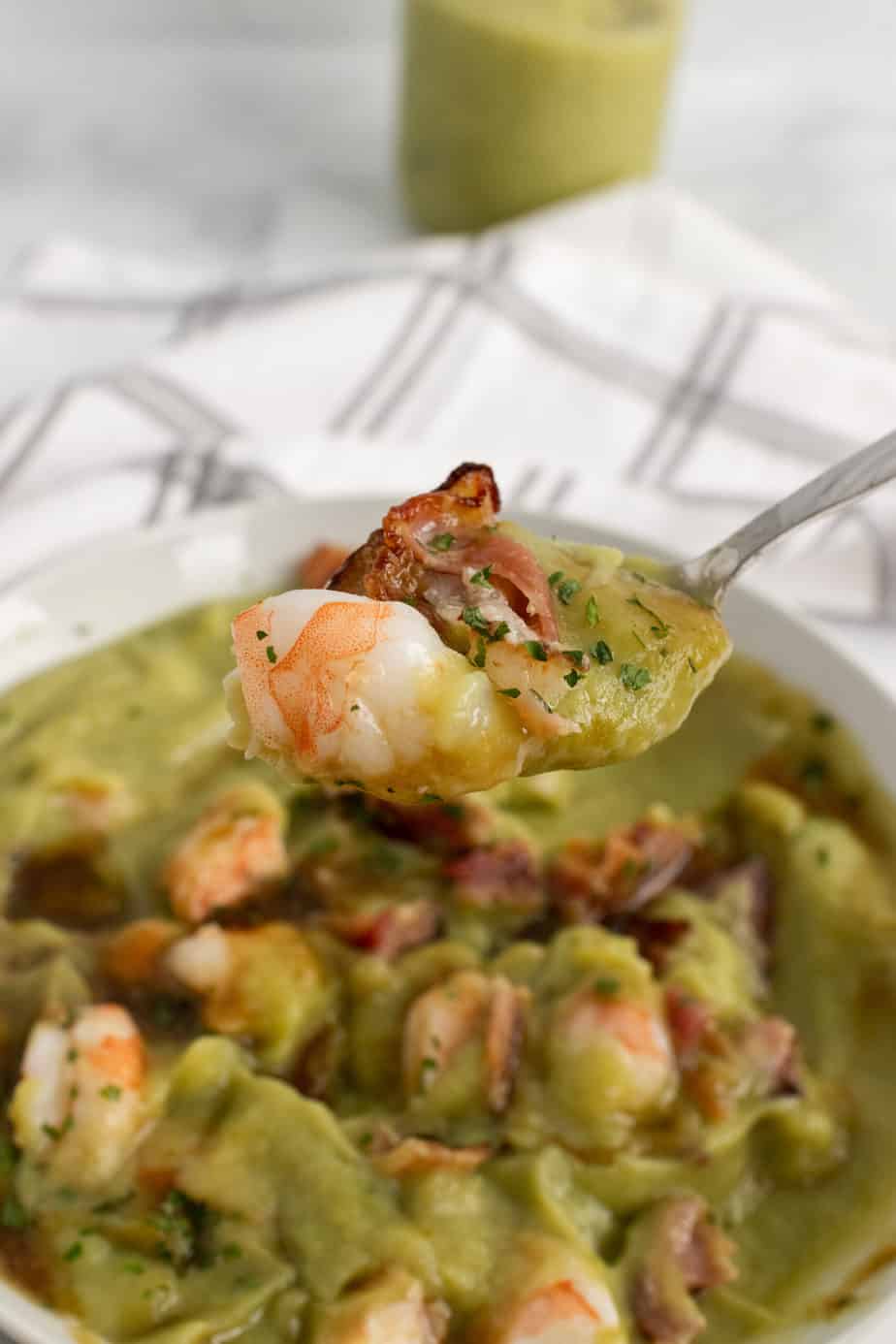 AIP Breakfast Ingredients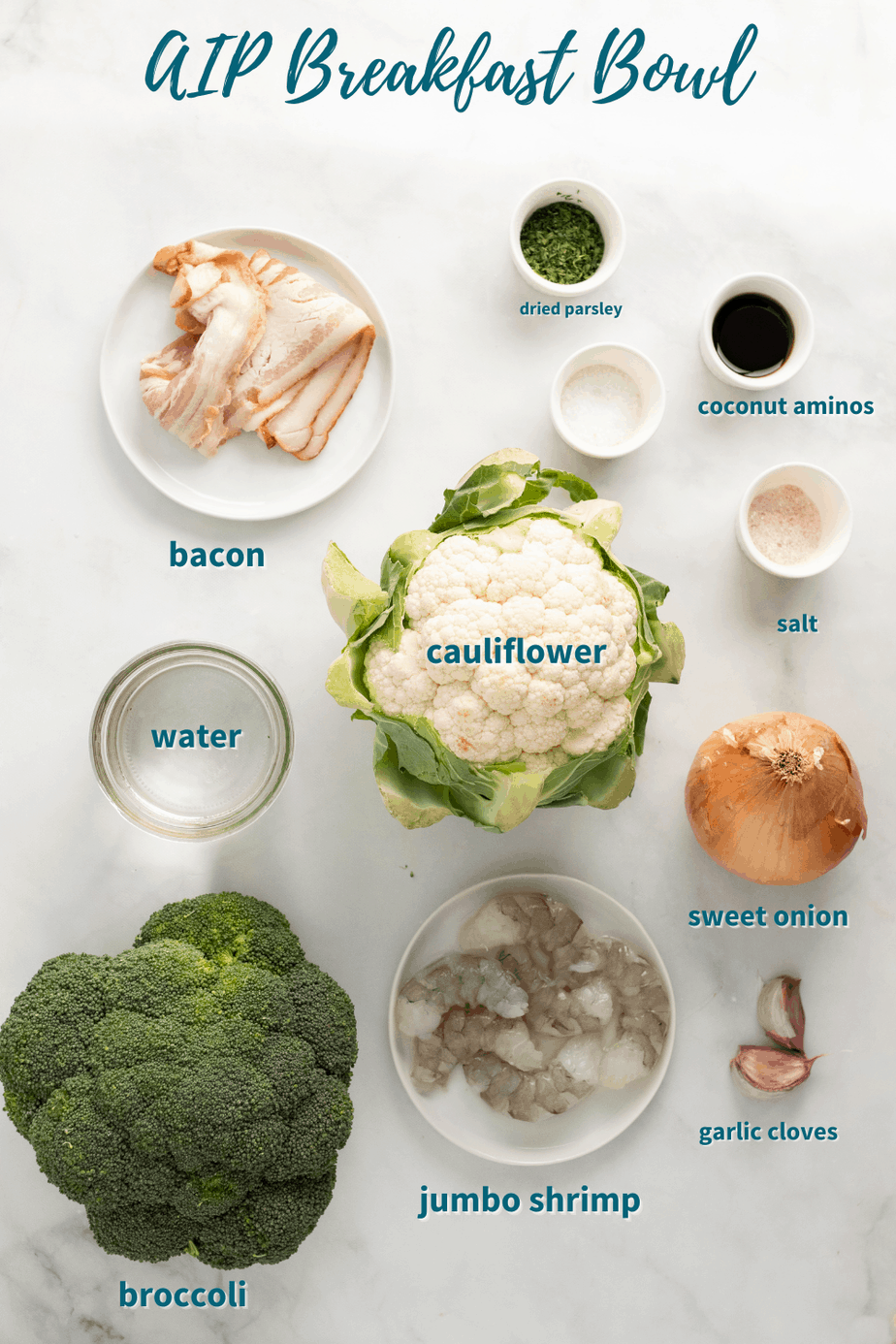 Cauliflower and Broccoli: paired with onion and garlic these brassicas make the vegetable puree. Steamed together on the stove top or in a pressure cooker, then blended together; this puree packs Vitamin C, Fiber, Calcium, antioxidants and much more! You can use fresh or frozen broccoli and cauliflower.
Jumbo Shrimp: A handful of jumbo shrimp for a tasty and quick cooking protein. Lean and packed with omega-3 and iodine. I like buying Wild Caught Gulf Shrimp at Whole Foods, in the seafood freezer.
Bacon: It brings a dose of fat and that perfect salty crunch!
Step by Step Breakfast Bowl
Start by cutting up your vegetables. Combine them in the pot of your pressure cooker with salt and water.
Close the lid and cook for 7-10 minutes on low. Then release the pressure manually.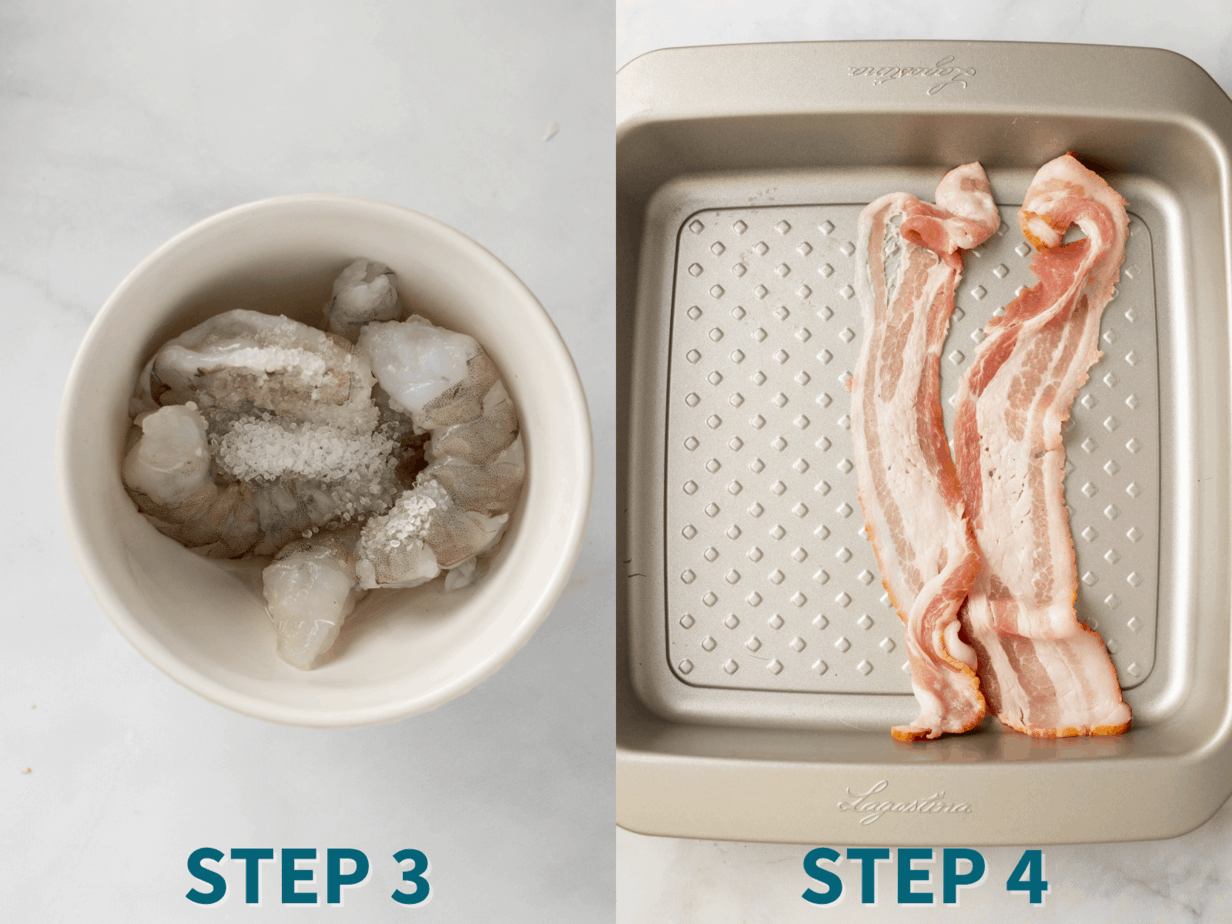 While the veggies cook prepare the protein. Start by seasoning the shrimp, then baking the bacon on a sheet pan.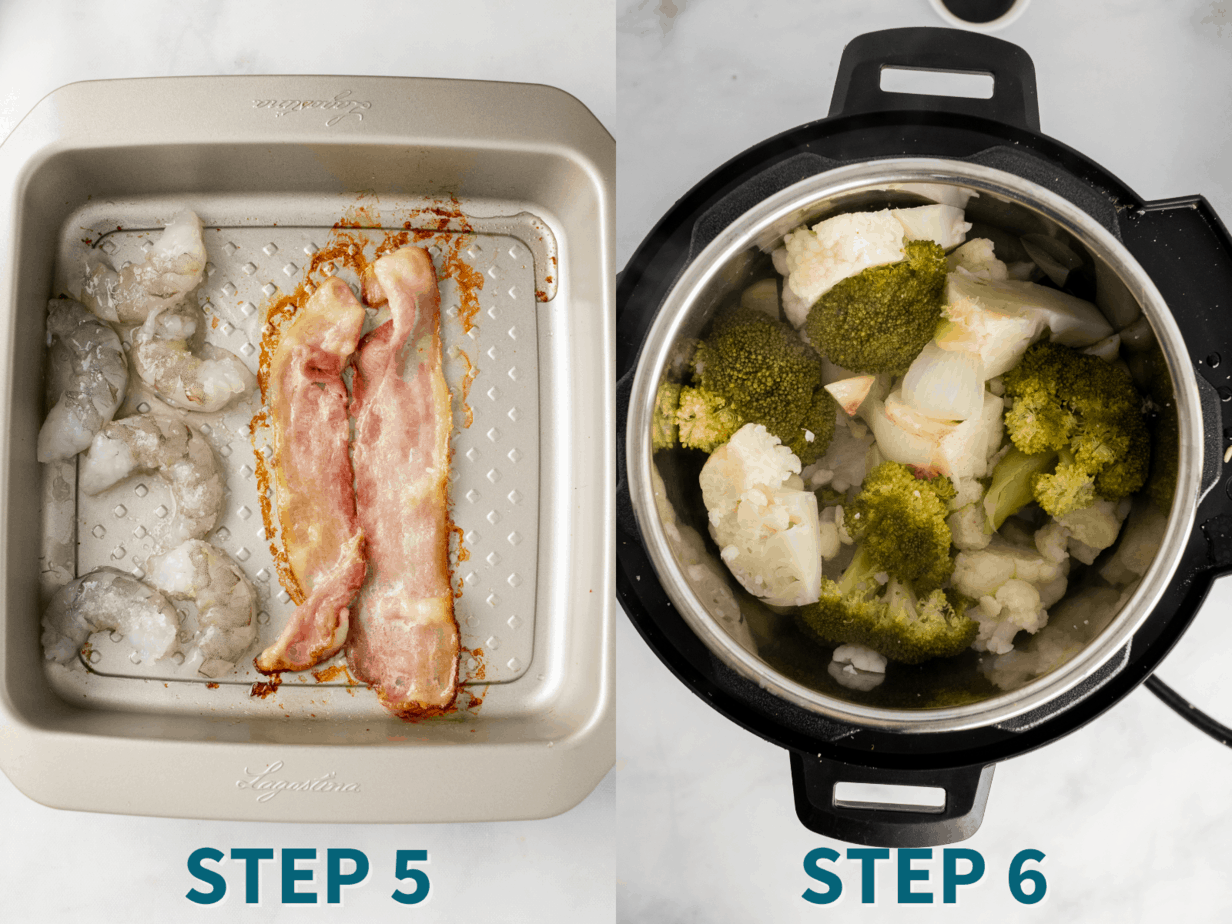 Once the bacon is par cooked, put the shrimp on the pan with it and continue to cook until the shrimp are fully cooked and the bacon crispy.
The vegetables should be done by now. Open the pot and transfer the veggies to a blender.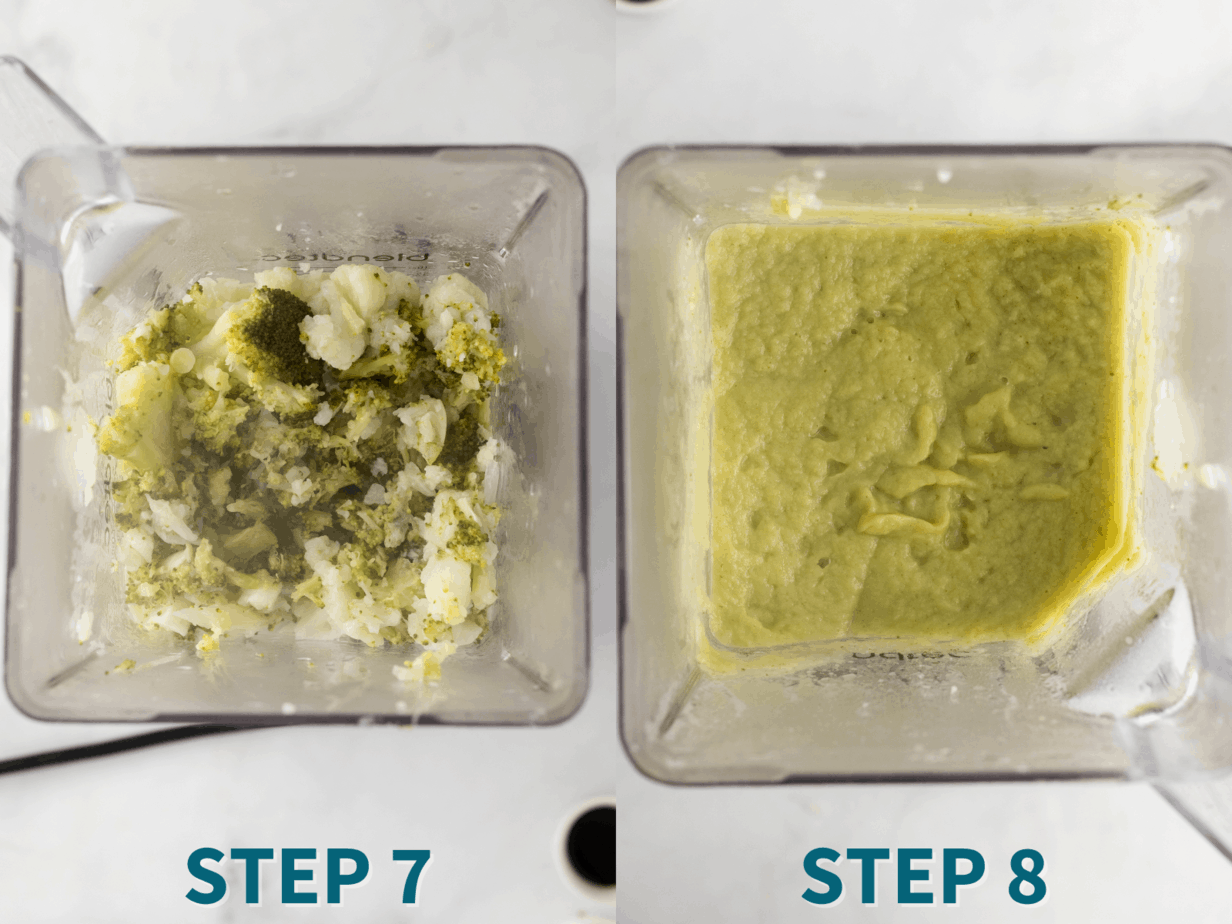 Blend the softened vegetables with the water (or broth) from the pot until it's a smooth puree.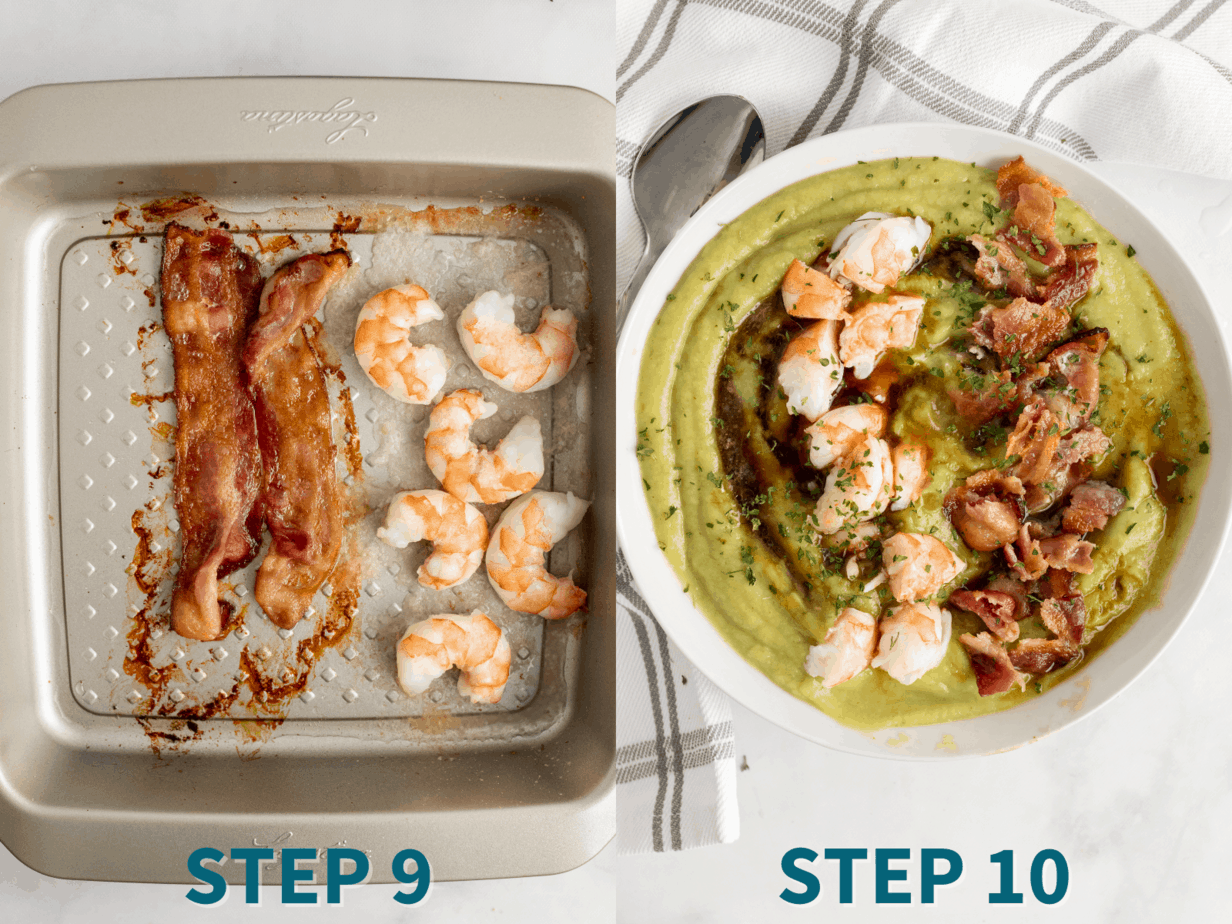 Remove the shrimp and bacon from the sheet pan and dice up.
Serve over a bowl of the puree (save the rest). Garnish with parsley and coconut aminos.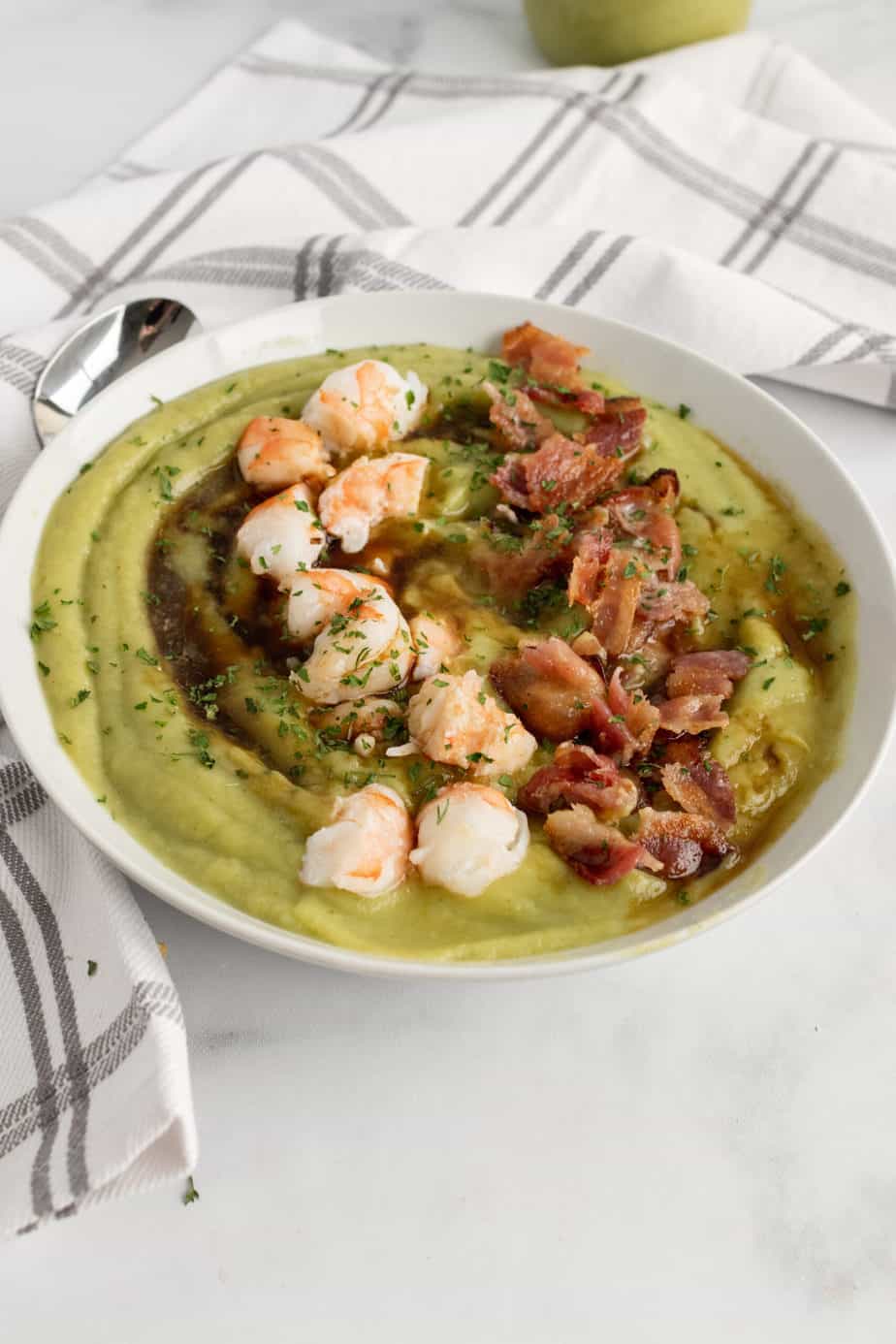 Frequently Asked Questions
Can I make this with another protein?
Yes, you can use chicken breast tenders, those will cook up fast too!
Can I leave out the bacon?
You can, but I think it's important for flavor. I like using Pederson's Farms Bacon, it's AIP compliant and sugar free!
Since the recipe makes extra puree, can I make extra shrimp and bacon and serve more?
Absolutely! To make breakfast for 4 people, use 20-25 shrimp and 8 slices of bacon and a larger sheet pan.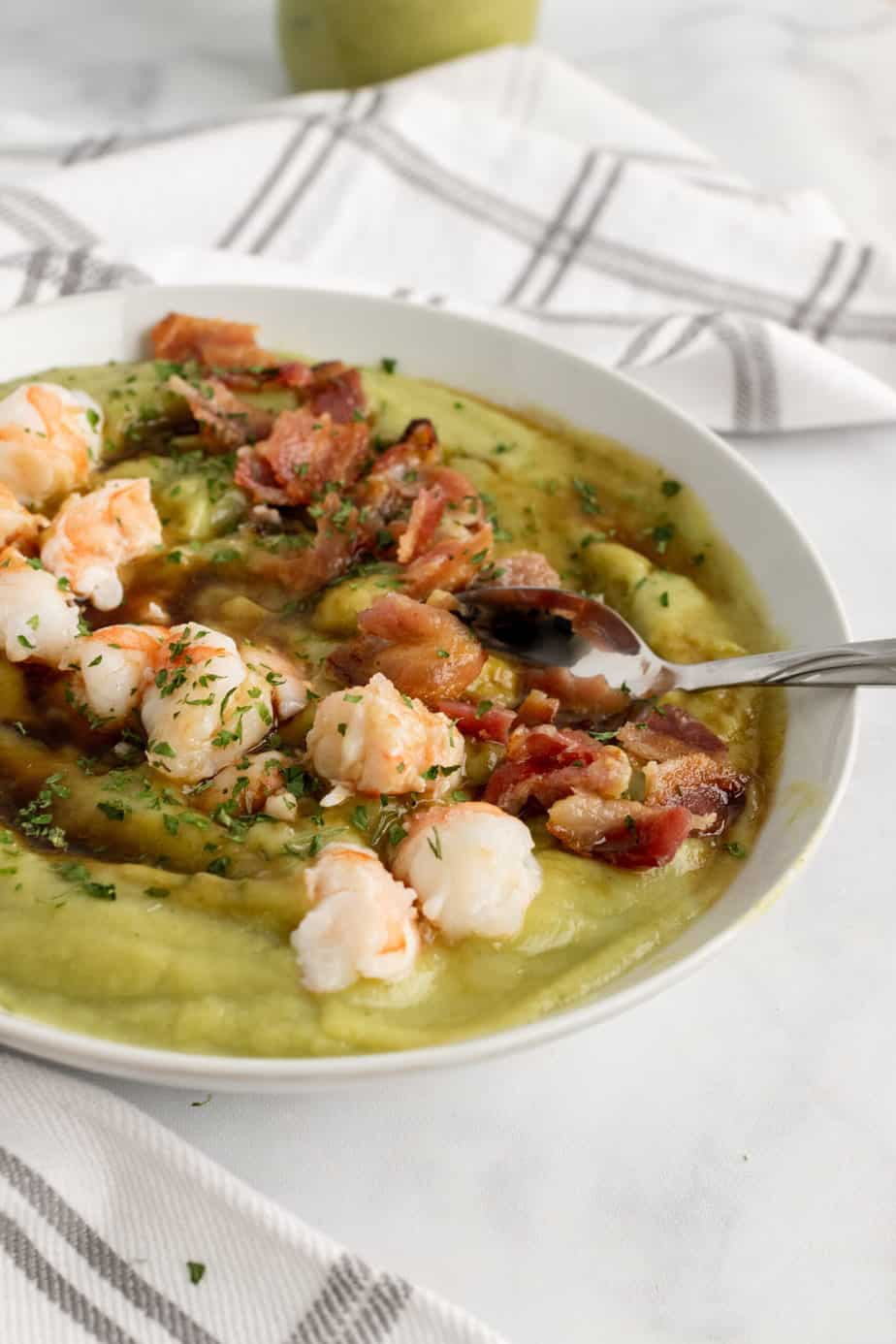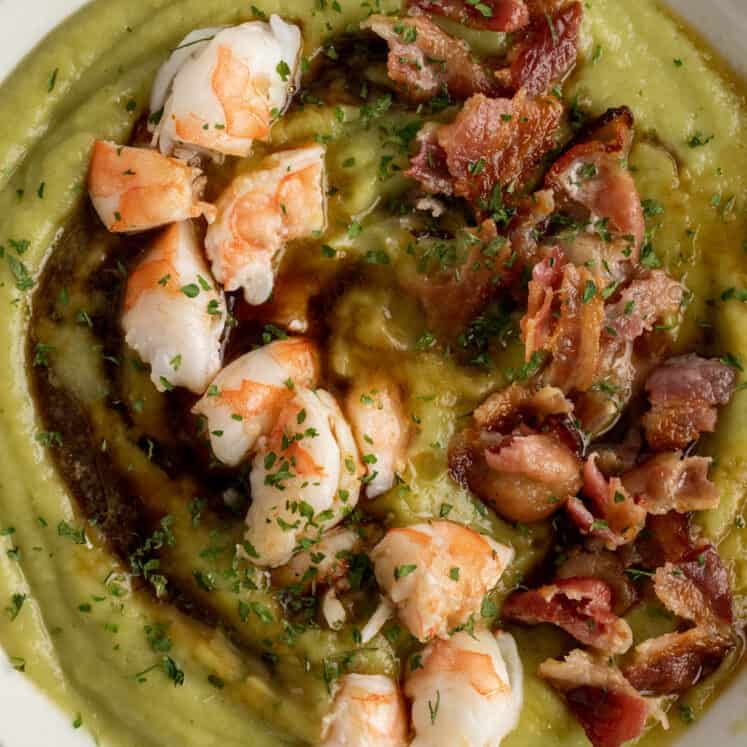 AIP Breakfast Bowl
---
Author: Cristina Curp, FNTP
Prep Time: 10
Cook Time: 10
Total Time: 20 minutes
Yield: 2 1x
Category: Breakfast
Method: Oven & Pressure Cooker
Cuisine: American
Diet: Gluten Free
Description
A hearty and simple breakfast recipe for AIP.
---
Scale
Ingredients
1 large broccoli crown
1 small head of cauliflower
1 small vidalia onion
2 garlic cloves
1 cup water (or bone broth)
1 1/2 teaspoon pink Himalaya salt, divided
2 slices bacon
6 jumbo shrimp
1 tablespoon coconut aminos
1 teaspoon dried cilantro or parsley
---
Instructions
Chop up broccoli, cauliflower, onion and garlic. Combine in your pressure cooker.
Add in the water and 1/2 tsp salt. Close and set to the vegetable setting, or on low for 7 minutes..
Put your bacon on a sheet pan and then in the oven, set to 375F.
 In a bowl toss together the shrimp and remaining salt. Set aside.
When the oven reaches 375F, check on the bacon. When it's almost done, add the shrimp to the same sheet pan. Roast it all together for 5 minutes. Open the oven, give the sheet pan a shake. Roast another 2-3 minutes.
By now the pressure cooker should be done with the vegetables. Add all the veggies and half the liquid in to a blender, and puree until smooth.  You can add the remaining liquid if you want it less thick. Taste it, add in more salt as needed.
Serve 2 cups of the vegetable puree in a bowl, you will have a lot left over! Save it. 
Remove shrimp and bacon from oven. Chop up shrimp and bacon carefully and serve over vegetable puree.
Drizzle bacon fat over your dish, then coconut aminos and lastly cilantro. Dig in!
Recipe Notes:
Store leftover puree in the fridge for your next breakfast bowl!
9g net carbs per bowl
Nutrition
Serving Size: 1/2 Recipe
Calories: 203
Fat: 4g
Carbohydrates: 19g
Fiber: 10g
Protein: 42g
Keywords: AIP breakfast shrimp bacon