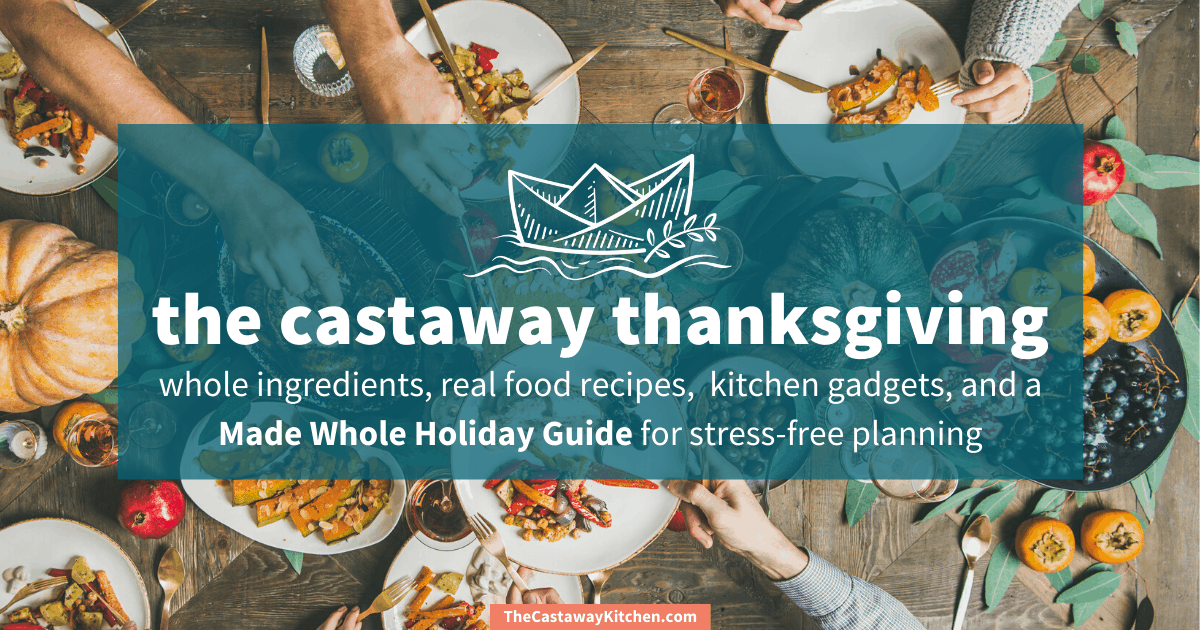 The Castaway Thanksgiving: whole ingredients, real food recipes, kitchen gadgets, and a Made Whole Holiday Guide for stress-free planning.
How to plan a real food Thanksgiving: start with whole ingredients
Whether this is your first time hosting Thanksgiving, your first time planning a real food Thanksgiving, or you're a seasoned paleo chef 365 days a year, I've got you covered. This probably won't come as a shock to you, but the first step in planning a real food Thanksgiving is to stock up on real food.
Here are some of my must have whole food ingredients …
As for kitchen gadgets, I highly recommend …
Now, for some of my favorite healthy Thanksgiving recipes
Planning a healthy Thanksgiving actually isn't that hard — there are so many great real food options that embody the flavors of fall. You don't need a ton of sugar, gluten, processed dairy, artificial colors, and chemical clusters in order to bring the flavor to your turkey day table. Here are just a few recipes that will win over your guests this holiday season. They won't even know they're eating healthy (and you don't have to tell them).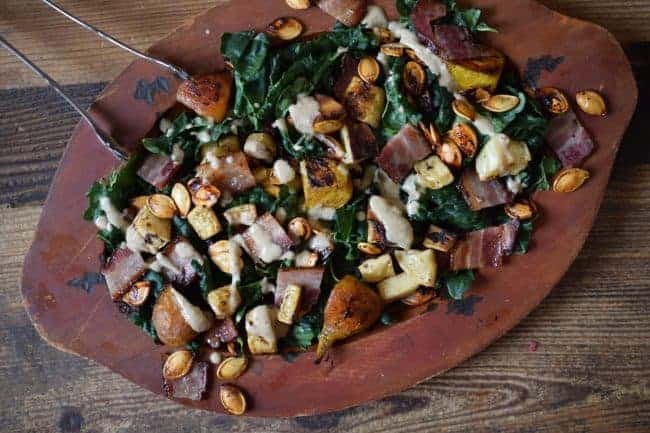 Warm Kale Bacon Salad with Apple Pecan Vinaigrette
(Paleo, Whole30)
A perfect fall salad with roasted beets, crispy bacon and a pecan apple dressing! This Whole30 compliant and paleo dish that screams FALL!
(Whole30, AIP, Paleo)
Purple or Orange! Use your favorite sweet potatoes for these SUPER GARLICKY mashed sweet potatoes!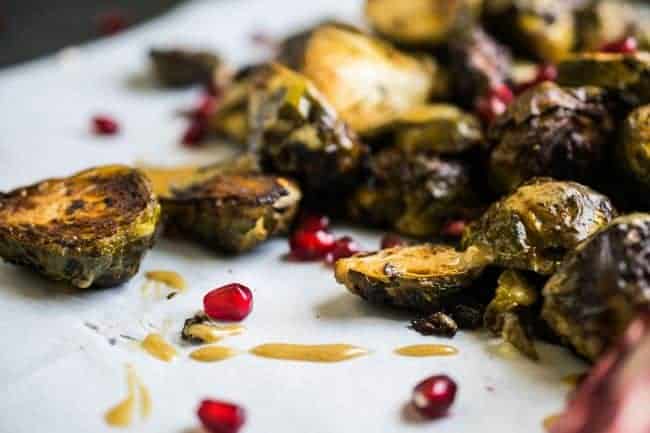 Dijon Pomegranate Roasted Brussels Sprouts
(Paleo, Nut Free, Coconut Free, Dairy Free, Low Carb)
The most delicious roasted Brussels sprouts ever! Crispy and tender, with a sweet and tangy sauce combination. BONUS low carb paleo holiday menu inside!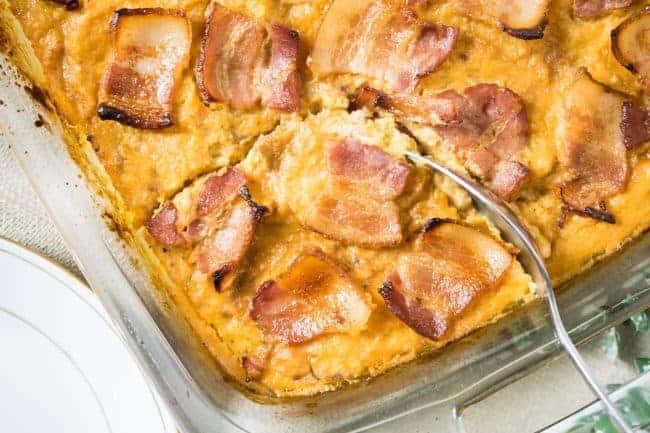 Low Carb Sweet Potato Casserole
(Whole30, Paleo, Keto, Dairy Free, Nut Free, Coconut Free)
We're getting a little feisty with this low carb sweet potato casserole. Spiced and thickened with mayo and egg (trust me), and topped with crispy sweet bacon… that's totally sugar-free because coconut aminos are magic.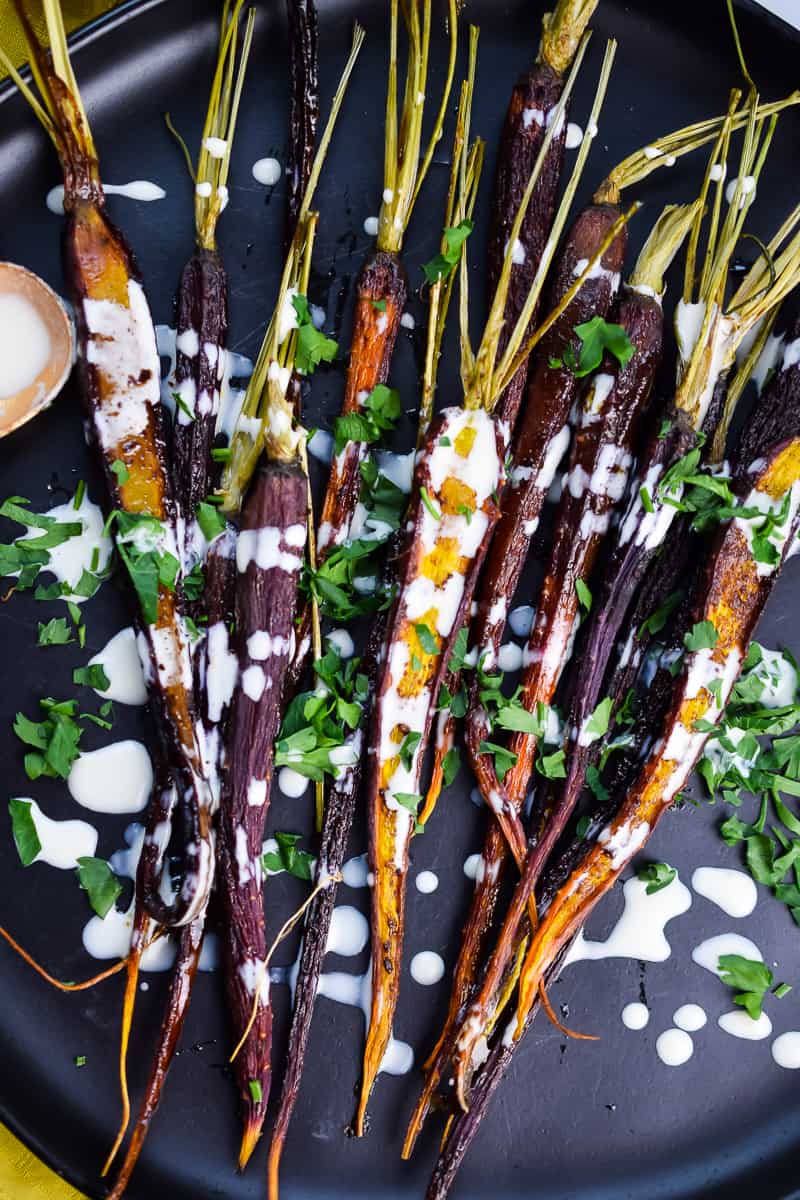 Slow Roasted Cinnamon Carrots with Tahini Drizzle
(Paleo, Whole Food, Gluten Free, Anti-Inflammatory, Dairy Free)
Slow Roasted Cinnamon Carrots with Tahini Drizzle: buttery, roasted, slightly caramelized cinnamon carrots, drizzled with a creamy savory sauce. Good and good for you!
(Paleo, Whole30 Friendly, Grain Free)
A party in your mouth Cauliflower Rice Pilaf! Made easy with various frozen veggies, fresh herbs and cranberries! This side dish is colorful and delicious!
Crispy Creamy Green Bean Casserole
(Keto, Paleo, Whole30)
This dairy and gluten free green bean casserole is low carb and made with real, whole foods. No canned soup here. Delicious and decadent it will hit the spot and wow your holiday guests!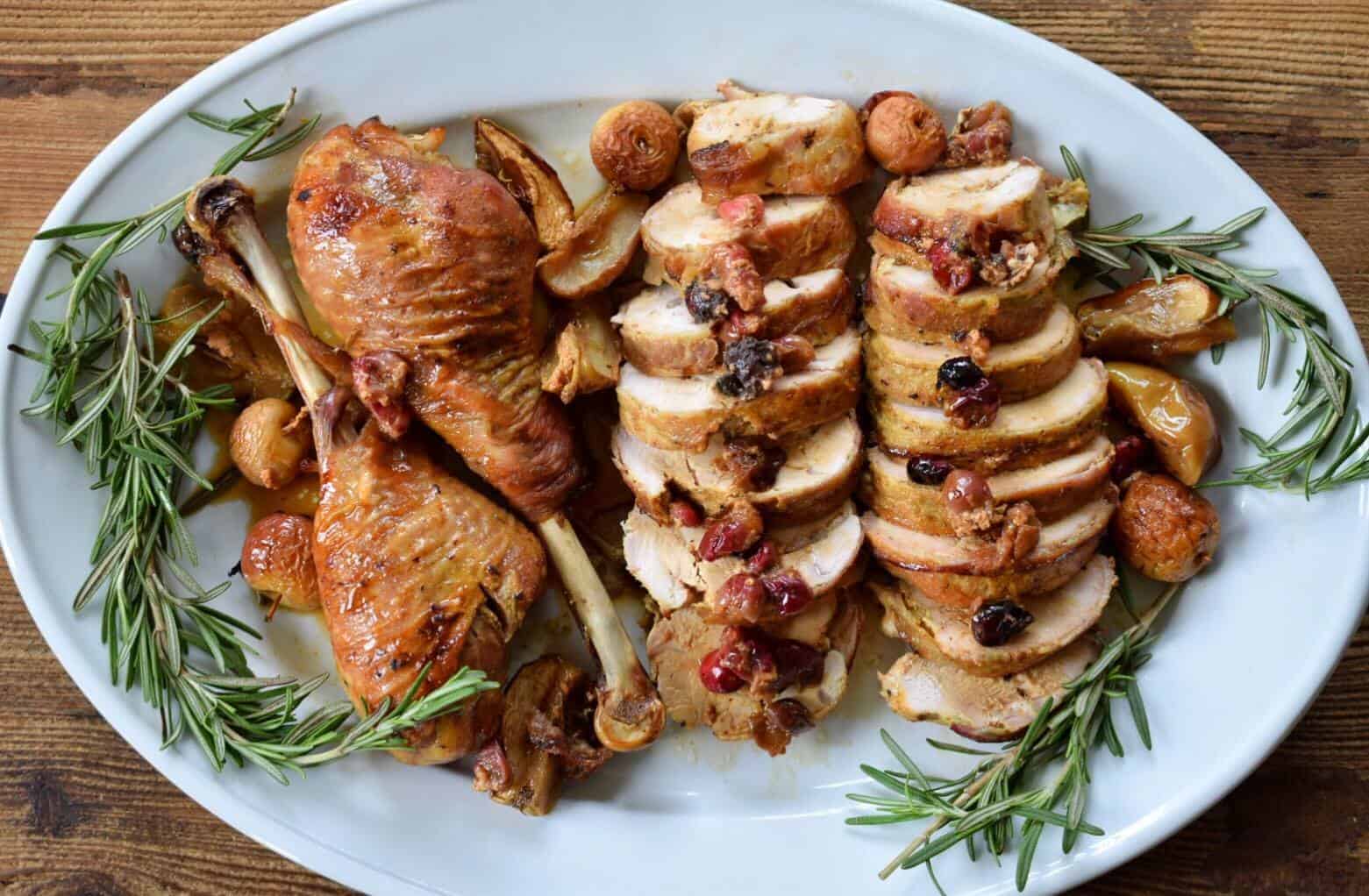 (Whole30, Paleo, Keto, Dairy Free, Nut Free)
Super easy bacon wrapped turkey roast! Perfect for holidays and any time dinners! Looking for a paleo gravy option? Try this Umami Gravy from Nom Nom Paleo.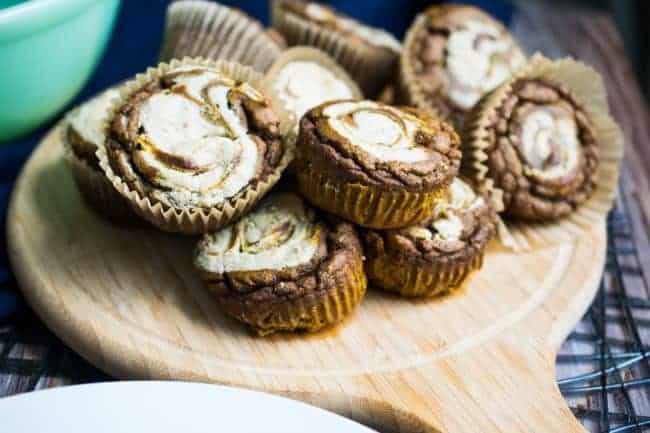 Low Carb Spiced Pumpkin Muffins
(Paleo, Keto, SCD, Nut Free)
Spiced Pumpkin Muffins with Tahini Swirl! These are not your basic pumpkin spice muffins, they're so much more!
(Dairy Free, Paleo, Gluten Free)
This dairy free custard has a stellar flavor combo LEMON AND THYME! Made with thick cashew cream, egg yolks and sweetener of choice this treat is paleo and keto friendly!
(Paleo, Grain Free, Gluten Free)
This pie is so good, they won't know it's paleo! A Flaky hazelnut crust, and delicious filling! Don't tell them it's paleo and they won't know! Perfect for the holidays!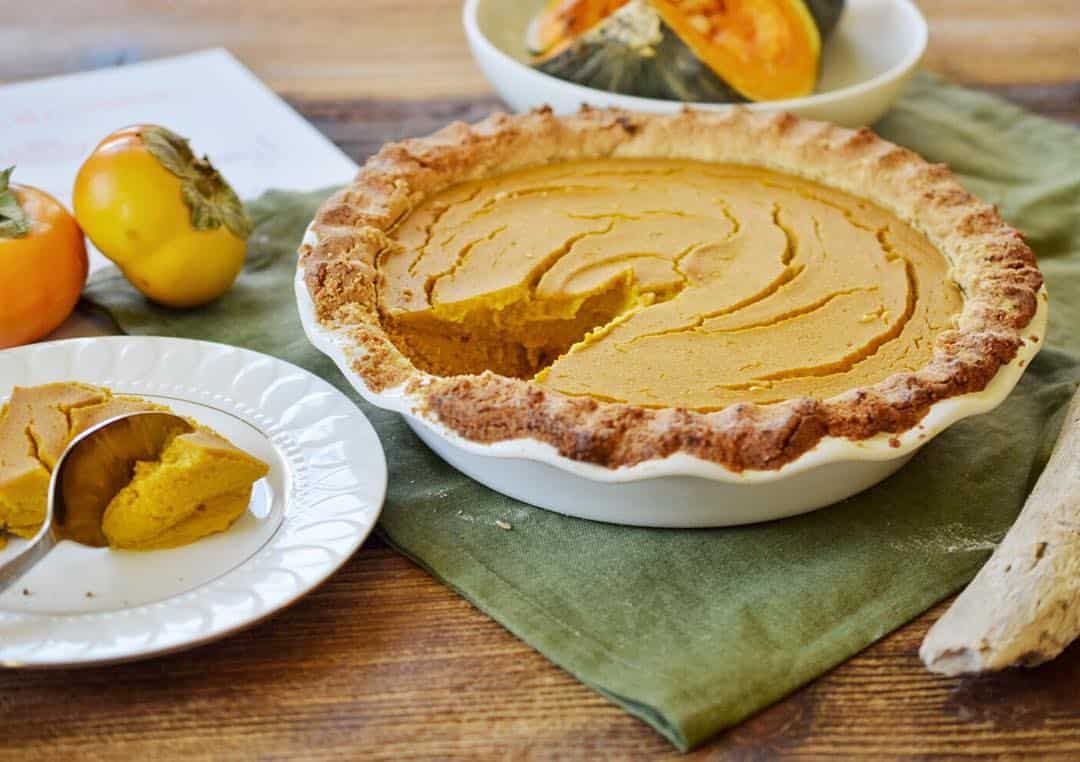 Healthiest, Super Delicious, Paleo Pumpkin Pie
(Dairy Free, Grain Free, Gluten Free)
This delicious, decadent pumpkin pie is actually HEALTHY! Grain, gluten and dairy free! It's made with a hazelnut crust and a creamy filling that is sweetened with dates!
(Dairy-Free, Grain Free, AIP friendly, Egg Free)
Sliced and spiced tender roasted pumpkin topped with whipped coconut cream and a vanilla balsamic drizzle. Added toasted pecans for a crust like crunch!
Need additional support, paleo Thanksgiving recipes, and more?
This is my gift to you: Holidays Made Whole — my healthy holiday guide. This guide starts with getting your mind right and actionable tips. From there, I've included a shopping guide, plus a ton of recipes (appetizers, sauces, sides, entrees, and desserts). Basically everything you need in one PDF.
Click here to download Holidays Made Whole
Happy Holidays to you and yours from me and mine!
xxoo,
Cristina