I am so thrilled to be partnering with Bob's Red Mill this Spring!
It's a wonderful time of the year for delicious, airy confections. Not to mention my dear boy turns four. When the folks at Bob's said they were sending me THREE of their great baking flours I was over the moon! They sent Unbleached White All Purpose Flour, 1 to 1 Gluten Free Baking Flour and the Paleo Baking Flour.
I have used the 1 to 1 Gluten Free Blend before and I will tell you the results I had were beautiful. It has potato starch, so it's a no-go for me, but I often keep it in the pantry when I know I will be making something special for the boys (like SUPER fluffy waffles)! Bob's Red Mills variety of baking flours fill all of my baking needs. Did you all know, way before going paleo I was making gluten-free smash cakes and cupcakes in San Diego? Allergen friendly treats for young birthday goers. Yup! I was on a mission to create healthy birthday cakes for babies!
My original baking blend was a mix of the Gluten Free Sweet White Sorghum, Tapioca and Coconut flour. As I transitioned from gluten-free to paleo baking, Bob's was there with copious options for all of my needs. Best of all, they're available at every grocery store I have ever been to and I've lived in three states, currently Hawaii!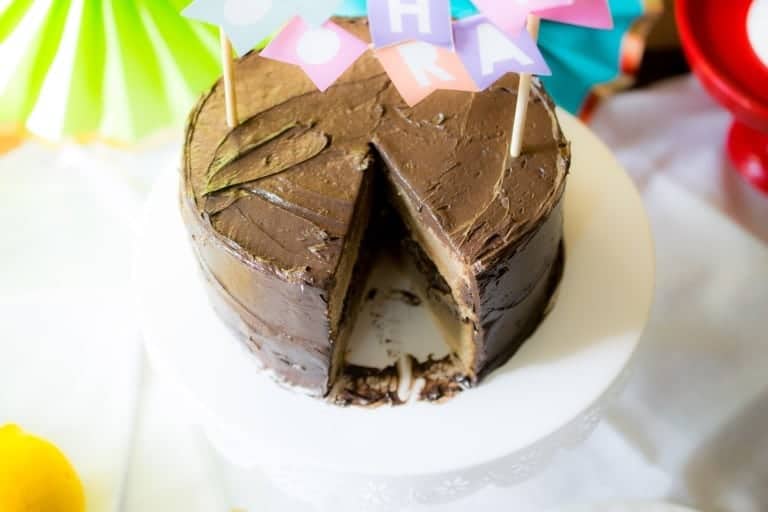 Paleo Cake, I'm In Love
People often ask me if the rest of the family eats the way I do, and I chuckle and say, 'no one eats the way I do." I have some crazy specific food restrictions. However, I do love to feed them good, clean, wholesome food. That includes treats too. But yes, they often partake in my paleo creations. Their palates like mine, now prefer the subtle sweetness and nutrient density of paleo confections. When I saw the Paleo Baking blend on the store shelf it piqued my interest. I actually bought it for myself before they even sent it over. What can I say? I got excited! From years of grain-free baking, just by looking at the ingredients, I knew they were onto something. A combination of almond flour, arrowroot starch, organic coconut flour, and tapioca flour, I was super stoked to try it for myself, and really put it to the test. I decided to bake a cake. A full-fledged, layered cake.
Ok, so maybe that idea is a little self-serving, as I had to craft a recipe for my son's birthday cake, but can you blame me?
The hopes and dreams of a little boy were resting on me… and Bob's. Jack's birthday is the day before Easter this year so I thought a lemon cake would be divine and absolutely appropriate. Then he mentioned he wanted a chocolate cake. So I thought… lemon and chocolate? Could it work?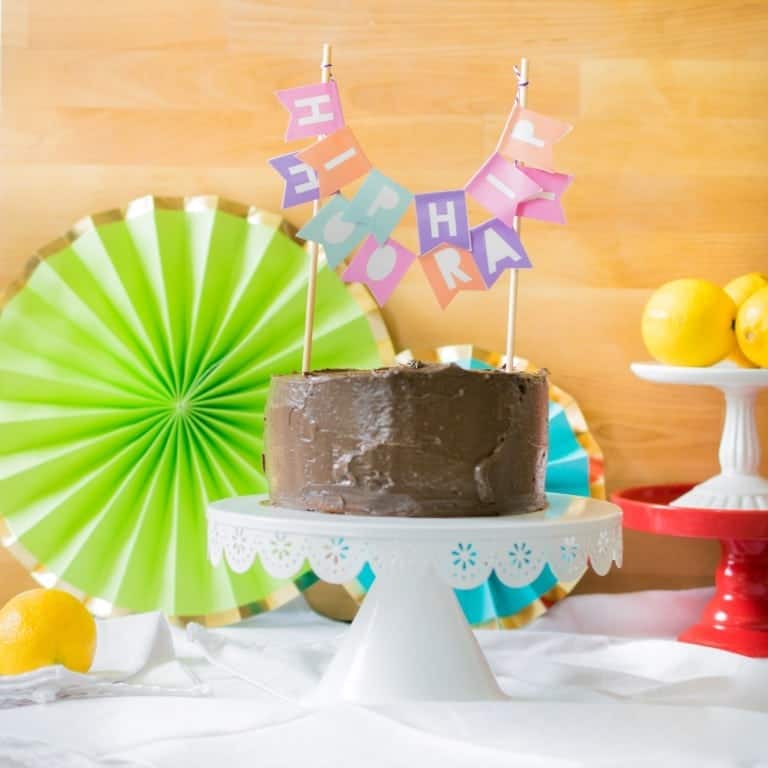 The Recipe
This cake has an amazing texture. The tall, six-inch rounds bake up beautifully with a nice crust to them, while the gooey lemon center remains moist. Stacked over four inches tall with dark chocolate buttercream, this Springtime combination is sure to please the whole spectrum of dessert lovers. From the lemon-tart to the choco-holics. This cake has got it all. Bonus, it's a fairly easy "one bowl" recipe! No flat or droopy paleo cakes here. I can't wait to make pancakes and cookies with this mix, I just know it will be perfect.
I am so glad to announce that this cake was not only a hit with the adults in the household, but my most important critic was in love!
Jack is obsessed, like wake me up at 6 am to ask if he could have cake for breakfast. So I call that a total MOM WIN! Not to mention, I have all the feels that I get to serve a delicious, homemade, toddler approved, PALEO cake for his birthday party!
To learn more about the variety and quality of Bob's Red Mill Baking Flours head to their website: http://bit.ly/2mzLa7G/"rel="nofollow" ! They have a lot of amazing recipes posted there too!
Lemon Curd Cake with Dark Chocolate Buttercream
---
Author:
Prep Time: 15
Cook Time: 40
Total Time: 55
Yield: 10 1x
Category: Dessert
Method: Baking
Cuisine: Eclectic
Description
A dense and rich lemon curd cake with chocolate frosting.
---
Scale
Ingredients
Lemon Curd Cake
2 cups Bob's Red Mill Paleo Baking Flour
2 cups granulated sweetener (coconut palm sugar, maple sugar or erythritol)
2 teaspoons baking soda
1 teaspoon salt
1 teaspoon cinnamon
1/2 cup lemon curd (paleo recipe here)
1 tsp finely grated lemon rind
1/2 cup milk (almond) at room temp
½ cup melted coconut oil
2 eggs- room temp
2 teaspoons bourbon vanilla extract
1/2 cup boiling water
Dark Chocolate Buttercream
1 lb grass fed butter- softened to room temperature, unsalted
1 cup dutch process cocoa powder
1 cup confectioner's sugar (I make my own maple version by passing my maple sugar through the blender until powdered. Or you can use whichever variation of powdered sweetener you prefer like cane sugar or erythritol)
1 tsp vanilla extract
pinch of fine ground sea salt
---
Instructions
Pre-heat the oven to 350F.
In the bowl of a stand mixer, with the paddle attachment mix the dry components; flour, baking soda, salt, cinnamon, and sweetener.
Mix for 1 minute to combine.
Next add in the wet components; coconut oil, eggs, milk, vanilla, lemon rind and lemon curd. NOT THE WATER.
Mix here for two minutes.
Lastly, lower the speed and mix in the boiling water carefully.
Once well-combined turn off the mixer.
Line the bottom of two 6″ baking rounds with parchment paper, grease, and dust.
Pour in the cake batter, about 1 1/2 cups per pan.
You will have extra batter, you can bake a thinner third round or muffins ?
Place cake pans on a sheet pan and put in the oven, middle rack.
Bake at 350F for 35-45 minutes, depends on oven, altitude etc. You know they are done when the center is firm and dry when you tap it. It might even crack a little tiny bit.
When done, remove from the oven and set the cake pans on a wire rack to cool. After 20 minutes, run a spatula or knife around the sides and flip the cake over onto the rack to finish cooling. Remove the parchment paper.
In the bowl of your stand mixer with the paddle attachment cream the butter until smooth. Then add in the salt and cocoa powder. Mix until well combined.
Add in the sweetener 1/4 cup at a time and a pinch of salt. Continue mixing until well combined and smooth.
You may need to stop the mixer and use a spatula to scrape down the bowl a few times so it mixes well.
Place your bottom layer, top side down, if the top side is not level, use a serrated knife to slice the hump off and level it
Add a heaping 1/2 cup of buttercream to the middle and use a spatula to spread it around evenly.
Similarly, place the top layer on the buttercream and gently press down.
Add another 1/2 cup of buttercream to the top layer and use a spatula to create a thin layer all over the cake. This is the crumb layer. Place the cake in the fridge for 10 minutes so this layer hardens.
Finish decorating the cake to your liking. There will be plenty of buttercream to decorate and even add some piping design if you wish.
Keywords: paleo lemon chocolate cake
*This is a sponsored post written by me on behalf of Bob's Red Mill.