Luckily for me, the folks over at my local Whole Foods (Kailua) asked me to develop this recipe for them back in November… so it was fully tested, tasted and devoured waaayyyy before my current round of Whole30 started! Score! I had guests in town that week too and let me tell you… this stuff didn't last. Sara and I… and the kids kinda blew right through it… despite the fact that I wrapped each piece in parchment paper with twine. I might as well have left a dish out on the counter. Ha!
While I'm a chocolate purist, and usually vehemently opposed to fruit in my chocolate these sour cherries work. Not only do they work but they add a fantastic chewy, tart twist to this holiday staple. Made with crispy bacon drizzled with maple syrup, crunchy almonds, and chewy cherries nuzzled into dark chocolate… simply made by melting down good quality dark chocolate. Mixing all the dry ingredients in a parchment lined baking sheet and pour in the melted chocolate. Set. Cut. Enjoy! The best part is that since the chocolate is already tempered this treat will not melt at room temperature and makes the perfect gift!
This holiday treat is absolutely addicting. Crunchy, sweet, salty and chewy this bark is the perfect gift or pot luck dessert. Made with top-notch, clean ingredients, it's the type of candy that anyone can get behind.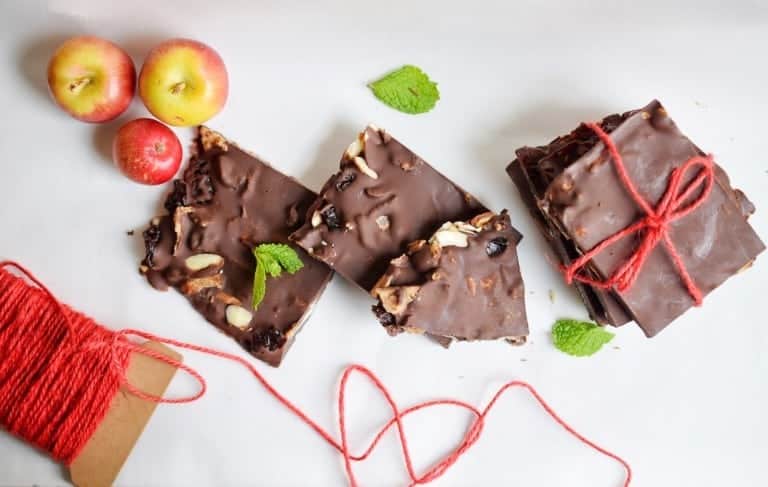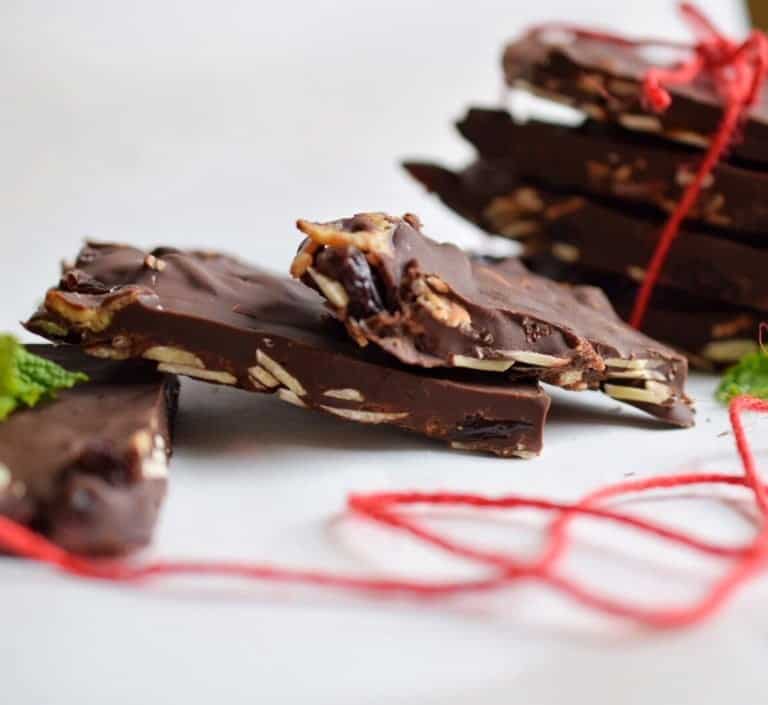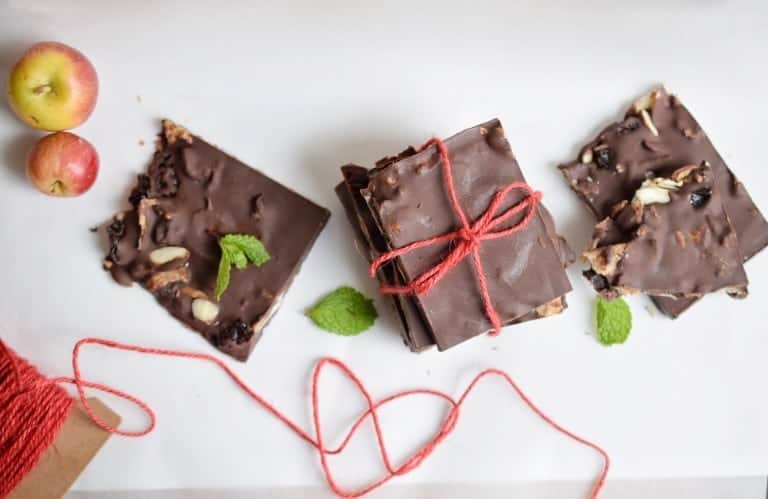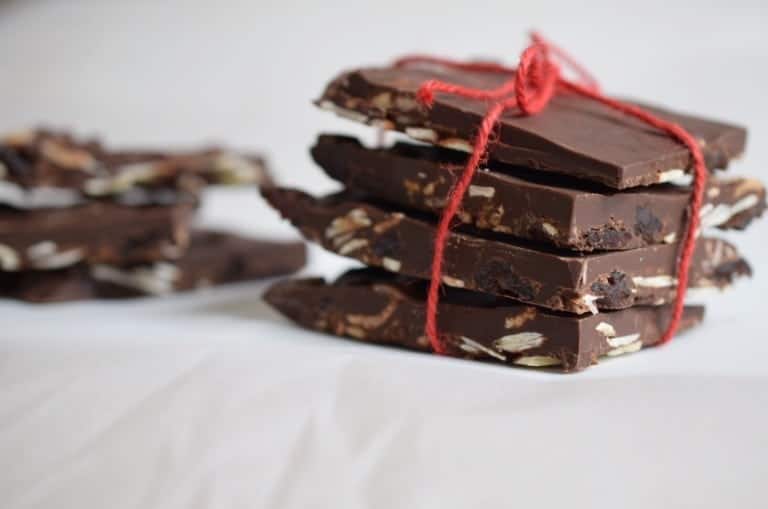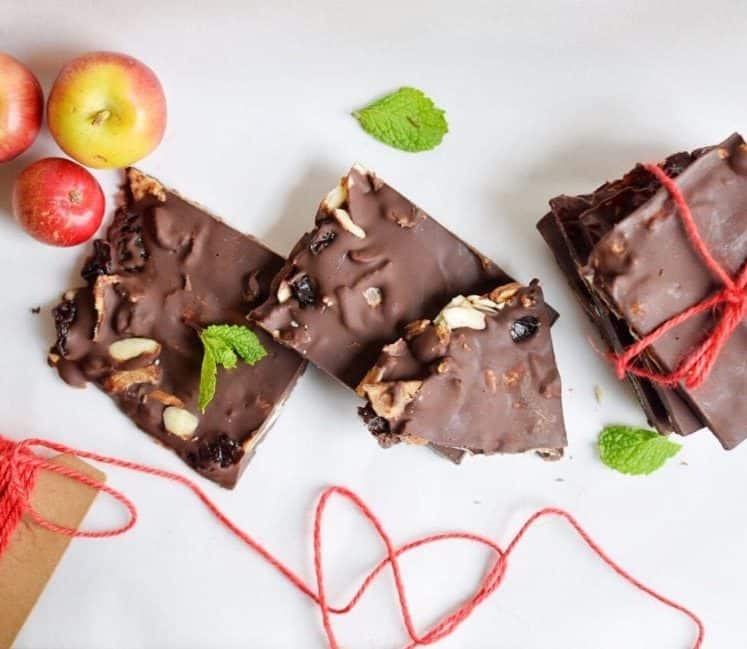 Maple Bacon Holiday Bark
---
Author:
Prep Time: 20
Total Time: 20
Yield: 8 1x
Category: dessert
Method: no bak
Cuisine: Holiday
Description
A delicious Whole Foods holiday treat!
---
Scale
Ingredients
4 365 Everyday Value Organic Fair Trade Dark Chocolate Bars (56%)
1 cup Whole Foods Market Dried Sour Cherries
1 cup Whole Foods Market Sliced Almonds
6 tsp 365 Everyday Value Organic Grade A Maple Syrup
6 slices 365 Everyday Value Uncured Smokehouse Bacon
---
Instructions
Place 6 slices of bacon on a sheet pan.
Drizzle about 1/2 a tsp of maple syrup on each slice. Place in the oven.
Set the oven to 400F.
Once the oven has reached 400F, check on the bacon. It should be almost cooked, but not crispy. Keep roasting until it's crispy, about 10 minutes. You need your bacon slices really crispy, not burnt, but to the point where they are stiff when you pick them up.
When done, remove from the oven, set on a paper lined plate to cool.
Heat a large pot of water, half way full on high heat.
Place a large glass bowl over the top of the pot, make sure the water doesn't touch the bow.
Chop your chocolate bar into small pieces and place in the glass bowl.
As it heats the chocolate will melt. Use a spatula to gently stir it.
Once the chocolate is almost all melted and just a few pieces remain, remove it from the heat and stir it until it's completely smooth.
Line a baking pan with parchment paper. I used my casserole dish.
Sprinkle two handfuls of cherries all over, distribute evenly (about 1 cup)
Do the same with the sliced almonds.
Next, chop up the bacon and sprinkle it all over.
Stir the chocolate one more time to make sure it's smooth.
Then use the spatula to pour into the casserole dish. Gently spread it evenly if necessary.
You want it no more than 1/4 inch thick.
Set it in the fridge on an even surface to chill and harden. The chocolate is already tempered to it will firm up to chocolate bar consistency.
Cut into squares or crack into jagged shapes. Share. Enjoy!
Keywords: Maple Bacon Chocolate Bark