Who doesn't love bread? It's one of the hardest things for people to give up when they go paleo. While I'm not a fan of integrating bread-like foods into MY everyday rotation, it's reallllyyyyy nice to have them for a special occasion like brunch or a dinner party. This paleo garlic bread is full of flavor and has a little more bounce to it than other paleo flatbread/ pizza crusts. I ventured in to adding yeast to my recipe. First, of course, I went on The Paleo Mom blog to see what she had to say on the matter. Turns out she has her very own Yeast Bread recipe that is a staple in their house, and I'm totally making it soon, recipe here. What I found even more interesting was this:
"So what about Active Dry Yeast for baking bread? Well, active yeast is the strain Saccharomyces cerevisiae. This strain of yeast is found naturally in some kefir cultures and some lacto-fermented foods. It is also the strain used to make wine and beer. It is very closely related to Saccharomyces boulardi, although from my reading it doesn't seem to possess the health benefits that Saccharomyces boulardii does. After thorough research, I have come to the conclusion that Saccharomyces cerevisiae is, at worst, neutral. So what does this mean? This means that if you allow wine and gluten-free beer in your diet, or if you make your own coconut milk Kefir, there is no reason to avoid dry active yeast in your paleo baking. So, dust off those Bread Machines because tomorrow I will be posting a recipe for yeast-based paleo bread!" -ThePaleoMom
source link here
I made this paleo garlic bread like a flatbread because it's easier! Bonus it plays into the whole portion control thing, because let's be honest, pale or not… no one needs a ton of garlic bread in their bodies. This recipe uses a blend of a few flours for a nice chewy texture that isn't too dense. Then a rich, garlicly-herb mix is spooned on top. Oh lawdy, it's heaven. And YES, it can double as a pizza crust.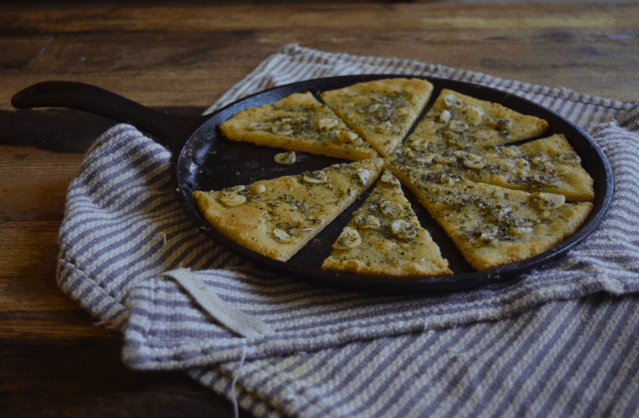 Paleo Garlic Bread
---
Author:
Cook Time: 16
Total Time: 36
Description
A delicious grain and dairy free bread topped with loads of garlic!
---
Scale
Ingredients
1/3 cup arrowroot starch
1/4 cup + 2 tbsp coconut flour
1/4 cup + 1/4 cup blanched almond meal
1 tsp baking powder (arrow-root starch, cream of tartar, baking soda)
2 tsp garlic powder
1 tsp salt, divided
2 tbsp olive oil + 1/4 cup olive oil
2/3 cup warm water
1 tsp of Active Dry Yeast
5 garlic cloves
pinch salt
1/4 tsp black pepper
2 tbsp olive oil
2 tbsp Italian herb blend
---
Instructions
Preheat oven to 425F
Warm 2/3 cup water to around 100-110F. Mix in yeast & set aside.
In a large bowl mix 1/4 cup coconut flour, 1/4 cup almond meal, 1/2 tsp salt, baking powder & garlic powder.
Then add in the water with yeast, 2 tbsp olive oil & mix well. It will be soupy.
Gradually, as you stir, add in 1/3 cup arrowroot starch, the rest of the almond meal & lastly the coconut flour. Stop adding flour once a soft dough forms.
Dust a work area with arrowroot flour. Transfer your ball of dough & knead it, in a folding motion until the dough is no longer sticky.
With dusted hands, transfer dough ball to greased cast iron skillet or parchment lined baking sheet and begin to pat it out into a 8-10 inch circle.
Bake for 8 minutes.
In that time, slice your garlic & mix it with the herbs & olive oil in a small bowl or cup. Prepare a brush or spoon to coat the bread in.
After 8 minutes, evenly distribute garlic, herbs and olive oil to flatbread, then bake for another 8-12 minutes, or until edges are golden brown.
Remove from oven, let cool a few minutes before slicing.