Low Carb Chocolate Chip Cookies
CHOCOLATE CHIP COOKIES HAVE ALWAYS BEEN MY FAVORITE TREAT!
I haven't made them much lately because I didn't have a recipe that fit into my current nutrient intake balance. This low carb paleo thing is really working for me, and eating outside of the parameters, of my set carb intake is a lot more than "breaking a diet"… it's committing to feeling like crap for a few hours, even a whole day. Another inspiration for these low carb cookies is my niece. My little two year old princess, with a very delicate, very stubborn case of candida. Any starch and she flares. You can imagine the difficulties in having a small child that can't eat starches or sweets.
My sister results to making her all sorts of concoctions with almond butter, using only erythritol (a sugar alcohol) to sweeten, if you're on keto or have candida issues, it's a good option for the occasional treat. I like using Truvia for myself. It's a blend of erythritol, brown sugar, molasses & stevia. Especially since I don't bake often, I find it's the perfect balance for me.
HOWEVER, YOU MAY USE WHATEVER KIND OF SWEETENER THAT WORKS FOR YOU, BE THAT MAPLE SUGAR, BROWN SUGAR, HONEY ETC! *UPDATE* I HAVE MADE THESE WITH HONEY LIKE 5 TIMES THIS WEEK, ENTERTAINING FAMILY WHILE ON VACATION AND THEY TURN OUT GREAT! YOU MIGHT HAVE TO COOK THEM A LITTLE LONGER THOUGH. THIS GAS STOVE WE HAVE IN YOUR RENTAL IS SLOW, SO THEY WENT 12 MINUTES. ALSO ONE NIGHT I ADDED A DRIZZLE OF MOLASSES AND SOME CINNAMON TO THEM… HOLY MOLY THAT WAS AMAZING!*
THESE COOKIES ARE SUPER EASY TO MAKE. TWO MEDIUM BOWLS, A FEW INGREDIENTS AND A FEW MINUTES AND YOU'RE IN BUSINESS.
Note, if you try to eat these hot, even warm they will be delicious but they will fall apart on you. Because they are made of mostly almond butter, ghee and melted chocolate, those ingredients needs to cool to firm up. They are worth the wait. Such a satisfying, delectable and truly delicious cookie. Even better the next day!
MAKE THEM, SHARE, TAG ME!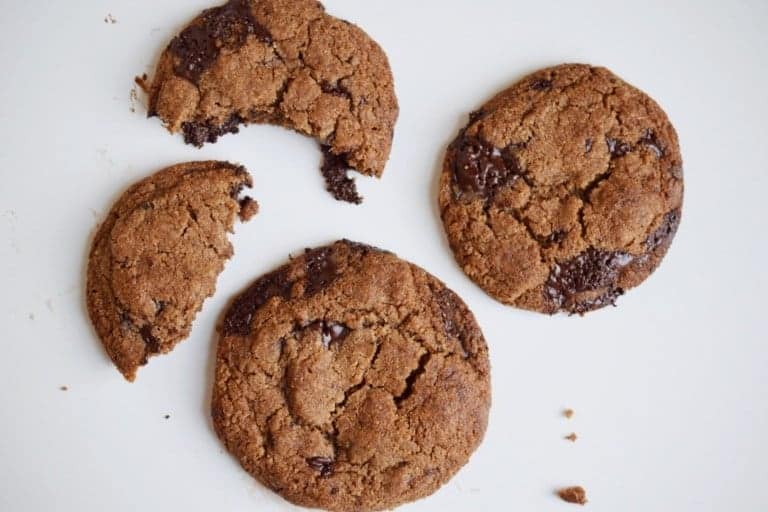 Low Carb Chocolate Chip Cookies
2017-07-21 12:08:56
Nutrition Facts
Amount Per Serving
Total Carbohydrates
1676
g
* Percent Daily Values are based on a 2,000 calorie diet. Your Daily Values may be higher or lower depending on your calorie needs.
You'll Need
2 bowls
2 sheet pans
parchment paper
spatula
1/2 cup almond butter
1 egg
1/4 cup Tin Star brown butter ghee (or solid coconut oil)
1 tsp vanilla extract
1 tsp maple syrup (optional)
1/2 cup very fine almond flour (from blanched almonds)
1 tsp baking soda
1/4 tsp salt
1/4 cup brown sugar truvia (or 3 tbsp honey, add in with wet ingredients)
1 70%+ dark chocolate bar (chopped up)
Instructions
A few notes on the ingredients first!
I used Martha Antha creamy almond butter. Fine almond flour, is not the same as almond meal. I use Bob's Red Mill, extra fine almond flour. As for the chocolate, I recommend Lily's Dark Chocolate of Green & Black's 70% dark cocoa. Chop it up roughly in to chunks, don't shave it too much, and leave some bigger pieces for the nice chocolate pools.
Pre-heat oven to 325F convection bake.
Set racks in the center of the oven.
Line two baking sheets with parchment paper.
In one bowl mix the almond flour, baking soda, salt, sugar and chopped up chocolate.
In another bowl mix the almond butter, ghee, egg, maple syrup and vanilla.
Add the dry mix to the wet mix and fold in until it's all well incorporated and dark brown.
Shape 10 large 2 inch balls, like medium sized meatballs.
*Note: You can also make regular sized cookies, about 20.
Place them 3 inches apart on the sheet pans.
Bake for 12 minutes, check. The edges should be lightly browned and they should be soft but look done. If they still look wet, give them a few more minutes, no more than fifteen. Oven times do vary!
Remove from the oven and let them cool for ten minutes.
Transfer to a wire rack and let them cool to room temperature.
Store in air tight container at room temperature.
Notes
If you want to freeze the dough, let it thaw in the fridge before making cookies. Working with cold dough, you may need to add a few minutes to baking time.
When making 10 large cookies, as opposed to 20 small ones the nutritional info is as such: FOR ONE GIANT COOKIE: 192 CALS 16 GRAMS OF FAT 10 GRAMS OF CARBS 4 GRAMS OF PROTEIN
The Castaway Kitchen http://thecastawaykitchen.com/
KETO Chewy Chocolate Chip Cookies (Paleo, Dairy Free, AMAZING)